by Makia Freeman
November 9, 2017
from TheFreedomArticles Website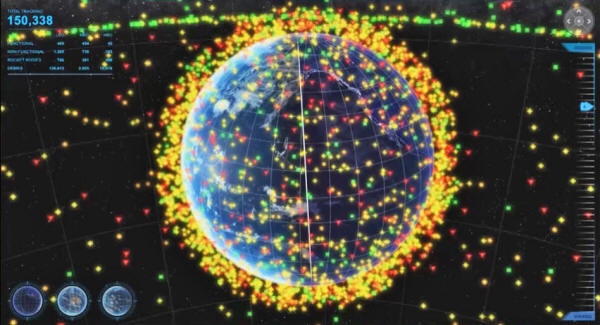 The Space Fence is not just to track and catalog space debris.
It's an overarching program that connects
the geoengineering, surveillance and transhumanist
and AI agendas.



The Space Fence is a massive, planetary-wide, space surveillance system currently being constructed that aims to monitor you all the way down to your DNA.
Officially, the Space Fence is, according to Wikipedia, a 2nd generation space surveillance system being built (started in 2014) by the U.S. Air Force and Lockheed Martin to track artificial satellites and space debris.
Its budget is U.S.$1.594 billion, it's expected to be operational in 2019 and the Space Fence facility will be located in the Marshall Islands along with an option for another radar site in Western Australia.
The Space Fence is a resurrection of a program started by Reagan in the 1980s called SDI (Strategic Defense Initiative), commonly known by its nickname "Star Wars."
However, like many exotic weapons of the New World Order, it has a cover purpose and a real purpose.
This article exposes the grander implications of the Space Fence - and how it connects to other technology that could be used to enslave you.

What is the Space Fence?

Although the USAF and Lockheed Martin tell us that the purpose of the Space Fence is to detect, track and catalog space debris, we must acknowledge that the MIC (Military Intelligence Complex) is at the helm of the New World Order and is routinely engaged in psychological operations against the rest of the population.
The Space Fence is the answer to the prayers of a control-freak conspiratorial class.
It will have the capacity to surveil everything on Earth. Like Skynet in the fictional Terminator films, it could become surveillance beyond comprehension.
How? The Space Fence is designed to operate in LEO (Low Earth Orbit).
It is designed to be one big interconnected machine, run by AI (Artificial Intelligence) and joined to current (weaponized) technology by interacting with,
...and more, to create a giant wireless network that manipulates us through the ionization of our atmosphere.

According to Elena Freeland, author of Chemtrails, HAARP, and the Full Spectrum Dominance of Planet Earth book on the topic, the Space Fence will eventually develop into a conductive Saturnian ring around the Earth's equator.
From there, it could be used to facilitate a complete lockdown on planetary communications (including our DNA communications, since we are electrical creatures), in line with the MIC's C4 objectives (Command, Control, Communications and Computers).
Freeland states that the Space Fence will have the power to totally transform the entire environment of the planet.
It thus is a tool of the AI/Transhumanist agenda to merge man into machine.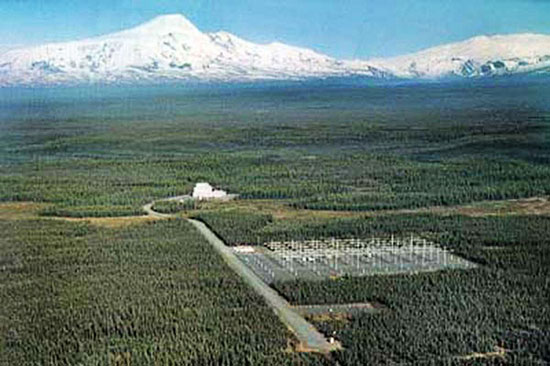 Everyone loves the acronym of HAARP
- but it was just one installation/project.
These days it's more accurate
to call these weapons "ionospheric heaters".
According to HAARP insider Billy Hayes,
there are 200+ of them worldwide.
Space Fence - Ionization and Conductivity

The Space Fence seems to tie many aspects of the worldwide conspiracy together.
Two aspects to pay attention to are ionization and conductivity:
To ionize is to create polarity within a substrate. Some things are naturally non-ionized, so to ionize them is take them out of their natural state.

To make something conductive is to change it so that it can conduct electricity.
The NWO controllers have been unleashing a torrent of light and heavy metals (aluminum, barium, strontium and more) into our environment - and thus into our bodies - for decades via,
Ionization and conductivity crop up again and again when investigating the Space Fence.
The reason the NWO conspirators are so obsessed with these concepts is because they have weaponized them...
Ionization is linked to weather control. Ionospheric heaters (the most famous of which is HAARP) are now deployed around the world to heat and ionize layers of the atmosphere.

Once ionized, it can be directed in line with geopolitical goals of the controllers, which can equate to earthquakes, hurricanes, tsunamis, floods and droughts.
In 2014, we were told that HAARP was being shut down (below video), however since HAARP-like technology is the ultimate weapon of the globalists, does anyone in their right mind really think they are just going to give it away due to lack of funding or because they are supposedly finished with it?
Former HAARP insider Billy Hayes (who worked on constructing the original installation in Gakona, Alaska) claims there are over 200 HAARP-like facilities around the world which are fully operational.
Conductivity is linked to both mind control and holographic manipulation (a la Project Bluebeam).
It is theorized that, with nano-metal-particulates everywhere including inside of people's bodies, the masses are easier to mind control, since the metals act as receivers of wireless transmissions.
There is evidence that the more metal particulates in the air, the easier it is to project holograms onto it:
As this Leak Project video revealed, HP (Hewlett Packard) is literally releasing billions if not trillions of nano sensors (smart dust) into the environment.
Is one of the purposes to prepare for a Project Bluebeam scenario?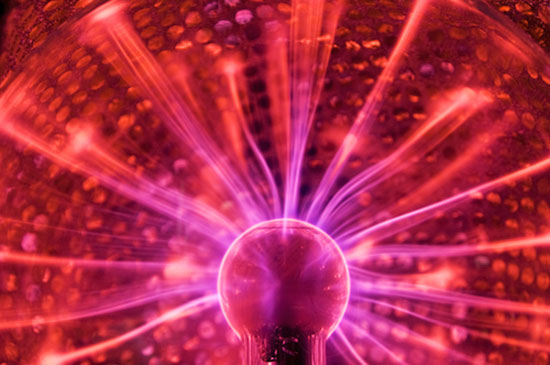 A close up of a plasma ball,
showing electrified plasma gas.
Our Ionized Atmosphere - Plasma, the 4th State of Matter
The ionization of our skies means that the air is transformed into plasma, the 4th state of matter.
Plasma is defined as,
"an ionized gas consisting of positive ions and free electrons in proportions resulting in more or less no overall electric charge, typically at low pressures (as in the upper atmosphere and in fluorescent lamps) or at very high temperatures (as in stars and nuclear fusion reactors)."
In simple terms, it is ionized air...
Plasma keeps our atmosphere thick. It is a medium where electrons can be moved around.
Altered plasma means dramatic earth changes via the troposphere and magnetosphere. According to Freeland, the Space Fence will also ionize the outer part of our planet.
Was the SDI only put on hold until they worked how to ionize the atmosphere (see Bernard Eastland's patents for HAARP), then re-activated?
In this context, you can look at Space Fence as the controlling hub which is designed to capitalize upon and control the tremendous transforming and terraforming of our planet which is happening right before our eyes.
How can inundating our world with billions of metal particulates, nano chips and smart dust possibly be a good idea?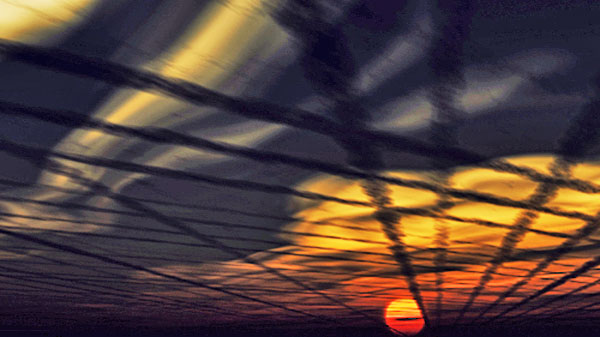 Chemtrails: one of several delivery systems.
Fancy some black heavy metals for dinner?
Space Fence Delivery Systems - Chemtrails, GMOs, Vaccines
The Space Fence is not only connected to HAARP; it's also connected to geoengineering/chemtrails, GMOs and vaccines.
How...?
Because all of these things are delivery systems by which metal nanoparticles are injected into our atmosphere, water, food, air and, in the end, our bodies.
Look at chemtrails - now coming out of ships as well as planes - infusing the air with all sorts of toxic metals like aluminum, barium and strontium, as well as synthetic biological lifeforms.

Look at GMOs - all sprayed with toxic metallic and synthetic pesticides which invades our bodies.

Look at vaccines - the injection of aluminum, mercury and more straight into our bloodstreams.
The net effect of all of this is to create one huge wireless metallicized network to surround, engulf and permeate us.
Final Thoughts - Ultimate Aim of the Space Fence
In conclusion, it's vital to look just beyond the Space Fence project and see the bigger picture.
The Space Fence involves absolute control over,
The endgame is to control our nervous systems and our very DNA.
The question for an awakened humanity is now:
what can we do to thwart this agenda?