A new poll of Americans aged 18-30 finds we Millennials continue to have a low level of confidence in Republicans and Democrats, as less than a third of us are willing to claim the,
"two major parties do a good job of representing the American people."
The GOP gets the boot from more than two in three young adults, and though Democrats fared better, they hardly receive a ringing endorsement.
Among white Millennials in particular, 52 percent said the Democratic Party doesn't care about them.
The poll also asked Millennials about the two parties' candidates for president, Hillary Clinton and Donald Trump, and disenchantment levels only grew.
Young people may be able to muster some enthusiasm for the parties in the abstract, but thinking about these two politicians in particular makes that really difficult.
Half said Clinton isn't qualified to be president - a baseline question that doesn't require one to support a candidate to answer affirmatively - and three in four said the same about Trump. Those are damning numbers, and yet completely expected from the most politically independent generation ever.
For Clinton, the survey further zeroed in on whether she intentionally broke the law by using a private email server while secretary of state.
Now, Clinton has never been very popular with this generation (she got absolutely walloped by Bernie Sanders among that demographic in the primaries), so it's perhaps not surprising that survey respondents generally took a low view of her email habits.
Just 8 percent - fewer than one in 10 - said she did nothing wrong, and 63 percent said she broke the law. Of that majority, most (43 percent vs. 20 percent) say Clinton's lawbreaking was intentional, though white Millennials were harder on her in this regard than minorities.
Together, all this reiterates what I've argued for a while.
Millennials like me have grown into adulthood with an awful economy and constant war.
Every fresh news day seems to bring yet another report of some dastardly way the government is violating our liberties and trampling the rule of law. It's easy for us to recognize the need for real and lasting change.
That's why someone like Sanders or Ron Paul is so appealing - we aren't interested in just fiddling around the margins of politics, which is basically the promise of a Clinton White House.
And the 2016 election has clarified the sort of change young Americans want. In short, it's not the protectionist, hawkish, discriminatory approach Donald Trump is offering.
Though this generation does lean left (as young people historically have), Millennials are comparatively conservative with our money, ready for a more responsible foreign policy, and disinterested in running other people's lives.
That's good news and further evidence that libertarianism could well win out.



Most Young Americans say...
- Poll -
by Laurie Kellman and Emily Swanson
August 05, 2016
from BigStoryAP Website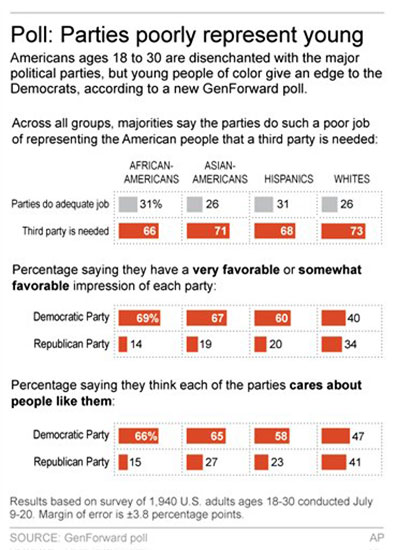 WASHINGTON (AP)
Most young Americans say the Republican and Democratic parties don't represent them, a critical data point after a year of ferocious presidential primaries that forced partisans on both sides to confront what - and whom - they stand for.

That's according to a new GenForward poll that shows the disconnect holds true across racial and ethnic groups, with just 28 percent of young adults overall saying the two major parties do a good job of representing the American people.

The poll shows that despite this across-the-board feeling of disenchantment with the two-party system, the Democratic Party holds a clear advantage in appealing to young people of color. But among young whites, majorities feel left out by both parties.

More than two-thirds of young adults, including vast majorities of young Asian-Americans, Hispanics and blacks, say the Republican Party does not care about people like them.

Democrats fare a bit better among young people overall, with a small majority - 53 percent - saying the party cares about people like them.
Among young African-Americans, Hispanics and Asian-Americans, most believe the party does care about people like them. But among young whites, majorities say both parties don't care much about them, including 58 percent who say that of the Republican Party and 52 percent who say it about the Democratic Party.

GenForward is a survey by the Black Youth Project at the University of Chicago with the Associated Press-NORC Center for Public Affairs Research.
The first-of-its-kind poll pays special attention to the voices of young adults of color, highlighting how race and ethnicity shape the opinions of a new generation.

The results of the survey of Americans age 18-30 reflect something of an identity crisis for both parties heading into the future, driven in part by deep antipathy toward the presidential candidates they nominated.
Republican Donald Trump and Democrat Hillary Clinton, the two least-popular presidential nominees in the history of modern polling, were opposed by large and bitter swaths of their parties.

Young people aren't certain to fall in line behind the nominees, the survey found.
Three-quarters of young adults say the billionaire real estate magnate is unqualified to be president even after he vanquished 16 GOP rivals. Half say the same of Clinton, a former senator and secretary of state, after unlikely rival Bernie Sanders forced her to fight for the nomination for a year.

Emiliano Vera, 22, of Bushnell, Illinois, says he isn't coming back to the Democratic Party that attracted him with Barack Obama's nomination in 2008.
Ideology this year drew him to Sanders. But disenchantment with what seemed like an obviously rigged nomination process in Clinton's favor, he says, is what's pushing him to the Green Party.
Leaked Democratic National Committee emails confirmed for him that the party had their thumb on the scale for Clinton, Vera said.
"This is the last straw for me," said Vera, part of the majority of young Sanders supporters on whom Clinton cannot depend for votes, the survey found.
This year, he says, his friends agree that the Democratic Party generally is the "lesser evil" to the GOP's Trump.
But the future, he says, is a different picture.

But for all the disenchantment, young adults across racial and ethnic groups are mostly unfamiliar with their alternatives. Seven in 10 say they don't know enough about Libertarian presidential candidate Gary Johnson to have an opinion about him, and nearly 8 in 10 say the same about Green Party candidate Jill Stein.

The 18-30 age group tends not to be a conservative constituency, so the survey contains critical data particularly for Democrats and Clinton, who has said she knows she has "work to do" to appeal to the young people who flocked to Sanders during the primary.

Rachel Mace, 20, is an example of the challenge faced by Democrats and Clinton in particular.
The Farmington, Michigan, resident supported Sanders and says she wants to see one party make "a meaningful commitment" to public financing of campaigns.
She doubts she'll ever see a party, or a candidate, seek that reform voluntarily.
"There's more hope, I think, for the Democratic Party, but we're going to have to force them," Mace said.
As for Clinton,
"I find her to be incredibly corrupt."
Young people across racial and ethnic groups were more likely to support Sanders than Clinton in their primary battle this spring, and among young Sanders supporters, less than half - 43 percent - say they'll support Clinton against Trump in the fall election.
Three percent say they'll support Trump, with the rest saying they're undecided, will vote for a third-party candidate or will not vote.

The poll of 1,940 adults age 18-30 was conducted July 9-20 using a sample drawn from the probability-based GenForward panel, which is designed to be representative of the U.S. young adult population. The margin of sampling error for all respondents is plus or minus 3.8 percentage points.

The survey was paid for by the Black Youth Project at the University of Chicago, using grants from the John D. and Catherine T. MacArthur Foundation and the Ford Foundation.

Respondents were first selected randomly using address-based sampling methods, and later interviewed online or by phone.



Online