by E. Hanzei
May 2013
from LostInTheBambooForest Website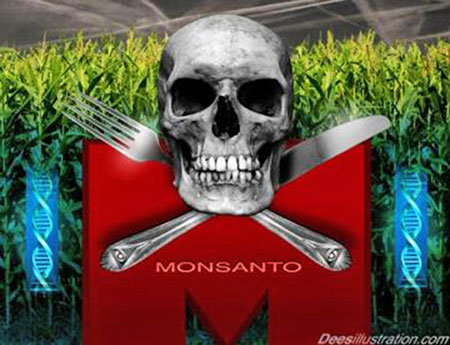 Not content to simply rest upon its throne of death, atop a mountain of rotting corpses, it remains focused on newer, more scientifically innovative ways to harm the planet and its people.

As true champions of evil, they won't stop until... well, until they're stopped!
But what is Monsanto and how did they get to be so obscenely evil in the first place? I think that's the best place to start this journey, so grab a few non-GMO snacks or beverages and let's go for a ride into the deep, murky sewers of their dark past.
To add insult to world injury, Monsanto and their partners in crime Archer Daniels Midland, Sodexo and Tyson Foods write and sponsor The Food Safety Modernization Act of 2009 - HR 875.
This criminal "act" gives the corporate factory farms a virtual monopoly to police and control all foods grown anywhere, including one's own backyard, and provides harsh penalties and jail sentences for those who do not use chemicals and fertilizers.
President Obama decided this sounded reasonable and gave his approval.

With this Act, Monsanto claims that only GM foods are safe and organic or homegrown foods potentially spread disease, therefore must be regulated out of existence for the safety of the world. If eating GM pesticide balls is their idea of safe food, I would like to think the rest of the world is smart enough to pass.
As further revelations have broken open regarding this evil giant's true intentions, Monsanto crafted the ridiculous HR 933 Continuing Resolution, aka Monsanto Protection Act, which Obama robo-signed into law as well.

This law states that no matter how harmful Monsanto's GMO crops are and no matter how much devastation they wreak upon the country, U.S. federal courts cannot stop them from continuing to plant them anywhere they choose.
Yes, Obama signed a provision that makes Monsanto above any laws and makes them more powerful than the government itself. We have to wonder who's really in charge of the country because it's certainly not him!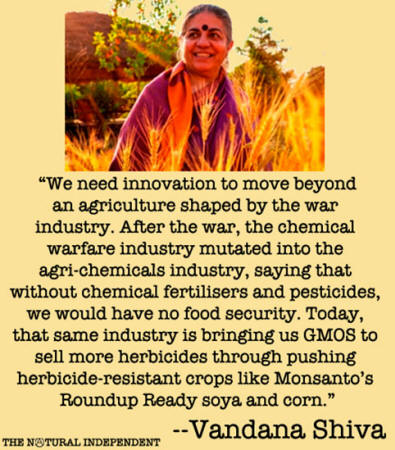 Speak out and reject GMOs!
There comes a tipping point though when a corporation becomes too evil and the world pushes back... hard!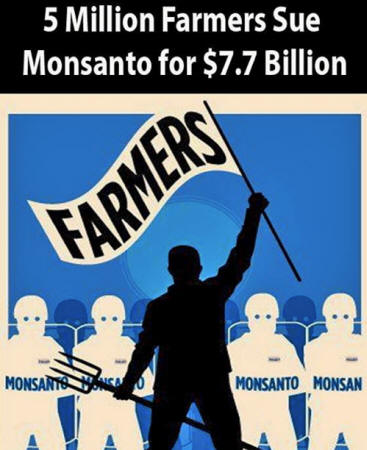 The rebellion has begun!
Which side will you choose?
The world has begun to awaken to the fact that the monster does not want control over the global production of food simply for profit's sake.
No, it's become clear by over a century of death and destruction that the primary goal is to destroy human health and the environment, turning the world into a Mon-Satanic Hell on Earth!
Research into the name itself reveals it to be Latin, meaning "my saint," which may explain why critics often refer to it as "Mon-Satan."
Under that number system, what might Monsanto add up to? Why, of course 6-6-6!
Know that all is not lost. Evil always loses in the end once it is widely exposed to the light of truth as is occurring now. The fact that the Monsanto-led government finds it necessary to enact desperate legislation to protect its true leader proves this point.
Being evicted elsewhere, the United States is Monsanto's last stand so to speak.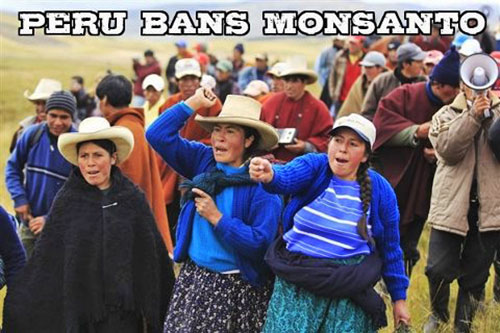 Yet, even here many have begun striking back by protesting against and rejecting GMO monstrosities, choosing to grow their own foods and shop at local farmers markets instead of the Monsanto-supported corporate grocery chains.

The awakening people are also beginning to see they have been misled by corporate tricksters and federal government criminals poisoned by too much power, control and greed, which has resulted in the creation of the monstrous, out-of-control beast.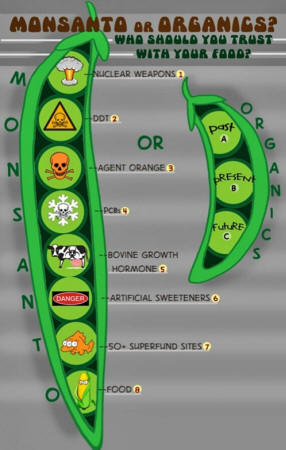 The right choice is clear!
And as the people vote against that by choosing not to buy GMO poisons, Monsatan's limbs continue to get hacked away slowly but surely, driving it to its knees for the final organic sword thrust into its blackened heart.
It is this that will end its reign of terror for good!