by Michael E. Salla, Ph.D.
May 28, 2012
from Exopolitics Website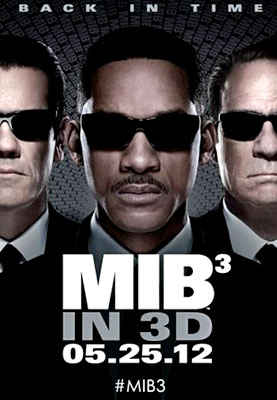 In Men In Black (MIB) III, an idea is presented in an outrageously comedic way.
Extraterrestrial visitors live on our world and are monitored by a secretive governmental agency that hides the truth from the American public. The movie is based on stories circulating since the early 1950's of mysterious MIB traveling around in dark suits in vintage cars, persuading people to be silent about their experiences concerning UFOs and alien life.
MIB III is a highly entertaining comedy, and well worth the admission price. Yet upon leaving the movie theater, one naturally wonders if any of it could possibly be true? Does MIB III use comedy to hide the truth in plain sight?

The most effective way to hide something from others is to put it in front of them in such an outrageous way that they will ignore it.
If you are an unfaithful husband wanting to hide the truth of your infidelity, you can hire your paramour as a personal secretary and travel with her to out-of-town business meetings required by your job.
If you are a government and want to hide secrets from your citizenry that have, or are about to be exposed, you hire somebody to come forward and publicly reveal the 'secret' in such an sensationalist way that people will dismiss it as a lie.
When the sensationalist account is revealed to be untrue the original secret is subsequently dismissed and discredited. Those genuinely exposing the secret in the first place, are now considered to be con artists and liars, and their supporters dismissed as foolish true believers. In the world of military intelligence, hiding the truth in plain sight is a time honored strategy used in psychological warfare operations.

It is a fact that psychological warfare has been used on the American public to hide the truth about possible extraterrestrial life visiting our world since the early 1950s.
Most importantly, Hollywood and the movie industry have been a key part of this psychological warfare program. In January 1953, the CIA convened a panel to review evidence of flying saucers that the public increasingly believed were extraterrestrial in nature - the extraterrestrial hypothesis (ETH).
Named after its chairman, Dr Howard Robertson, the Robertson Panel reviewed cases of flying saucers over a four-day period for a total of 12 hours and found none of them to be credible. Conclusions by the Panel were released in a document called the Durant Report.
It recommended ridiculing the 'flying saucer phenomenon' and the possibility of extraterrestrial life, for national security reasons. The Robertson panel recommended an 'educational program' to remove the threat posed by enemy nations exploiting the public's belief in flying saucers.
This "educational program" is where the movie industry is explicitly mentioned:
The Panel's concept of a broad educational program integrating efforts of all concerned agencies was that it should have two major aims:

training and "debunking"…

The "debunking" aim would result in reduction in public interest in "flying saucers" which today evokes a strong psychological reaction. This education could be accomplished by mass media such as television, motion pictures, and popular articles…

Such a program should tend to reduce the current gullibility of the public and consequently their susceptibility to clever hostile propaganda.
The Report issued by the Robertson Panel endorsed a government policy of using the movie industry to "educate" the public that there is no truth behind the extraterrestrial hypothesis.
Yet, there have been a number of credible whistleblowers and witnesses that have come forward to reveal that extraterrestrial life is not only visiting us, but living among us!

Command Sergeant Major Robert Dean worked at NATO's Supreme Headquarters from 1963-1967, and during this time was stationed in the Operations Center with a Cosmic Top Secret clearance. He claims to have viewed a secret NATO study that was commissioned to analyze the threat posed by UFOs to NATO operations in Eastern Europe.
The classified report was titled: "An Assessment - An Evaluation of a Possible Military threat to Allied Forces in Europe."
It focused on the dangers of UFOs being mistakenly identified as an incoming ballistic missile attack from the Soviet Union. Dean claimed that the NATO study identified four different extraterrestrial civilizations visiting the Earth. He said that what really worried the NATO top brass was that some of the visitors looked so much like us that they were virtually indistinguishable.
Dean says that NATO generals were paranoid over the possibility that some of the extraterrestrial visitors could be walking in the corridors of NATO or the Pentagon, or even the White House itself.
In an interview Dean explained:
There was a human group that looked so much like us that that really drove the admirals and the generals crazy because they determined that these people, and they had seen them repeatedly, they had had contact with them…

These people looked so much like us they could sit next to you on a plane or in a restaurant and you'd never know the difference. And being military and being primarily paranoid, that bothered the generals and the admirals a little bit.

That the fact that these intelligent entities could be involved with us, walking up and down the corridors of SHAPE, walking down the corridors of the Pentagon. My God, it even dawned on a couple of them that these guys could even be in the White House!

Of course, as I said, being paranoid in those years it really shook things up a little bit.
Dean's testimony reveals official knowledge that extraterrestrials are living among the human population.
His testimony demonstrates that official military and government agencies have been developing strategies for responding to extraterrestrial life among us. We get a better idea of the official strategy used to respond to extraterrestrials among from another whistleblower - Ingo Swann.

Swann was the first psychic employed in the CIA's remote viewing program that began in 1975: Project Star Gate.
Swann's success rate was so impressive that by 1975 he was recruited by a covert government operative, "Mr Axelrod," to spy on extraterrestrials. Swann remote viewed extraterrestrials on the moon who had bases on the dark side.
In later interviews and in his book, Penetration, Swann claimed that he viewed various structures on the surface and observed extraterrestrials near them who were able to breath unaided, thereby suggesting an atmosphere on the moon.
Swann's remote viewing was confirmed by Axelrod who sent Swan a book by George Leonard describing similar structures he viewed on the moon using photographic analysis of NASA images.
The success of Swann and Project Star Gate in delivering accurate remote viewing data to intelligence agencies quickly led to military agencies asking Swann to develop the necessary protocol for training military remote viewers. Swann's involvement with the covert activities of "Mr Axelrod" provides valuable evidence on extraterrestrials living among us.

In one incident, Swan describes how he was taken by Axelrod to a remote location, thought to be Alaska, where they traveled to a lake to view UFO activity.
The goal was for Swann to psychically gain information on what the extraterrestrials were doing at what appeared to be a secret UFO base. Swann described in detail an incident involving a UFO coming out of a lake, drawing in some of the lake's water, and expanding in size from a tiny spot into a large triangular vehicle.
He passed on the psychic information to Axelrod before they quickly left the area in order to escape detection by the UFO.
What is most remarkable in Swann's testimony about his covert work for Axelrod is a supermarket incident where he encountered a strikingly attractive female who he psychically intuited was extraterrestrial.

Swann claims that he was shopping in a Los Angeles supermarket when he noticed a very attractive, scantily clad female. He claims that his body physically began buzzing as he viewed her out of the corner of his eyes and intuitively received information that she was an extraterrestrial. At first dismissing the idea, he got independent confirmation of her extraterrestrial identity by observing her being followed by two of Mr Axelrod's operatives, also in the supermarket.
Frightened by the presence of Axelrod's operatives Swann quickly exited the venue due to his fear of what might happen.
Final confirmation that the female was extraterrestrial followed not long afterward when Axelrod phoned Swann to discuss whether the female had telepathically communicated with him. Axelrod had been told by his two operatives that Swann had been in the presence of the extraterrestrial and had possibly communicated with her.
Axelrod was very worried about this possibility and Swann assured him that no telepathic communication had occurred.
Investigative reporter Garry Bekkum describes what happened:
The renewed phone contact by Axelrod was far from ordinary.

First Swann received a mysterious phone call from a female operative, directing him to a different phone. The call ended in dead silence, suggesting that the phone line had been cut and spliced into.

Once he reached the designated phone, Swann engaged in a scrambled conversation with Axelrod, asking about the strange sexy woman in the supermarket.

Axelrod warned,

"I feel obliged to tell you that she is really dangerous."

Apparently Swann believed that Axelrod's warning had confirmed his worst fear.

Not only were extraterrestrials on the moon, but they had operatives here on Earth, among the ordinary people. If Axelrod was to be believed, they were to be avoided at all possible cost.
Axelrod's efforts to monitor the extraterrestrial female, his concern about Swann being in telepathic communication with her, and his warning that she was dangerous suggested that Axelrod's efforts were part of an official policy to prevent any ordinary civilians from fraternizing with extraterrestrials.
The two operatives that followed the extraterrestrial bore a striking resemblance to one another and wore black suits.
They appeared to be genuine MIBs.
Ingo Swann
Coast to Coast AM
Only Audio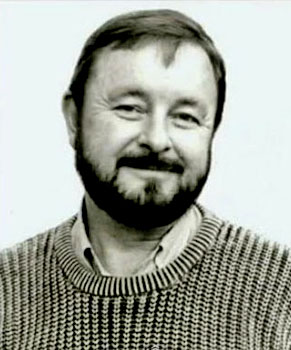 Ingo Swann

Dean's and Swan's striking testimonies reveal that the core idea behind the Men in Black movie series is based not in fiction, but in fact. Extraterrestrials do live among us, and blend into human society as depicted in the three MIB movies.
Also, there does exist a shadowy government agency - embedded within the CIA and sister intelligence organizations from around the world - that is responsible for monitoring extraterrestrial life on our world.
This shadowy government agency does employ individuals similar to those depicted in MIB to maintain public secrecy.

It is a fact that psychological warfare has been used to keep the truth behind the UFO/flying saucer phenomenon and the extraterrestrial hypothesis from the public. The movie industry has been a part of this secret effort.
Scriptwriters and movie producers have been covertly recruited to assist the officially sanctioned government policy of educating the public that there is no truth to the extraterrestrial hypothesis.
Yet whistleblowers and witnesses have come forward to reveal the reality of extraterrestrials among us. Men in Black III is a clever comedy that hides the truth in plain sight.
Next time you go to a movie theater to watch a science fiction movie, don't take it for granted that the person sitting next to you is from this world.