by Paul Cudenec
November 01, 2023
from PaulCudenec Website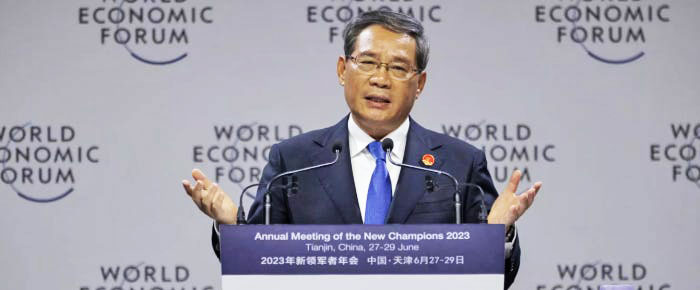 It seems that a lot of people out there are still in denial regarding the extent to which China,
is part of the same global-governance monopoly that has long owned the West...!
With that in mind, we have brought together some material published at Winter Oak over the last few years that might shed (evidently much-needed) light on the situation.

In January 2021 our five-part series of articles on the World Economic Forum's Global Shapers Community focused on the Beijing hub of Klaus Schwab's top-down pseudo-network.
One hub member is Eric Tse, a young Big Pharma billionaire who is from Hong Kong, but is said to have "close ties" with "mainland Chinese politicians" - his father Tse Ping was previously a committee member of the Chinese People's Political Consultative Conference (CPPCC), the country's top political advisory body.
On December 7, 2020, Tse's Sino Biopharmaceutical invested $515 million in Sinovac, the company behind the CoronaVac vaccine.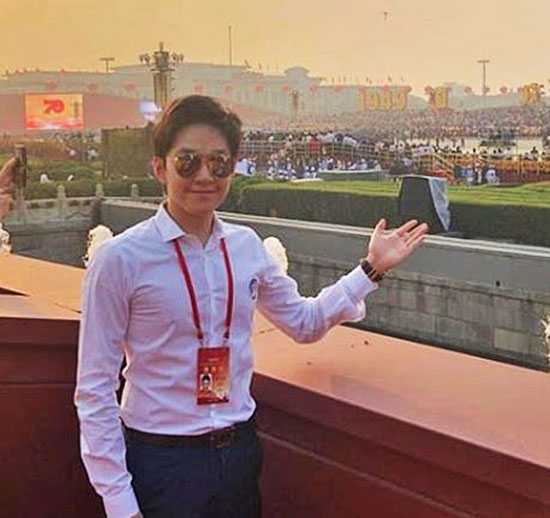 Tse is also part of the WEF Global Shapers worldwide leadership, as explained here.
On October 1 2019, the 70th anniversary of the founding of the People's Republic of China, Tse was able to attend Communist Party celebrations in Beijing open only to invited guests and dignitaries.
We commented at the time:
"So we have a Big Pharma billionaire, who is working with the WEF to push for yet more global corporate control and exploitation, celebrating the founding of a communist state!"
In March 2022 our special correspondent Najm Al-Dīn wrote of the Russia-Ukraine conflict:
"This war marks a major inflection point in the globalist aspiration for a new international rules based order anchored in Eurasia.

"While America tries desperately to cling to its superpower status, China's economic ascent and Russia's regional ambitions threaten to upend the strategic axial points of Eurasia (Western Europe and Asia Pacific).

"The region in which America previously enjoyed uncontested hegemony is no longer impervious to cracks and we may be witnessing a changing of the guard which dramatically alters the calculus of global force projection.

"Although China's ambitious Belt and Road Initiative (BRI) has the potential to unify the world-island (Asia, Africa and Europe) and cause a tectonic shift in the locus of global power, the recent invasion of Ukraine will have far-reaching consequences for China-Europe rail freight.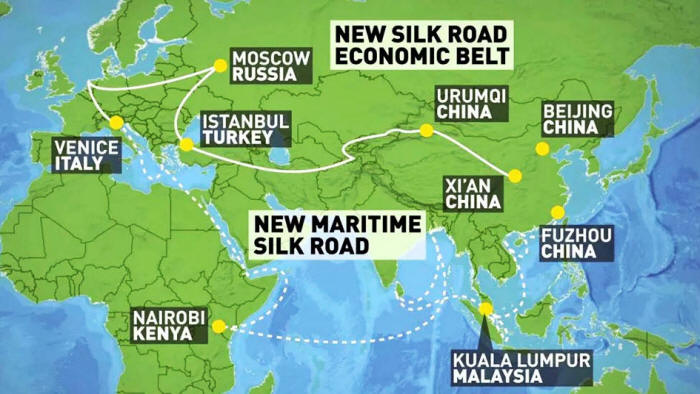 "The Ukrainian President Zelensky claimed that Ukraine could function as the BRI's gateway to Europe".
Turning to the China-Israel connection, he wrote:
"Israel is a highly attractive BRI market for China and the CCP is acutely aware of Israel's importance as a strategic outpost connecting the Indian Ocean and the Mediterranean Sea through the Gulf of Suez.

"Furthermore, the Chinese government has for many years acknowledged the primacy of Israel as a global technology hub and capitalized on Israel's innovation capabilities to help meet its own strategic challenges".
An intriguing snippet of information dropped into our hands in January 2023, while we were researching a story about the global chemical and tobacco industries.
We wrote:
"It appears that virtually everything, everywhere, is owned by an interlocking knot of funds and holding companies centered around BlackRock, Vanguard and State Street".
And this turned out even to be true of a company owned by "communist" China.
"China Tobacco is owned by the Chinese state, operated by the Ministry of Industry and Information Technology of China, enjoys a virtual monopoly in China, which accounts for roughly 40% of the world's total consumption of cigarettes, and is the world's largest manufacturer of tobacco products measured by revenues.

"But top institutional shareholders in its Hong Kong entity, China Tobacco International (HK) Company Limited, include no fewer than three manifestations of Vanguard!"

Our July 2023 article on BRICS provided some historical background on China's connections to the arch-globalist Rothschild empire.
"The dynasty's obvious power in Chinese affairs was such that when the British magazine The Period published, in 1870, a cartoon depicting Lionel Rothschild as 'The Modern Croesus', a new Rothschild 'king' upon his throne of cash and bonds, one of the lesser rulers he was shown lording it over was the Emperor of China.

"In the light of today's talk of a 'multi-polar' world order, it is interesting to read [Niall] Ferguson's comment that the Rothschilds favored 'co-operation between the European powers' in China and that they generally preferred,

'what might be called multinational imperialism'."
Turning to the current situation, we noted that, in 2022, WEF founder Klaus Schwab told Chinese state media that,
the country was a "role model" for other nations and praised its "tremendous" economic achievements over the last 40 years.
When China reinvented itself as a 'socialist market economy' in the late 20th century, it first opened up the country to foreign investment and then privatized and contracted out much state-owned industry.
Addressing the WEF's 14th Annual Meeting of the New Champions in Tianjin, China, in June 2023, Chinese premier Li Qiang said:
"China is committed to building world peace, promoting global development and upholding the international order.

"Today, the Chinese economy is deeply integrated into the world economy. China has developed itself by embracing globalization, and grown into a most staunch force for globalization".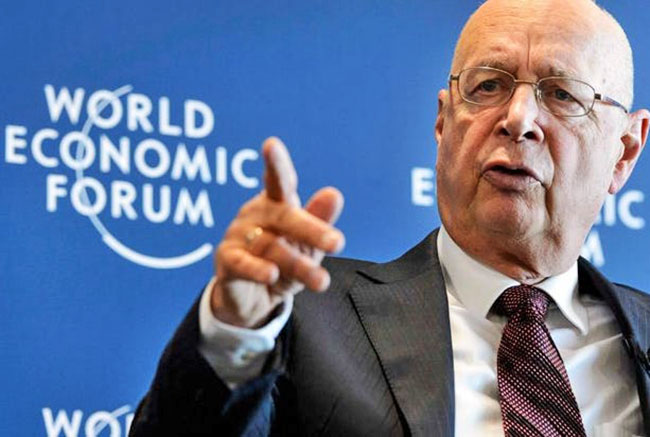 Our article added:
"What the financial forces behind the WEF like about Chinese-style Communism, and liked about Soviet Communism, Italian Fascism and German Nazism, is that authoritarian one-party control frees them from the constraints and complications of public accountability".
As Iurie Roșca noted in May 2023:
"Currently China is the golden dream of any dictator in history, with forced medicine, lockdown and incarceration of its own citizens in their homes, widespread surveillance, social rating and no political and civil liberties whatsoever".
In September 2023, The Acorn featured a report from our friends at Corporate Watch UK, which we entitled "China: a SAFE bet for global finance".
This investigated SAFE Investment Company Ltd, one of China's sovereign wealth funds, and reported:
"SAFE began buying into major global firms during the 2007-8 financial crisis."
Among the companies it began investing in at this time was BP; by 2008 it had upped its share in the company to a potential $2bn (£1.6bn).
"Its shares in Shell and BP represent the company's most valuable holdings, currently amounting to around £1.8bn and £1.2bn respectively.

Besides these British oil giants, UK companies feature prominently among SAFE's top public investments.

"These include pharmaceutical companies, AstraZeneca and GSK, and mining behemoths Anglo American and Rio Tinto. It invests in Yara, among the world's largest producer of fertilizer (see Corporate Watch's profile on Yara and its role in climate chaos).

These holdings are followed by a host of major Western brands, from Tesco and Lloyds Bank, to Burberry, Next, Whitbread and Compass Group.

"It owns 0.47% of the UK's National Grid - a holding currently worth £198m - and even has a stake in the London Stock Exchange".

Further insights into China's role in global governance emerged in our October 2023 research on the China Institute in Shanghai, whose "senior fellows" include,
self-proclaimed anti-globalist Alexandr Dugin

Martin Jacques, former Marxism Today editor and author of a book called When China Rules the World - The End of the Western World and the Birth of a New Global Order...
China Institute director Zhang Weiwei is a WEF collaborator and very keen on Klaus Schwab's Fourth Industrial Revolution...
One colleague, Li Bo, is involved with the Tricontinental Institute,
"an organization which received $12.5-million from the Goldman Sachs Philanthropy Fund".
Another, Eric X Li, is a Fellow of the Aspen Institute, an organization which teamed up with the Mastercard Center for Inclusive Growth to host the 2021 Global Inclusive Growth Summit, and a member of the council of the International Institute for Strategic Studies, a globalist body whose funders include,
NATO

Rockefeller Brothers Fund

the UK Ministry of Defence

the UK Foreign and Commonwealth Office

the British Army

the Canadian Department of Defence

the Carnegie Corporation

BAE Systems

GKN Aerospace

the Embassy of Israel to the UK

the Kingdom of Bahrain

The Nicky Oppenheimer Foundation...
It's perhaps understandable, in these dark times, that some people cling to 'the hope' that Chinese power represents something other than imperialist "business as usual"...
But they are only going to make matters worse, in the long run, if they stick their heads into the sand and try to pretend, in the face of all the evidence, that "communist" China isn't just another front for the global criminocracy...!