by Laurence Norman in Berlin and Kim Mackrael in Brussels
March 30, 2023
from StrategicStudyIndia Website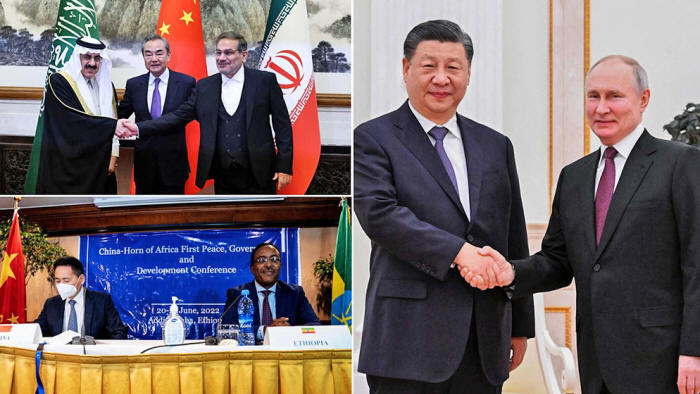 China is arguably a modern-day Technocracy, originally groomed and taught by Zbigniew Brzezinski, a co-founder of the Trilateral Commission in 1973.

When China entered the world economic stage, it was not taught principles of free market economics, but rather Technocracy, or the Commission's self-proclaimed New International Economic Order.


It's no surprise that China is emerging as the global leader just as the Trilateral Commission has declared 2023 to be "year one" of the new global order.

China will dominate, just as the Commission predicted in 1973.



BRUSSELS
China is seeking a new international order with Beijing as the dominant player, and the European Union must be more assertive in defending its security and economic interests, including possible EU-wide controls on outbound investment, the bloc's top official said Thursday.

In a speech Thursday ahead of her trip to China alongside French President Emmanuel Macron, set to take place next week, European Commission President Ursula von der Leyen said the EU must continue engaging with Beijing but needs a strategy for "de-risking" its relationship and dependencies on China.

She also tied the future of Europe's links with China to Beijing's actions over the war in Ukraine and effectively called a halt to remaining hopes of enacting a 2020 EU-China investment agreement.

Citing China's backing for Russia in the Ukraine war, its Belt and Road global infrastructure initiative and its assertiveness in multilateral bodies, Ms. von der Leyen said the Chinese Communist Party's,
"clear goal is a systemic change of the international order with China at its center."

"One, where individual rights are subordinated to national sovereignty, where security and economy take prominence over political and civil rights",
...she said in a speech hosted by two European think tanks, one of which, the Mercator Institute for China Studies, has been sanctioned by Beijing.

Ms. von der Leyen's comments come at a pivotal moment in Europe's relations with China, which have been frayed by years of economic spats and, since Russia's 'invasion' of Ukraine, by Chinese President Xi Jinping's close ties with Russian President Vladimir Putin.

Facing crosscutting pressures from Washington to harden its line toward Beijing and from China not to put its large economic interests at risk, most EU countries are keen to continue to engage with Beijing and not to be drawn directly into a confrontation between the U.S. and China.
The EU and China do close to 1 billion Euros, equivalent to roughly $1.1 billion, in trade a day, and China is the EU's biggest import market...
The coming trip by Mr. Macron and Ms. von der Leyen is one of a number by leading European officials to China in coming weeks.

Officials say among the key goals is to prod Chinese leaders to take a more balanced approach to the war in Ukraine and warn that any decision by Beijing to support Russia militarily in Ukraine would have serious consequences for ties.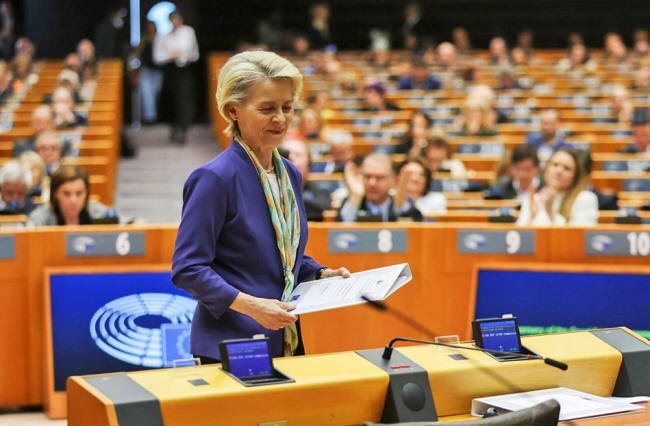 European Commission President Ursula von der Leyen
says Beijing's actions over the war in Ukraine
will be a determining factor for EU-China ties.
PHOTO: OLIVIER HOSLET/SHUTTERSTOCK


Ms. von der Leyen spelled out that message on Thursday.
She said that,
China's relations with Russia have grown tighter despite what she called Russia's "atrocious and illegal invasion of Ukraine," even while Beijing is emerging as the dominant partner...
Referring to China's talk of a peace plan, she said that any proposal,
"which would in effect consolidate Russian annexations" of Ukrainian territory "is simply not a viable plan."

"How China continues to interact with Putin's war will be a determining factor for EU-China relations," she added.
China continues to be a vital trading partner, Ms. von der Leyen said.
But she warned the economic relationship between China and Europe is becoming increasingly unbalanced and that China's,
"explicit fusion of its military and commercial sectors" poses risks to European security.
She said the bloc could also better enforce the tools it already has to safeguard its economic interests.

New foreign subsidy rules set to take effect later this year will allow the EU to bar Chinese and other companies from making certain acquisitions or winning large public contracts if they previously benefited from government support that the bloc deems distortive.
The EU is also close to agreeing on new rules that aim to make it easier to retaliate against countries that try to use trade or investment restrictions as a pressure tactic.

EU countries will need to work together,
"for a bolder and faster use of those instruments when they are required and a more assertive approach to enforcement," Ms. von der Leyen said.
BusinessEurope, a lobby group, said any new tools that could have a significant impact on trade or investment flows between the EU and China, such as controls on outbound investment, should be assessed and discussed with industry.

Other steps to reduce economic risks from China should include,
reducing the bloc's heavy reliance on Beijing for the critical raw materials needed for the EU's clean-tech and digital industries and working more closely with like-minded governments, Ms. von der Leyen said.
She also signaled that the European Commission is no longer pushing for the revival of an investment pact with China, which European officials believed would have opened some economic sectors to EU businesses.

The enactment of the pact, the Comprehensive Agreement on Investment, was stalled after the EU sanctioned Chinese officials over human-rights abuses and Beijing imposed counter-sanctions on EU lawmakers and other officials as well as think tanks.
However, some in Brussels, Paris and Berlin had hoped to revive the pact.

Ms. von der Leyen said,
"we have to recognize that the world and China have changed in the last three years - and we need to reassess CAI in light of our wider China strategy."