from CommonDreams Website
They have received little attention in the United States, but a set of WikiLeaks disclosures of confidential documents has caused an uproar in Europe by showing that U.S. officials pressured Germany and Spain to derail criminal investigations of Americans.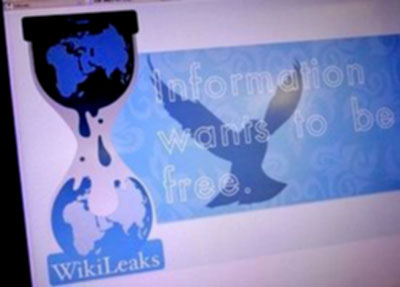 A set of WikiLeaks disclosures of confidential documents
has caused an uproar in Europe by showing that U.S. officials
pressured Germany and Spain to derail criminal investigations of Americans.
(AFP/File/Karen Bleier)
The more than 2,500 State Department cables that the anti-secrecy group has provided to news organizations since November include accounts of three cases that shed new light on U.S. responses to allegations of wrongdoing by its agents abroad:
The case of Khaled el-Masri, a German citizen seized in Macedonia in 2003 by officers who mistook him for an al Qaeda agent with a similar name.

He said they turned him over to U.S. authorities, who flew him in shackles, a blindfold and a diaper to a prison in Afghanistan, where they beat him, injected him with drugs and interrogated him.

Five months later, he said, he was flown to Albania and dumped on a remote hillside without explanation or apology.

After German prosecutors issued arrest warrants for 13 CIA agents allegedly involved in el-Masri's abduction, a February 2007 cable quoted the deputy U.S. chief of mission in Berlin as advising a German diplomat to "weigh carefully at every step of the way the implications for relations with the U.S." if the agents were prosecuted.

The German government withdrew the warrants five months later.

(Source)

The case of four Spanish residents who said they were tortured by U.S. interrogators at Guantanamo Bay before being released without charges and returned to Spain.

A Spanish judge announced a criminal investigation in January 2009 into whether six lawyers in President George W. Bush's administration had approved torture.

They included former Attorney General Alberto Gonzales and John Yoo, the UC Berkeley law professor whose memos as a Justice Department attorney authorized the near-drowning technique called waterboarding.

WikiLeaks cables from April and May 2009 said Spanish officials were being warned about the case by diplomats from the Obama administration and by a visiting U.S. senator, Mel Martinez, R-Fla., who allegedly told Spain's foreign minister that the prosecution would have,

"an enormous impact on the bilateral relationship."

The Miami Herald has reported that Martinez was carrying that message for the Obama administration.

The documents also quoted U.S. diplomats as urging Spain to transfer the case from Judge Baltasar Garzón, known for far-reaching investigations of suspected international law violations and for criticism of U.S. policies. The cables described Garzón as a "publicity-loving" jurist with an "anti-American streak" and said Spain's chief prosecutor was trying to remove him.

Spain's government has since suspended Garzón for allegedly exceeding his authority in another case.

Another judge has taken up the case of the Bush administration lawyers but has not decided whether to reopen it.

The case of Jose Couso, a Spanish cameraman who was one of two journalists killed in April 2003 by a U.S. artillery shell at a hotel in Baghdad.

A U.S. military investigation concluded that troops were responding to reports of rocket attacks from the building, but journalists on the scene have said the hotel was a well-known media headquarters and was not the source of any hostile fire.

Spanish courts have authorized criminal charges against three American soldiers, but Spanish prosecutors have moved to scuttle the case.

A May 2007 WikiLeaks cable quoted then-U.S. Ambassador Eduardo Aguirre as saying that,

"behind the scenes we have fought tooth and nail to make the charges disappear."

(Source)

The Obama administration has refused to discuss the content of the State Department documents or of previous WikiLeaks disclosures about Iraq and Afghanistan.

Administration officials have focused instead on the illegality of the leaks and the harm they allegedly caused.

Asked for comment about the cables on Germany and Spain, the State Department referred a reporter to Secretary of State Hillary Rodham Clinton's statements at a November press briefing, in which she called the release of confidential department materials,

"an attack on the international community."

"There is nothing brave about sabotaging the peaceful relations between nations on which our common security depends," Clinton said.

(Source)
The documents have drawn extensive news coverage abroad, centering on their accounts of U.S. political power and foreign acquiescence.
A December 9 article in the influential German newsmagazine Der Spiegel, for example, was headlined "Cables Show Germany Caved to Pressure From Washington."
Several independent legal analysts saw nothing unlawful in the U.S. actions but were divided about whether they had violated the norms of diplomacy.

All countries understand that "they have a political and diplomatic price to pay" for taking on another nation's officials, said Diane Amann, a UC Davis law professor and vice president of the American Society of International Law.

It's neither surprising nor illegal that the United States would try to discourage such foreign prosecutions, Amann said.
But she criticized the,
"failure of the United States itself to conduct any apparent investigation or efforts at accountability" in cases like el-Masri's.
Federal courts have dismissed el-Masri's suit against the U.S. government, accepting arguments by both the Bush and Obama administrations that secrets about the CIA's rendition program could be exposed if the case proceeded.

Last month, the Associated Press reported that the CIA analyst who advocated el-Masri's abduction and argued against releasing him even after colleagues reported the mistaken identity has been promoted to run the agency's al Qaeda unit and regularly briefs CIA Director Leon Panetta.

Ben Wizner, the American Civil Liberties Union lawyer who represents el-Masri, said the cables show U.S. officials using,
"diplomatic muscle and subtle threats to try to prevent accountability abroad, just as they had prevented it at home."
But a Stanford law instructor and former State Department lawyer said governments commonly urge one another to consider the foreign policy implications of pursuing a criminal case against foreign nationals working for their countries.
"We often ask countries to do things that are good for the United States of America," said Allen Weiner, co-director of Stanford's international law program.

"That may be hard for those countries to explain if it were on the front page," which justifies keeping the discussions confidential, he said.
Another international law analyst, Scott Horton of Columbia Law School, said laws against interfering with criminal investigations - normally considered obstruction of justice - don't apply to a diplomat's inquiries to a foreign government.
"They have a right, as a diplomat, to seek information," Horton said.
But he said diplomats,
"go off track when they start talking about removing and replacing judges," as U.S. officials apparently did with Spain's Garzón. "Imagine if that happened in the U.S."
Garzón's probe into whether Gonzales, Yoo and other Bush administration lawyers authorized torture is on hold but could resurface.
The new judge, Eloy Velasco, has repeatedly asked the Obama administration whether it was conducting its own inquiry, which would make a Spanish investigation unnecessary.

According to the latest court filing, Velasco has not yet received a reply.