from RT Website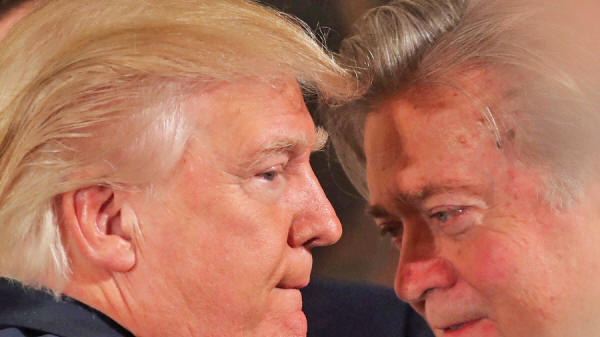 © Carlos Barria / Reuters


The current bestseller
on the Trump White House by Michael Wolff
is great fiction and good entertainment
but in reality will not affect
Donald Trump's support base,
political talk show host Bryan Crabtree told RT.


Speculation that US President Donald Trump has psychological problems, fueled by the 'tell-all' bestseller about the Trump White House called 'Fire and Fury' by Michael Wolff, led to a heated clash between Trump's senior policy adviser, Stephen Miller, and CNN host Jake Tapper.
The CNN host cut off the 12-minute interview on 'State of the Union' with Miller, saying that the adviser was wasting viewers' time.

Apart from allegations about Trump's mental health, 'Fire and Fury' author Wolff has claimed that Trump found the White House daunting. It's said that the president's own behavior contributed to "chaos and dysfunction."

Meanwhile, Bannon, who was Trump's chief strategist, has expressed regret for comments included in the book, in which he dubbed a meeting between members of the Trump team and a Russian lawyer "treasonous."
This is what we see over and over again. All I can say is that my guess is - most of the media likes business as usual.

They liked how things worked under the Obama administration when they had a lot of access to fancy parties and better jobs, and better coverage, perhaps.

And maybe they are just more in line with President Obama's politics.

But none of that matters because right now President Trump is president and whether they like it or not, it is how it is. And they have zero impact, even after 90 percent of their coverage on this president… has been negative.

Dr Gina Loudon

psychology expert

political analyst and author




"My comments were aimed at Paul Manafort, a seasoned campaign professional with experience and knowledge of how the Russians operate...

To reiterate, those comments were not aimed at Don Jr.," Bannon said.

"I regret that my delay in responding to the inaccurate reporting regarding Don Jr. has diverted attention from the president's historical accomplishments in the first year of his presidency," he added.
RT: Miller's interview on CNN was cut short. Why invite someone on from Trump's administration, and then not give them the chance to talk?

Bryan Crabtree: CNN of all places, based in Atlanta, they love to basically bring conservatives, especially Trump conservatives, on their network and give them a bashing, if you will. That is their mode of operation.

They love to bring them on and lecture them about what is wrong with Trump. And the American people, judging by the ratings, don't care much for it.

RT: Why did Steve Bannon apologize for his comments in 'Fire and Fury'? Is this damage control or was he actually misquoted?

BC: I think he was misquoted and I think he also was quoted.

If you look at this book, this is the biggest bout of fake news we've seen in a long time. They quoted the fact that Trump didn't know who John Boehner, our former speaker of the House, was.

He has played golf with him, he was the speaker of the House for four months when Trump began his campaign.

So, I think, if you look at what he is really doing here, the agenda of Steve Bannon is to run for president, run a large political-action committee. And that is why he got fired.

I think Steve Bannon was pro-Trump until he got a taste of the power that came with President Trump and then he became pro-Steve Bannon. He was doing interviews, he seemed to go rogue.

And eventually when former General John Kelly, the current chief of staff took the reins, he worked on getting him ousted from the White House. And I think that is really what this is about.

Steve Bannon thinks that he is a superstar, the media to their credit built him up as that. And I think he went off the rails.

I think this is all about Steve Bannon and his agenda and I think he lost a thought that he was damaging Trump, who he helped get elected.

Steve Bannon was actually misquoted in a lot of ways.

We know that this book has been widely discredited and it wasn't even just by Trump's friends, that has been by some of Trump's foes as well.

And this particular author is considered a tabloid writer, he is not considered a legitimate author.

This book, we all know, is fiction. It doesn't surprise me at all that a lot of what was said is being disputed on all levels by both sides.

Dr Gina Loudon

psychology expert

political analyst and author


RT: How could Bannon's retraction affect the media frenzy about Trump's alleged mental state. Could it force the media to admit not everything in 'Fire and Fury' is true?

BC: No, it is pretty much untrue.

I think there is some truth in it but the reader has been left to figure out what is true and what is not. Let's face it, Michael Wolff sat inside the White House, he basically grabbed people as they walked by, had extensive conversations with Steve Bannon.

He has admitted to some extent some stuff isn't fully verified. And on top of that, he has gotten information from Steve Bannon that is second-hand comments and he has quoted them as first-hand.

So, it is a great fiction work and it is good entertainment. But I think the fallout is going to be the same as every other controversy thus far on Trump. If you look at approval ratings, maybe they take a hit.

But in reality, the support behind Trump seems to be unwavering. And this is another media frenzy.

I don't think this has much impact on the president going forward. I think it just shows that there is a few people that he has put himself around, that he may need to take a second look at.

Steve Bannon was one of them, this is already done. I think at the end of the day, these things are a big joke and we've been left to just figure this stuff out.


North Korea praises 'Fire and Fury' book for foretelling...
'Trump's Political Demise'
by Kim Hjelmgaard
January 11, 2018
from USATODAY Website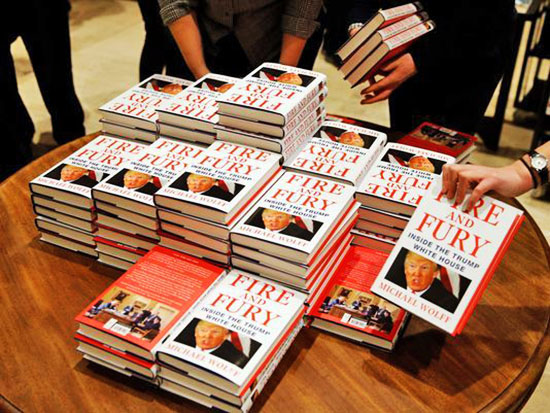 Michael Wolff's
'Fire and Fury: Inside the Trump White House'
on display as they go on sale at a bookshop, in London.
(Photo: AP)

Michael Wolff's decision
to publish 'Fire and Fury' after Trump's lawyers
filed a cease-and-desist letter
was an unprecedented move.
Here's why.



Michael Wolff's revealing book about President Trump's White House has made its way to one of the most isolated corners of the planet: Kim Jong Un's North Korea, where state media praised it Thursday for foretelling "Trump's political demise."

The book, Fire and Fury - Inside the Trump White House, has received mixed reviews, with some critics and readers claiming it is an unputdownable expose of a juvenile and dysfunctional administration, and others saying it amounts to little more than unsubstantiated political gossip.

Pyongyang, though, gave it five stars (out of five).

North Korea's Rodong Sinmun newspaper said in a commentary that robust sales for the book reflected,
"rapidly surging anti-Trump sentiments in the international community."
The paper added that the,
"anti-Trump book is sweeping all over the world so Trump is being massively humiliated worldwide" and that "voices calling for the impeachment of Trump are on the rise not only in the United States but also abroad."
Since the book was published about a week ago, it,
"has triggered a debate on whether Trump is qualified to be president, even in Western Europe," the newspaper said.
Fire and Fury, which takes its title from Trump's threat to unleash "fire and fury" after North Korea's missile and nuclear tests, sold 29,000 copies its first weekend after being published Friday.
Digital sales topped 250,000, and audio sales exceeded 100,000, according to John Sargent, CEO of Macmillan, the parent company of the book's publisher, Henry Holt and Co.
The publisher increased an initial announced printing of 150,000 to more than 1 million, according to the Associated Press.

Comments in the book has led to the resignation of Steve Bannon as executive chairman of the Breitbart News Network. Trump's former chief strategist is one of the book's major sources.
Trump also promised to "take a strong look" at U.S. libel laws because of what he says is the book's inaccurate and unflattering portrayal of his administration.