December 06, 2016
from WPR Website
Kristian Coates Ulrichsen is the fellow for the Middle East at Rice University's Baker Institute and an associate fellow at Chatham House in London.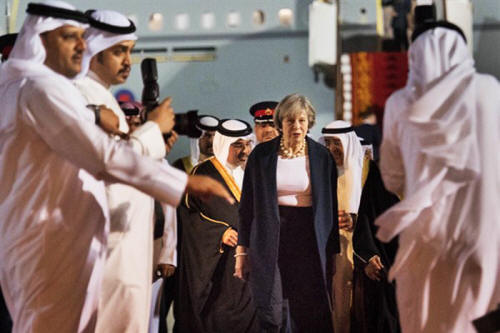 British Prime Minister Theresa May is in Bahrain to meet with the leaders of the six Gulf Cooperation Council (GCC) states on the sidelines of the annual GCC Summit on Dec. 6-7.
May, who took office in July in the aftermath of the Brexit vote and Prime Minister David Cameron's subsequent resignation, is the first British prime minister to attend the GCC summit - and only the second Western leader to be invited to do so, after France's Francois Hollande.

Nearly six months on from Brexit, the mechanics and timeframe for Britain's formal process of withdrawal from the European Union remain unresolved and, given their complexity, perhaps irresolvable.
Against the backdrop of mounting political uncertainty over both the nature of Britain's future relations with European partners and its place in the world after Brexit, government ministers have identified the GCC as a surer bet for trade and investment deals.

Since taking office in 2010, initially in a coalition with the Liberal Democrats, Cameron's Conservative government focused heavily on building up economic and commercial relationships with the Gulf states and rebuilding historical ties that were perceived to have suffered during the 13 years of Labour government, from 1997 to 2010, under Tony Blair and Gordon Brown.
Indeed, Cameron's first overseas visit as prime minister in 2010 was to the United Arab Emirates, which was followed by a bilateral UAE-U.K. taskforce.
Cameron lobbied the UAE intensively in an ultimately futile attempt to secure a Typhoon fighter contract for BAE Systems, as well as BP's participation in the renewal of Abu Dhabi's lucrative onshore oil concession.
The British government also launched a government review of the Muslim Brotherhood under reportedly heavy pressure from the UAE and Saudi Arabia, which both officially designated the group a terrorist organizations in March 2014.

Opposition and human rights activists criticized the "mercantile" foreign policy of Cameron's government for seemingly prioritizing trade and investment over issues of political and human rights.
That policy wasn't uniformly successful, as the BAE Systems and BP examples showed, while British ties with Saudi Arabia and the UAE were strained by parliamentary criticism of government crackdowns in both countries amid the upheavals of the Arab Spring in 2011.
However, the sustained ministerial focus on trade relations did help to strengthen British-Gulf relations as the initial phase of the Arab uprisings gave way to a set of protracted, violent and messy transitions. Trade between Britain and the UAE rose by more than 60 percent between 2009 and 2013 alone.
Moreover, since 2013, the Royal Navy has returned to the waters of the Gulf, which was under British protected status between 1820 and 1971.
Senior British politicians have even revived the old colonial-era "east of Suez" terminology that had faded for decades following Britain's military withdrawal from the Gulf in 1971.

It is hardly surprising, then, that May's new government opted to redouble its outreach to the region to try and offset the spiraling uncertainty in Britain's other global partnerships. The Gulf is one of the few areas where Britain holds a natural advantage, partly through a sense of shared history but additionally through the soft asset of the British royal family.
British policymakers adopted a "two kingdoms dialogue" with Saudi Arabia in the late 2000s, emphasizing their shared royal heritage, even if the initiative's results were disappointing.
Regular visits to the Gulf by Prince Charles and Prince Andrew, as well as Queen Elizabeth's close relationship to senior Gulf leaders, such as the emirs of Bahrain and Kuwait, also allow Britain to project a degree of soft power and closeness that most of its trade rivals simply cannot match.

It is hardly surprising that May's new government opted to redouble its outreach to the Gulf to try and offset the spiraling uncertainty in Britain's other global partnerships.

In July, Saudi officials indicated that preparatory work was already underway on a free trade agreement between Britain and the GCC.
Such an agreement is likely to feature highly on the agenda of May's visit to Bahrain this week, particularly as early hopes that Britain could reach similar trade deals with other international partners, such as Australia, have been rebuffed.
Although progress in any talks with the GCC is likely to be slowed by a shortage of British trade negotiators and uncertainty over Britain's ability to reach a bilateral agreement until its withdrawal from the EU has been completed, there is nevertheless a moment of geopolitical opportunity for May and her government - given the political scene in France and the United States, two countries with major stakes in the Gulf.

Since 2013, Hollande has assiduously positioned France as the GCC's most steadfast European partner, symbolized by Hollande's participation, as a guest of honor of Saudi Arabia's King Salman, at the mid-year GCC Consultative Summit in Riyadh in April 2015.
But with Hollande announcing that he won't run for re-election next year - his chances were already slim if he had run again given his unpopularity - French outreach to the GCC could stall.
Hollande's successor will take time to develop his or her own relations with GCC leaders, especially if Marine Le Pen of the far-right Front National continues the populist surge in Western politics and wins the presidency.

The stunning electoral victory of Donald Trump in the United States also presents an opportunity for Britain, if the unpredictability of a Trump presidency leads Gulf rulers to accelerate efforts to diversify their political, economic and security relationships.
U.S.-GCC ties have come under pressure during the Obama administration, mainly over the Iran nuclear deal and Washington's actions during the Arab Spring.
But while many ruling elites in GCC capitals openly looked forward to rebuilding relations with a new administration, few expected it to be with a president whose foreign policy platforms have been so vague and ambiguous.

By presenting herself as a no-nonsense and results-oriented leader, May can take advantage of the unprecedented political volatility in other Western capitals.
The one exception is Angela Merkel, provided she wins a fourth term as chancellor in Germany's own elections next year. But Merkel is hamstrung by having to negotiate with the GCC through the framework of the European Union, which has caused major friction in Gulf capitals through the persistent failure over 26 years to reach an EU-GCC trade agreement.
Progress on EU-GCC ties has long been undercut by the preference of European leaders to deal bilaterally with their GCC counterparts.
A Britain freed - eventually - from its EU shackles is very likely to prioritize a trade agreement with the GCC as a potential quick fix after Brexit.