by Pan Pylas
January 20, 2014
from TheBigStory-TheAssociatedPress Website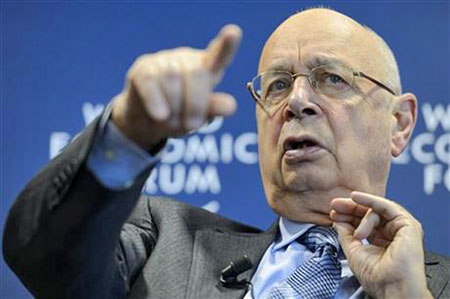 German Klaus Schwab, founder and president of the World Economic Forum, WEF, gestures during a press conference, in Cologny near Geneva, Switzerland, Wednesday, Jan. 15, 2014.

The World Economic Forum unveiled the program for its annual meeting in Davos, Switzerland, including the key participants, themes and goals.

Conflicts like the war in Syria and getting the world economy back on track will be the focus of next week's gathering of world leaders and power brokers in the Swiss ski resort of Davos.

(AP Photo/Keystone, Laurent Gillieron)


LONDON (AP)
Trust in elected leaders has fallen sharply, a global survey revealed Monday, citing,
the protracted budget battle in Washington that nearly saw the U.S. default on its debts

Europe's stuttering response to its debt crisis,
...as key reasons for the drop.

Ahead of the gathering of political and business leaders in the Swiss resort of Davos, the public relations firm Edelman found that only 44 percent of university-educated people participating in the survey trusted government, down 4 percentage points from the previous year.
As recently as 2011, trust in politicians stood at 52 percent.

The 2014 Edelman Trust Barometer found the largest-ever gap in its 14-year history - 14 points - between trust in government and trust in business.
"This is a profound evolution in the landscape of trust from 2009, where business had to partner with government to regain trust," agency CEO Richard Edelman said.
He warned that sinking trust in government could stoke a rise in support for more extreme political parties, particularly in May's election for the European Parliament.

The U.S. saw a dramatic 16 percentage point fall in the level of political trust to 37 percent, which Edelman attributed to a number of factors, including,
the debt ceiling standoff in Congress

the revelations of widespread snooping by the National Security Agency

the calamitous start of President Barack Obama's health reform website
In Europe, the numbers were similarly dispiriting for elected leaders.

One country that saw plunging trust in government was France, where there's growing concern over the inability of President Francois Hollande's government to get the economy going. According to the survey, only 32 percent in France trust government, down 17 percentage points.

Yet business leaders shouldn't be too relieved, Edelman cautioned.

Even though the overall level of trust in business held steady at 58 percent, the survey found that of the eight groups it monitored, only government officials were trusted less than CEOs - and both groups were the only ones distrusted by a majority of respondents.
The most trusted group was academics, followed by technical experts and regular employees.

According to the survey, 84 percent of the respondents believed that business can pursue its own self-interest while doing work that promotes society as a whole.
Edelman said, however, that business should not view that as an opportunity to push for more deregulation - a move that many blame for causing the 2008 financial crisis.
"That would be a huge error in judgment," said Edelman.
Concerns over business' ability to self-regulate have been renewed by,
The online survey queried 27,000 people in 27 countries, and broke down results between the general population and a smaller sample of university-educated people.
It was conducted last year between Oct. 16 and Nov. 29, 2013.