The Imperial And Royal


Ordo Dragonis, Sárkány Rend 1408

The Imperial and Royal Dragon Court and Order

The Hungarian Court of the Dragon is currently registered at the High Court of Budapest as The Imperial and Royal Dragon Court and Order - Ordo Dragonis, Sárkány Rend, 1408.

The Grand Chancellor is Chev. Dr. Gyorgy von varhegyi Lehr, Count of Oberberg, with Inner Court members including:
HRH Prince Michael of Albany, Head of the Royal House of Stewart

Grand Duke Peter Galicin of Carpathia

Baron Wodiank Zoltan Nemessary
Bishop Bela Csernak is the Grand Prior in Transylvania and Chev. Baron Andreas G. von Lehr the Grand Prior in Germany.

Other notable members are:
Count Monsignor Laszlo Esterházy

Chev. Count Dr Janos szeki Teleki

Chev. Monsignor Laszlo von galantal Esterházy, Papal Chaplain, Provost Parochus of the Mariaremete Cathedral in Budapest
In the English speaking world the Order resides within the Protectorate of the Royal House of Stewart, with the Grand Prior in Britain being Chev. Dr. Andrew von Zsigmond, Baron de Lemhény, of the Hungarian Consulate.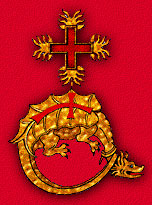 Insignia of The Imperial and Royal Dragon Court and Order
Ordo Dragonis, Sárkány Rend 1408
Contents

Notice: From Sir Laurence Gardner, Chevalier de Saint Germain and Attaché to the Grand Protectorate of The Imperial and Royal Dragon Court and Order - Ordo Dragonis, Sárkány Rend, 1408

1. The Egyptian Academy
2. The Dragon and the Grail
3. The Hungarian Court and Order
4. Dracula
5. Constitution
6. Religion
7. The Dragon Court Today