KV 29 (Unknown)
General Site Information
Structure: KV 29
Location: Valley of the Kings, East Valley, Thebes West Bank, Thebes
Owner: Unknown
Other designations:
Site type: Tomb

Description
KV 29 is located in the southwest wadi. The tomb consists only of a rectangular entry shaft. It is inaccessible, and no details about its plan or contents are available.

Site History
Arthur Weigall reported that the tomb is uninscribed and probably consists of only one chamber.

Dating
This site was used during the following period(s):
New Kingdom
History of Exploration
Burton, James (1825): Mapping/planning
Wilkinson, John Gardner (1825-1828): Mapping/planning
Loret, Victor (1899): Mapping/planning

Conservation
- Site condition: The tomb has not been cleared.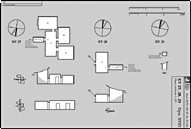 Axis in degrees: 77.39
Axis orientation: East

Site Location
Latitude: 25.44 N
Longitude: 32.36 E
JOG map reference: NG 36-10
Modern governorate: Qena (Qina)
Ancient nome: 4th Upper Egypt

Measurements
Minimum width: 1.14 m
Maximum width: 1.14 m
Total length: 1.39 m
Total area: 1.62 m²

Additional Tomb Information
Entrance location: Hillside
Owner type: Unknown, probably non-royal
Entrance type: Shaft