KV 28 (Unknown)
General Site Information
Structure: KV 28
Location: Valley of the Kings, East Valley, Thebes West Bank, Thebes
Owner: Unknown
Other designations:
Site type: Tomb

Description
KV 28 is located in the southeast branch of the main wadi. The tomb consists only of a shaft leading to a small, rectangular chamber (B) with an unexcavated gate in its rear wall. The tomb is undecorated.

Noteworthy features
There is an unexcavated gate and perhaps a chamber beyond it off chamber B.

Site History
According to Ryan, there is evidence of at least two burials in KV 28. Potsherds from the tomb suggest that it was cut in the reign of Thutmes IV. It may have belonged to a high official of his reign.

Dating
This site was used during the following period(s):
New Kingdom, Dynasty 18
History of Exploration
Wilkinson, John Gardner (1825-1835): Mapping/planning
Ryan, Donald P. (1990): Excavation

Conservation
- Conservation history: A rubble and cement wall has been constructed around the entry to divert flood water.
- Site condition: The tomb has been cleared by Donald Ryan of Pacific Lutheran University and is in good condition.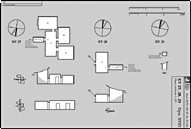 Axis in degrees: 265.71
Axis orientation: Southwest

Site Location
Latitude: 25.44 N
Longitude: 32.36 E
Elevation: 176.805 msl
North: 99,613.145
East: 94,244.273
JOG map reference: NG 36-10
Modern governorate: Qena (Qina)
Ancient nome: 4th Upper Egypt

Measurements
Maximum height: 2.39 m
Mininum width: 0.64 m
Maximum width: 6.23 m
Total length: 8.19 m
Total area: 28.88 m²
Total volume: 55.09 m³

Additional Tomb Information
Entrance location: Hillside
Owner type: Unknown, probably non-royal
Entrance type: Shaft
Interior layout: Chamber
Axis type: Bent

Categories of Objects Recovered
Human remains
Mummy trappings
Tomb equipment