KV 26 (Unknown)
General Site Information
Structure: KV 26
Location: Valley of the Kings, East Valley, Thebes West Bank, Thebes
Owner: Unknown
Other designations:
Site type: Tomb

Description
The rectangular entrance shaft of this little-known tomb is cut high on the hillside northeast of the south branch off the southwest wadi leading to KV 34. In the northeast side of the bottom of the entryway shaft A is a gate that leads to a level corridor (B) and a second gate to chamber J, which most likely served as the burial chamber. The tomb has never been cleared and is still greatly encumbered with debris.

Site History
Nothing is known concerning this tomb's owner, or whether it was ever used. Its plan resembles other tombs of Dynasty 18 such as KV 30 and KV 37 in its use of a level corridor between the entryway and the burial chamber.

Dating
This site was used during the following period(s):
New Kingdom, Dynasty 18 (dated by architectural typology)
History of Exploration
Burton, James (1825): Visit
Loret, Victor (1898): Visit

Conservation
- Site condition: The tomb remains unexcavated and unexplored.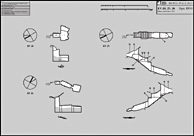 Axis in degrees: 60.31
Axis orientation: Northeast

Site Location
Latitude: 25.44 N
Longitude: 32.36 E
Elevation: 190.15 msl
North: 99,408.700
East: 94,070.735
JOG map reference: NG 36-10
Modern governorate: Qena (Qina)
Ancient nome: 4th Upper Egypt
Surveyed by TMP: Yes

Measurements
Minimum width: 0.8 m
Maximum width: 2.84 m
Total length: 11.26 m
Total area: 20.05 m²

Additional Tomb Information
Entrance location: Hillside
Owner type: Unknown, probably non-royal
Entrance type: Shaft
Interior layout: Corridor and chamber
Axis type: Straight