KV 25 (Unknown)
General Site Information
Structure: KV 25
Location: Valley of the Kings, West Valley, Thebes West Bank, Thebes
Owner: Unknown
Other designations: 22 [Hay], WV 25
Site type: Tomb

Description
The tomb is located at the southwest end of the West Valley, about ninety meters below KV 23. It was cut into the sloping hillside. It consists of the entryway A and a single corridor (B). Although unfinished, KV 25 has the plan of a royal tomb. The walls are well cut and cracks were covered with a thin layer of plaster. When discovered, a stone wall blocked the entrance to corridor B which held intrusive burials of the Third Intermediate Period. Two groups of four coffins each contained mummies. The tomb was left undecorated.

Site History
The original owner of KV 25 is uncertain. According to Schaden, KV 25 was built as a royal burial during late Dynasty 18 (possibly Amenhetep IV), but was never completed. During the Third Intermediate Period (Dynasties 21 and 22), the tomb was reused to bury eight mummies. If no previous interment took place, the objects of Dynasty 18 were probably introduced at this period. This material presumably originates from KV 23. After the reburial, the tomb remained undisturbed until its discovery by Belzoni.

Dating
This site was used during the following period(s):
New Kingdom, Dynasty 18 (perhaps Amenhetep IV)
Third Intermediate Period, Dynasty 21
Third Intermediate Period, Dynasty 22
History of Exploration
Belzoni, Giovanni Battista (1817): Discovery
Belzoni, Giovanni Battista (1817): Excavation
Burton, James (1825): Visit
Wilkinson, John Gardner (1825-1828): Visit
Schaden, Otto J. (1972-1973): Excavation

Conservation
- Site condition: The tomb was cleared in 1972 and 1973 by the University of Minnesota Egyptian Expedition, directed by Otto Schaden.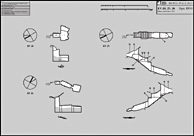 Axis in degrees: 204.61
Axis orientation: Southwest

Site Location
Latitude: 25.44 N
Longitude: 32.36 E
Elevation: 190.58 msl
North: 99,281.556
East: 93,248.163
JOG map reference: NG 36-10
Modern governorate: Qena (Qina)
Ancient nome: 4th Upper Egypt
Surveyed by TMP: Yes

Measurements
Maximum height: 2.39 m
Minimum width: 1.95 m
Maximum width: 2.39 m
Total length: 15.59 m
Total area: 35.58 m²
Total volume: 36.27 m³

Additional Tomb Information
Entrance location: Base of sloping hill
Owner type: Unknown, possibly royal
Entrance type: Staircase
Interior layout: Corridor
Axis type: Straight

Categories of Objects Recovered
Accessories
Human mummies
Human remains
Mummy trappings
Sculpture
Tomb equipment
Vessels
Written documents