KV 11 (Rameses III)
General Site Information
Structure: KV 11
Location: Valley of the Kings, East Valley, Thebes West Bank, Thebes
Owner: Rameses III
Other designations: 1 [Champollion], 11 [Lepsius], 17 [Hay], 5e Tombeau à l'est [Description], Bruce's Tomb, F [Burton], Harper's Tomb, K, plan K [Pococke]
Site type: Tomb

Description
KV 11 is located off the main wadi. The plan of the tomb begins with an open entryway (A) followed by two corridors (B and C), one with two side chambers (Ba-b), the other with eight chambers (Ca-Ch). Beyond the second corridor the cutting of a third corridor (D1a) on the axis of the tomb broke through the ceiling of KV 10. The right wall was cut further to the west, transforming the corridor into a chamber (D1). A continuation of the corridor D2 with its axis shifted to the west and not parallel to the previous axis, has a floor inclined upwards to avoid collision with KV 10. This corridor is succeeded by well chamber E, which is only partially cleared, a pillared chamber (F) with a side chamber (Fa) and central descent, another corridor (G), two square chambers (H, I), a large burial chamber (J) with four side chambers (Ja-d), and three more small chambers beyond (K1, K2, L).

The entrance, the first two corridors and the first chamber orignally bore the names of Setnakht, but were re-inscribed for Rameses III, for whom the remainder of the tomb was decorated as well. The decorative program includes the Litany of Ra (corridor B, side chamber Bb, gate C, corridor C, gate Ca), excerpts from the Imydwat (corridor D2), Book of Gates (pillared chamber F, side chamber Fa, burial chamber J, chamber L), Opening the Mouth ritual (Gate G, corridor G), Book of the Earth (burial chamber J), Book of the Dead (corridor C, side chamber Cc, side chamber Cf, side chamber Ja), and Book of the Heavenly Cow (side chamber Jc) as well as the king offering to various deities (throughout the tomb). There are unique representations in the subsidiary chambers (Ba, Bb, Cg, Ch) off the first two corridors dealing with such activities as food preparation and provision, burial equipment and illustrations of Book of the Dead spells.

Noteworthy features
This tomb has multiple side chambers off the first and second corridors B and C, decorated with unusual scenes. Workers cutting this tomb accidentally broke through to KV 10.

Site History
The first three corridors of KV 11 were begun for Setnakht, but abandoned when the cutting of the third corridor broke into another tomb (KV 10). The tomb was subsequently completed by Ramesses III, who added the side chambers to corridor C and finished the tomb through chamber L. After his burial was disturbed, the mummy was reburied in the cache in TT 320, and discovered in 1881. The tomb has been partly accessible since antiquity.

Dating
This site was used during the following period(s):
New Kingdom, Dynasty 20, Setnakht
New Kingdom, Dynasty 20, Rameses III
Graeco-Roman Era
History of Exploration
Pococke, Richard (1737-1738): Mapping/planning
Bruce, James (1769): Epigraphy
Bruce, James (1769): Mapping/planning
Browne, William George (1792): Visit
Napoleonic Expedition (1799): Epigraphy
Belzoni, Giovanni Battista (1816, 1819): Excavation (removal of sarcophagus and lid)
Burton, James (1825): Mapping/planning
Hay, Robert (1825-1835): Epigraphy
Franco-Tuscan Expedition (1828-1829): Epigraphy
Lepsius, Carl Richard (1844-1845): Epigraphy
Service des Antiquités (1895): Excavation
Marciniak, Marek (1959-1981): Epigraphy

Conservation
- Conservation history: Egyptian conservators have cleaned decoration, patched surface breaks, installed glass panels over the walls, and added wooden walkways and lighting.
- Site condition: The color of the painted sunk reliefs is well preserved in most of the tomb, but the chambers beyond chamber I have suffered from severe water damage, cracking of walls, and loss of plaster.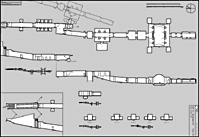 Axis in degrees: 178.72
Axis orientation: South

Site Location
Latitude: 25.44 N
Longitude: 32.36 E
Elevation: 175.89 msl
North: 99,539.973
East: 94,050.193
JOG map reference: NG 36-10
Modern governorate: Qena (Qina)
Ancient nome: 4th Upper Egypt
Surveyed by TMP: Yes

Measurements
Maximum height: 6.55 m
Minimum width: 0.75 m
Maximum width: 13.85 m
Total length: 188.11 m
Total area: 702.02 m²
Total volume: 2174.29 m³

Additional Tomb Information
Entrance location: Base of sloping hill
Owner type: King
Entrance type: Ramp
Interior layout: Corridors and chambers
Axis type: Straight

Decoration
Grafitti
Painting
Sunk relief

Categories of Objects Recovered
Human mummies
Tomb equipment
Vessels