by Sharon Lerner
July 20, 2019
from TheIntercept Website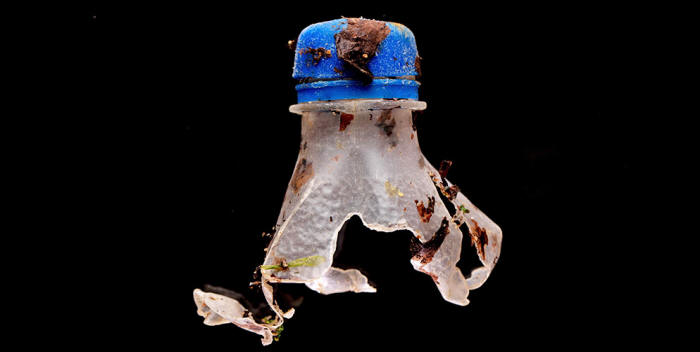 A portion of plastic bottle found on Mothecombe Beach
at the mouth of the Erme Estuary in South Devon, England,
on May 30, 2019.
Photo: Dan Kitwood/Getty Images


The students at Westmeade Elementary School worked hard on their dragon. And it paid off.
The plastic bag receptacle that the kids painted green and outfitted with triangular white teeth and a "feed me" sign won the students from the Nashville suburb first place in a recycling box decorating contest.
The idea, as Westmeade's proud principal told a local TV news show, was to help the environment. But the real story behind the dragon - as with much of the escalating war over plastic waste - is more complicated.

The contest was sponsored by A Bag's Life, a recycling promotion and education effort of the American Progressive Bag Alliance, a lobbying group that fights restrictions on plastic.
That organization is part of the Plastics Industry Association, a trade group that includes,
Shell Polymers, LyondellBasell, Exxon Mobil, Chevron Phillips, DowDuPont, and Novolex,
...all of which profit hugely from the continued production of plastics.
And even as A Bag's Life was encouraging kids to spread the uplifting message of cleaning up plastic waste, its parent organization, the American Progressive Bag Alliance, was backing a state bill that would strip Tennesseans of their ability to address the plastics crisis.
The legislation would make it illegal for local governments to ban or restrict bags and other single-use plastic products - one of the few things shown to actually reduce plastic waste.

A week after Westmeade's dragon won the contest, the APBA got its own reward: The plastic preemption bill passed the Tennessee state legislature. Weeks later, the governor signed it into law, throwing a wrench into an effort underway in Memphis to charge a fee for plastic bags.
Meanwhile, A Bag's Life gave the Westmeade kids who worked on the bag monster a $100 gift card to use "as they please."
And with that, a minuscule fraction of its vast wealth, the plastics industry applied a green veneer to its increasingly bitter and desperate fight to keep profiting from a product that is polluting the world.

A Bag's Life is just one small part of a massive, industry-led effort now underway to suppress meaningful efforts to reduce plastic waste while keeping the idea of recycling alive.
The reality of plastics recycling? It's pretty much already dead. In 2015, the U.S. recycled about 9 percent of its plastic waste, and since then the number has dropped even lower. The vast majority of the 8.3 billion metric tons of plastic ever produced - 79 percent - has ended up in landfills or scattered all around the world.
And as for those plastic shopping bags the kids were hoping to contain: Less than 1 percent of the tens of billions of plastic bags used in the U.S. each year are recycled.

This is not to say that we shouldn't try to properly dispose of the array of,
toys, single-use clamshells, bottles, bags, takeout containers, iced coffee cups, straws, sachets, yogurt tubs, pouches, candy bar wrappers, utensils, chip bags, toiletry tubes, electronics,
...and lids for everything that passes through our lives daily.
We have to. But we are well past the point where the heartfelt efforts of schoolchildren or anyone else on the consumer end can solve the plastics problem. It no longer matters how many hoots we give.
There is already way too much plastic that won't decompose and ultimately has nowhere to go, whether it's mashed into a dragon container or not.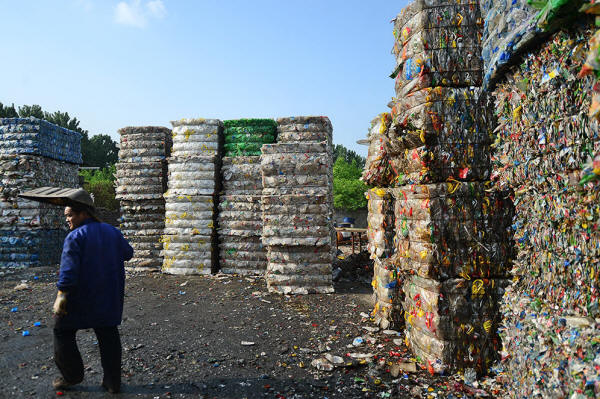 A Chinese worker walks past piles of plastic bottles
at a plastic bottle recycling station in Ji'nan city,
in east China's Shandong province,
on May 4, 2017.
Photo: Imaginechina via AP Images

China's National Sword

China's decision in 2017 to stop receiving the vast majority of plastic waste from other countries blew the flimsy lid off our dysfunctional recycling system.
That year, when the Chinese government announced the National Sword policy, as it's called, the U.S. sent 931 million kilograms of plastic waste to China and Hong Kong. The U.S. has been offloading vast bundles of scrap this way since at least 1994, when the Environmental Protection Agency began tracking plastics exports.
The practice has served to both mask the mounting crisis and absolve U.S. consumers of guilt.

Much of the "recycled" plastic scrap
that the U.S. sent to China
appears to have been burned or buried
instead of being refashioned
into new products.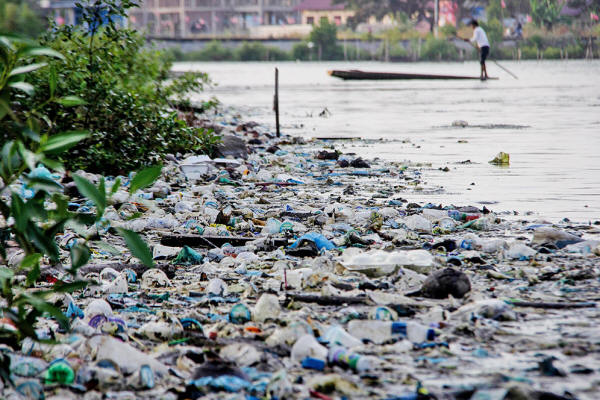 A reservoir contaminated with plastic waste
in Lhokseumawe, Indonesia,
on March 22, 2019.
Photo: Zikri Maulana/SOPA Images/LightRocket
via Getty Images
Once regarded mostly as an eyesore or a nuisance,
plastic waste is now widely understood to be
a cause of species extinction, ecological devastation,
and human health problems.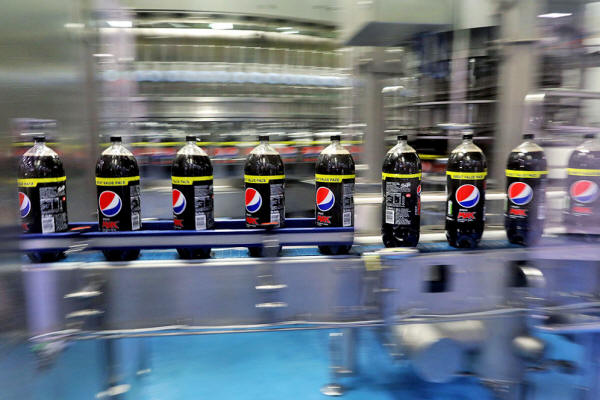 Bottles of Pepsi Max
travel along the production line
at the Britvic PLC factory and warehouse
in Leeds, U.K., on Jan. 23, 2017.
Photo: Chris Ratcliffe/Bloomberg
via Getty Images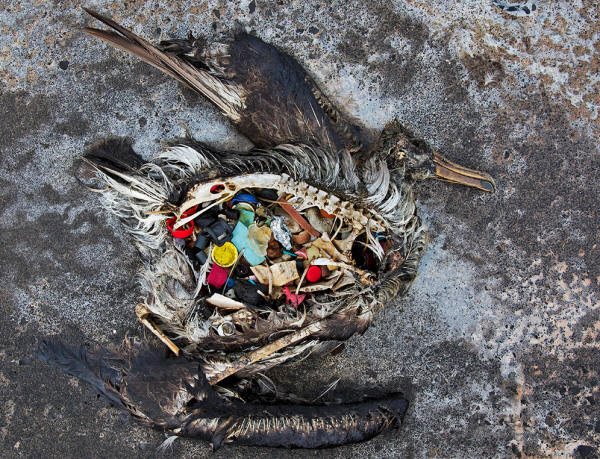 In this photo provided by the U.S. Fish and Wildlife Service,
a black footed albatross chick with plastics in its stomach
lies dead on Midway Atoll in the Northwestern Hawaiian Islands
on Nov. 2, 2014.
Photo: Dan Clark/USFWS via AP
The industry is gearing up
for the fight of its life,
which may explain why
an expert in actual warfare
gave the keynote at
the plastics conference.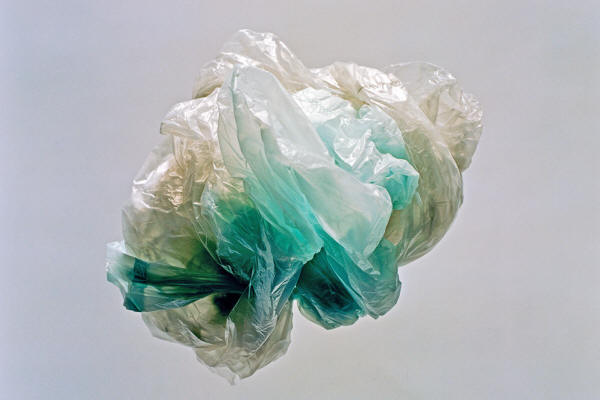 While only
eight states have enacted plastic restrictions,
more than 330 local plastic bag ordinances
have passed in 24 states.
Photo: Getty Images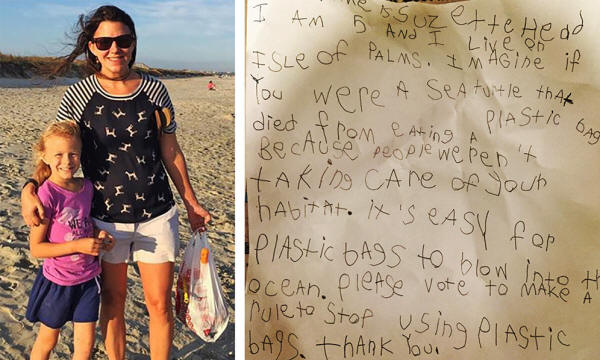 At left, Kathy Kent with her daughter, Suzette Head,
collecting garbage on the beach.
At right is Suzette's handwritten speech,
which she delivered in front of the Isle of Palms,
South Carolina, city council
on May 26, 2015.
Photos: Courtesy of Kathy Kent
"These TV spots and other ads
were presented as public service announcements
- and thus appeared to be politically neutral -
but, in fact, served the industry agenda."
"They're trying to create the perception
that there's a viable way to recycle most plastic waste
into new products, and that's simply not true."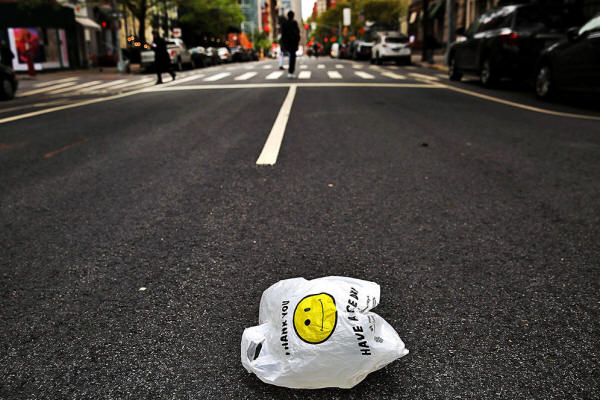 A plastic bag sits in a Manhattan street
on May 5, 2016.
Photo: Spencer Platt/Getty Images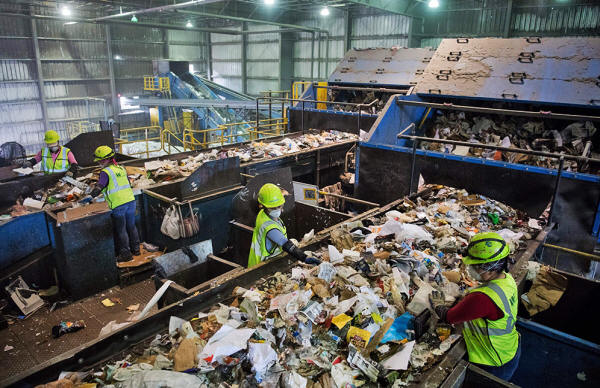 Workers sort recycling material
at the Waste Management Material Recovery Facility
in Elkridge, Md., on June 28, 2018.
Photo: Saul Loeb/AFP/Getty Images
Because no one has learned
how to remove additives from plastic,
products made from recycled waste
can release toxic chemicals
as they degrade.
Waste-to-fuel plants
have never proven economically
or environmentally viable.