by Mark Sircus
April 20, 2020
from DrSircus Website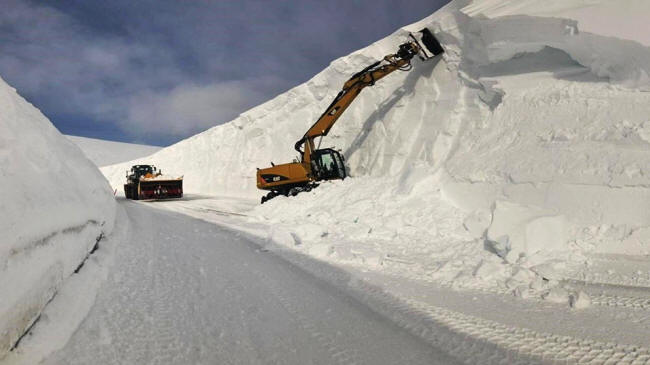 It is hard to write about anything other than the coronavirus these days, but as bad as the news is, the media is not reporting on other massive happenings like,
Pork and beef prices, for example, are surging as meat plants shutter due to pandemic.
There is also a massive shift in our climate occurring as record cold and snowfall hit many parts of North America over the Easter weekend, continuing what has so far been a largely Arctic April.
Records were toppled across many U.S. states, with,
Montana, Iowa, South Dakota, and Colorado,
...seemingly worst hit.
Winter has continued in Europe and Russia as well.

Winter will not give up, warns the Weather Service.

Record low temperatures in Colorado damage peach crops.
Do I have to remind you its a month into spring and winter is still with us for much of the northern hemisphere. With a virus on everyone's brain we do not hear anymore about the world ending due to climate change.
We certainly are not hearing a word how it will become much more difficult to live in the northern latitudes because of increasing snow and cold.
APRIL BLIZZARD BURIES ICELAND
UNDER 5 FT (1.5 M) OF SNOW:
HVERAGERDI RESIDENTS CALLED IT
"THE LARGEST SNOW THEY HAD EVER SEEN IN THEIR TOWN"
Nor are we reading anything about how growing seasons are shortening meaning food shortages are lying dead ahead...
Unfortunately, in a United States where the mainstream media daily shows itself to be ever more corrupt, trust is in short supply.
Denver breaks low temperature record set 119 years ago.
Large swathes of North America are expected to see temps some 20ºC below the seasonal average into late April.
Total Snow Mass is sitting at some 500 gigatons above the 1982-2012 average: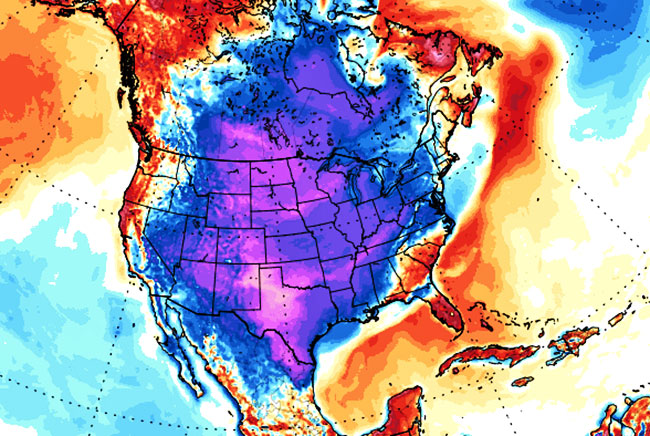 "There is no man-made heat-induced 'catastrophe' on the horizon, quite the opposite is true; the COLD TIMES are coming, and the crop loss and unrest these periods bring are all-but here.

The lower latitudes are refreezing in line with historically low solar activity, cloud-nucleating Cosmic Rays, and a meridional jet stream flow," writes Electoverse.
The most important lesson from climate change in the age of the coronavirus is that we can not trust the media as far as we can spit into a hurricane wind.
This essay, and the hundred before it during the last ten years highlight the fact they we cannot believe in the mainstream news narrative on climate change nor on the coronavirus pandemic.
EARTH'S TEMPERATURE PLUNGED IN MARCH
GLOBAL COOLING FROM HERE ON OUT...
Regions of SE Europe experienced their coldest April mornings for a decade last Thurs, April 2, just as vineyards and orchards entered crucial blossoming stages.
According to severe-weather.eu and thewatchers.news, large parts of SE Europe have experienced almost 100% damage.
Late last week, brutal Arctic air engulfed much of Europe, with,
the Southeast nations of Slovenia, Italy, Croatia, Serbia, and Hungary worst affected.

The mercury plunged to -5.9ºC (21.4ºF) in Buzet and Pazin, Croatia; while Slovenia reported decade-lows of -9.4ºC (15ºF) and -8.6ºC (16.5ºF) in Iskrba and Logatec, respectively.
Though it is being kept quiet, crop losses continue to mount and the latest disaster just happened in Europe as near Arctic air covered the entire European continent at the very end of March.
Greenland's Ice Sheet is currently GAINING monster amounts of "mass" - 6 gigatons alone on March 28, 2020...
Meanwhile, Antarctica set its coldest EVER March temperature.

Yesterday we read: GREENLAND HAS GAINED 27+ GIGATONS OF SNOW AND ICE OVER THE PAST 5 DAYS ALONE.
Do I have to remind anyone that according to global warming theory it is supposed to get warmer and that means ice should be diminishing not gaining this time of year.
Record cold in North Dakota...
Coldest April 14 in AT LEAST 102 years!
Everyone thought that the ice at the north pole would have disappeared by now.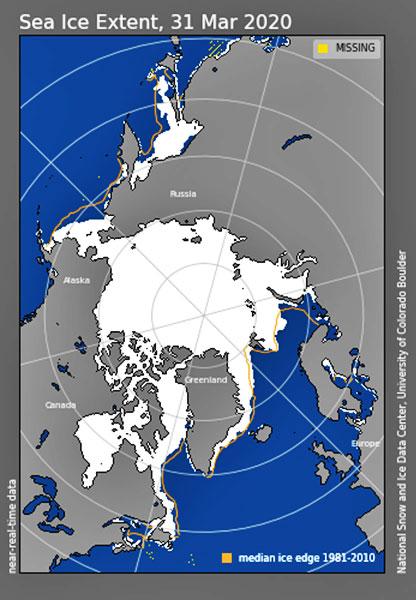 Looks like plenty of ice to me...
The fact that cold climate change will threaten many more millions than the coronavirus is not on anyone's radar yet.
Record cold in the Caucasus in April.

Freezes in southern Europe on April 8 and 9 break records set as far back as 1926.

Tsimlyansk cooled to -2.7°C, breaking the old record of -2.3°C set in 1971.

Record-breaking April snowfall - Up to 4 ft (1.25 m) engulfs parts of Finland.