by Tom Ireland
August 25, 2018
from TheGuardian Website
a startup developing sustainable building methods,
including a bio material made from fungi.
Photograph: Sophia Evans for the Observer



A shipping container complex
in a Shepherd's Bush market
is the unlikely home to a community
of startup research projects.


If there's one place you wouldn't expect a new biotech research lab to be built, it's slap bang in the middle of a busy London market.

Yet navigate through stalls selling fish, fabric and phone cases in west London's Shepherd's Bush market and you'll find a brightly painted courtyard and a small A4 sign that reads:
"THIS AREA MAY LOOK EXCITING, BUT IT'S REALLY NOT, SO PLEASE DON'T GO THROUGH! THANKS."
This is the unassuming entrance to the Open Cell "bio-village", a collection of 45 shipping containers being converted into pop-up biotechnology labs and workspaces.
One of the giant green containers already houses a surprisingly light and airy molecular biology lab, furnished with donated professional equipment.
A small community of startups and entrepreneurs are busy converting other containers into more labs, offices and workshops and will use this low-cost, unconventional space to share equipment and ideas.

Despite being open just a few months, there is already exciting research being conducted here, including the development of,
new vegan cosmetics

sustainable bioplastics for use in the fashion industry

systems that extract nutrients and energy from wastewater
There is a startup that "grows" buildings out of fungi, while another helps farmers pollinate crops using swarms of flies controlled with an app.
"There's not many startup spaces like this," says Rowan Minkley, co-founder of Chip[s] Board, a company developing a new material made from the potato peelings discarded by chip companies such as McCain.

"We need a space where we can install all of the equipment we need and just make a mess."
Thomas Meany and Helene Steiner at work;
their company Cell-Free Technology
tests biological circuits.
Photograph: Sophia Evans for the Observer


His colleague, Rob Nicoll, is wearing a lab coat to whack a hole in the wall as we speak.
"We are not from a strictly science background, so to be able to work alongside people doing biochemistry and design really helps develop your project."
The shipping containers were originally placed here as part of Hammersmith and Fulham council's efforts to regenerate the market area, which has been here since 1914 and was saved from being turned into flats in 2016.
After a range of other pop-up businesses didn't take off, the council and developers decided to try something different.


The atmosphere of the place
helps break down the barriers
between people working in different fields...


The latest tenants - a mix of engineers, designers, and architects - are part of a trend that has seen biotechnology move out of large research institutions and into more informal and unconventional settings, such as community workspaces and even people's basements and bedrooms.
As the commonest techniques in molecular biology have become cheaper and more easily automated, once distant fields such as biology, design, art and engineering are blurring together in unusual and creative collaborations.
These groups need low-cost facilities to develop creative ideas into businesses.
"Just like you can program a laser, or a mill, or a 3D printer, you can now program living things to produce natural products," says Thomas Meany, a former physicist and one of two co-founders of the bio-village.

"Here, the aim is to bridge a gap for people who are intelligent and have a passion, and want to commercialize their product, but not in a university."
The site's aesthetic - shipping containers, street art, cool young people making things and smoking roll-ups - may superficially suggest just another faddy regeneration project.
But the Open Cell bio-village is backed by high-profile scientists from nearby Imperial College London, who, despite the modest sign at the front, are very excited indeed about what is going on in the containers.
Rowan Minkley and Rob Nicoll of Chip[s] Board.
Photograph: Sophia Evans for the Observer

"I am completely convinced that a great idea will come out of Open Cell," says Professor Paul Freemont, co-director of the National UK Innovation and Knowledge Centre for Synthetic Biology and adviser to the project.

"The atmosphere and the feeling of the place is all part of it.

It helps break down barriers between people working in different fields and institutions. It provides a completely neutral venue and there is a certain sense of freedom that I think this particular generation of people find very attractive.

There's no doubt about it, it's going to be a hotbed of creativity."
In the market, famous for its fresh food and fabric, the stallholders seem unconcerned by the science and technology hub developing beside them.
Some took issue with the idea of pop-up bars serving alcohol here in the middle of the afternoon, but none seems to have even noticed their new lab coat and safety goggle-clad neighbors.
"Bit weird, isn't it," says one curious local peering into the site, when I tell him it is full of science labs. "Why isn't it near a hospital?"
Safety is the obvious issue when placing a biotech laboratory in a crowded public space.
The site is currently a Biosafety Level 1 facility, the lowest of four health and safety categories (Level 4 being labs that work with fatal airborne diseases).
While the project finds its feet, the founders have deliberately stayed away from any tenants wishing to do anything "controversial", such as biomedical research that would involve human tissue or pathogens.
"I thought safety would be the breaking point of our proposal," says Open Cell's other co-founder, designer and engineer Helene Steiner.

"So we tried to find tenants who are like ambassadors for biotechnology and worked really closely with chemists, biologists, architects and our ethical board to get that right. But we haven't heard from anyone about any concerns.

"Eventually, we do want as diverse a group here as possible, with the computational aspect, the molecular aspect, the microbiology aspect and the manufacturing aspect all together."
With more tenants moving into containers every week, there are plans to connect several of the containers to create an even more hi-tech "community lab" and make the entire site open for the public to learn about what modern biology can do.
The curious juxtaposition of this corner of west London, where traditional fabric sellers and biomaterial scientists coexist in the same space, is perhaps the most interesting of all the experiments going on here.
But even the founders don't have a solid idea of what direction the site may take.
"Our slogan is 'space to evolve'," says Steiner.

"That means on a personal level, but also that the space evolves with the tenants. If there is something missing, then they have to build it. How will the space look in six months? We don't know."


Alice Potts
Creating new biofabrics from food waste and bodily fluids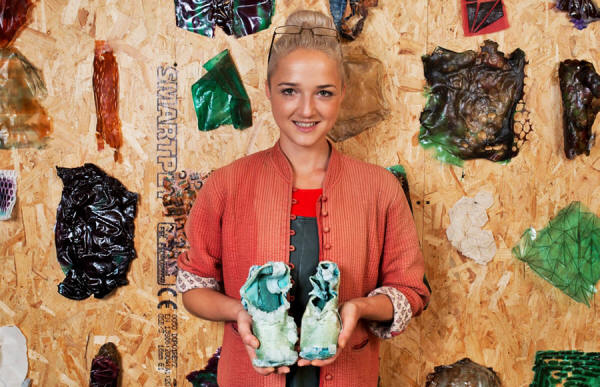 Researcher and fashion designer Alice Potts
holds a pair of ballet shoes adorned with sweat crystals.
Photograph: Sophia Evans for the Observer


Alice Potts, 25, is a fashion graduate creating new biomaterials for use in the clothing industry.
She is hoping to create sustainable bioplastics and fibres made from algae and other sustainable materials, including food waste. In her more experimental work, she creates garments covered in crystals that have been grown from an individual's sweat and other bodily fluids.
Her favored raw material, she says,
"depends if you're vegetarian or not".

"There are two different types of mixes for bioplastics - you can either use algae or bones and off-cuts from the butcher's. You boil it up to create a gelatin-like source material.

Interestingly, most of the materials made from food waste had less bacteria on them than textiles used in everyday clothing."
She now has more than 400 samples of different materials as part of her experiments to find potential uses in the fashion industry.
She recently moved out of her university studio after finishing her master's and, before moving to the shipping containers, had been using her kitchen at home for her work.
"I was the only person in my class into biomaterials and it was really hard to stick with it. When no one knows what you're talking about, they become quite negative about it. It is still really new.

You've got to be strong minded to say,

'I'm not going to make a fashion collection, I'm going to make a sweat crystal collection.'

It's not the easiest thing to tell your parents either."


Ehab Sayed
Turning waste and fungi into sustainable building materials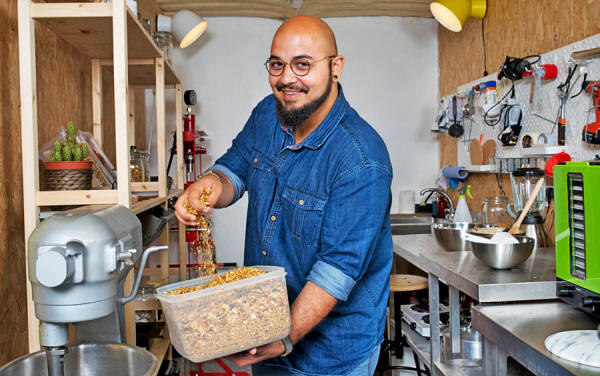 Ehab Sayed with a tub of dried orange peel.
His company Biohm develops construction materials
from sustainable sources.
Photograph: Sophia Evans for the Observer


Ehab Sayed, 27, is the founder of Biohm, a startup developing sustainable building methods and materials.
One of the company's most exciting new biomaterials is made of mycelium, the fine filaments of fungi that normally grow underground. The mycelium are harvested, fed on agricultural or food waste and grown in large sheets or blocks.
Once the living element is killed, a fire-resistant structural material with excellent insulating properties is left.
"Basically, it consumes waste and grows into the desired shape using a mould," says Sayed, a design engineer from Brunel University.

"It can even consume plastic and metal waste and the only by-product is edible mushrooms, which we sell to local restaurants."
Biohm has transformed its shipping containers into a fully functioning "materials research lab".
It's part kitchen - full of blenders, pots, pans and batches of what looks like muesli - part DIY (do it yourself) microbiology lab, with fungi samples growing in an eerie, steaming, zip-up cupboard.
"The attraction here is that we have our own space and can make it bespoke to our needs. We've always had shared facilities that didn't really work for us," he says.
Sayed and the Biohm team are also working on a radical new method of building that has no permanent fastenings and can be taken down and rebuilt at any time.
"The idea is to try and revolutionize the construction industry.

[Building] creates ridiculous amounts of waste, which is often hazardous and not disposed of properly. It seems to have reached a point where everyone recognizes that this sort of change needs to happen."


Tashia Tucker
Developing a system which employs flies to solve the pollination crisis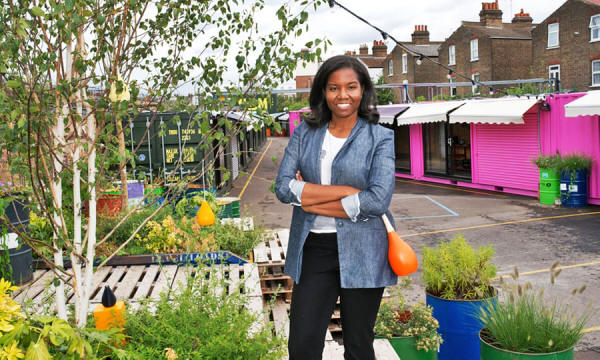 Tashia Tucker's startup Olombria
uses pheromones to get hoverflies to act as pollinators.
Photograph: Sophia Evans for the Observer


Tashia Tucker, 33, is a co-founder of Olombria, a startup that uses flies to pollinate crops in areas where farmers are struggling with declining bee populations.
The technology involves releasing hoverflies and controlling their movements using pheromones, emitted from devices hung around the crops.
The release of the pheromones is controlled by the farmer using an app and the flies' behavior on the crops is tracked using hi-tech cameras.
"In the last 25 years, there has been a 75% decline in insect pollinators," says Tucker, a former architect and professor of design originally from Philadelphia.

"In the US, farmers are renting or buying beehives, driving billions of bees all over the country to a particular crop for about four weeks, then they pack them up and move them on somewhere else. It's insane."
Flies are thought to account for around 30% of all pollination, are easier to grow and manage than bees and are "less picky" about going out in wet or cold conditions.
Tucker and her colleagues came up with the idea last year after being encouraged to enter the Royal College of Art's Biodesign Challenge, a competition that brings together artists and scientists.
The team won and now have offices in Battersea, south London, and here at Open Cell.
"We've done a lot in a year," she says.

"We will have flies here soon - not a massive rearing station, but we'll have some for studying how they behave. Right now, we keep them in our houses and hope our partners don't mind."