SCALAR EM FORCES 4-D G-FIELD.
SLIDE 31.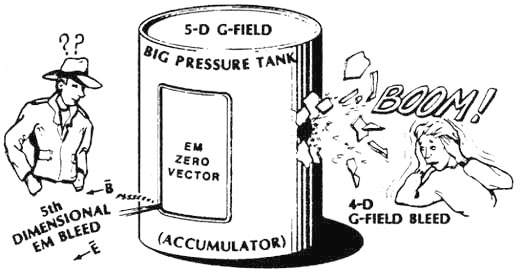 As can be seen however, if we shut the big door so that we have only a little bleed-off through the seals, then most of the pressure is forced to bleed-off through the small opening, greatly enlarging it. In that case, most of the 5-potential bleeds-off as 4-G force field.
The mass exposed to such increased 4-G bleed-off exhibits a much greater mass and inertia.
In fact, mass itself can act as an accumulator for the effect, and it can increase its ability to store trapped scalar resonance. This increases its inertia.
By the use of scalar EM (blocking the EM bleed-off), we can input normal EM energy and obtain powerful gravitational and inertial effects. Many other powerful effects can also be obtained.