DETECTING AND MARKING MISSILE LAUNCH
SLIDE 68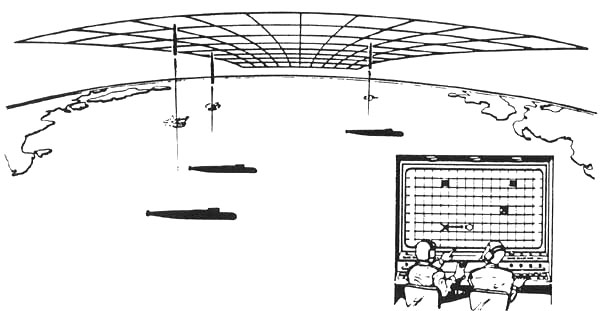 Here we show the missiles launched from the underwater submarines, when just detected in the atmosphere over the ocean. As each rising missile is detected, an operator at the screen places a cursor (a "marker") over the detected track spot on the scope.
The computer quickly computes the firing parameters and indicates when the system is "ready to fire."
By using additional scalar scanner frequencies in the multi-gigaHertz range and fine-scanning, the operator is able to accomplish non-cooperative target identification.
After the operator places a cursor over a target. the advanced system fine-scans and identifies it as hostile. then continues the track in automatic.
When the operator presses the fire button for a designated target. the computer initiates fire by the appropriate scalar EM howitzer through established grid scalar firing channels.