EXPANDING DOME-LIKE PHENOMENON
SLIDE 53
MARINE OBSERVER 40:17, 1970
MAR 20, 1969
CARIBBEAN AND WESTERN
NORTH ATLANTIC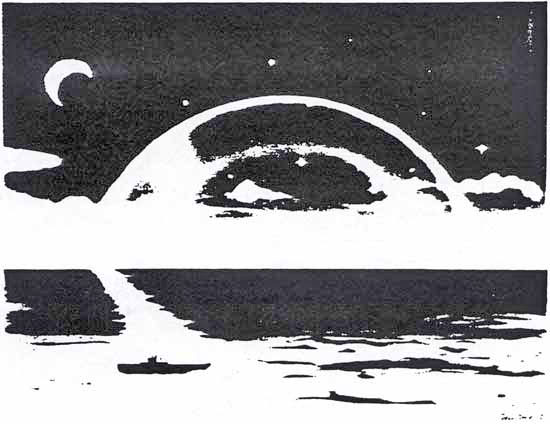 Here we show one instance of apparent Soviet testing of the Tesla shield (hemispherical shell of energy) over the ocean.
This incident occurred in the Caribbean and Western North Atlantic Ocean on Mar. 20, 1969 and is reported in the Marine Observer, Vol. 40, 1970, p. 17.
A semicircle of milky white light, quite intense at first, was sighted on the horizon. The semicircle enlarged, dimming as it expanded. The incident lasted for about 10 minutes.
Seen from a passing ship, the top of the hemisphere reached a sighting elevation angle of about 50 degrees, while the base of the hemisphere of light subtended an arc of about 70 degrees.
This is directly indicative of a test of the Tesla shield, first as a small, more intense shield and then expanding to greater size for a less intense shield whose primary destructive mechanism is EMP. Note that the EMP in a Tesla shield is locally contained in the energy-bottle shell. It is not an ordinary EMP of energy radiated out of the shell.