NUCLEI OF THE UNIVERSE CONTINUALLY EXCHANGE SCALAR EM WAVES
SLIDE 28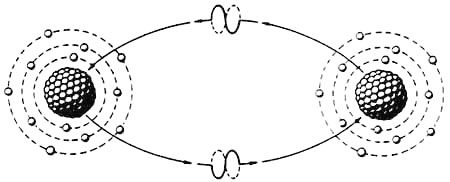 Thus scalar EM waves are continually exchanged by all nuclei of the universe, and the vacuum is -- among other things -- a seething cauldron of scalar radiation.
In fact, it is this seething scalar wave cauldron that creates the virtual particles and the virtual particle flux of vacuum itself. (Since the scalar EM wave represents an oscillation of the curvature of spacetime, and since everything -- virtual or observable -- is a curvature of spacetime, then scalar waves can be taken as the universal generatrix.
The intensity of the trapped scalar flux in the nucleus of an atom is responsible for the mass and inertia of the nucleus.
Mass is localized trapped scalar resonance.
The trapping agent is the spin of a particle.
The mass and inertia of the particle are due to the scalar resonance that is trapped. Increasing the amplitude of the trapped scalar resonance increases the mass and inertia; decreasing the amplitude decreases the mass and inertia.