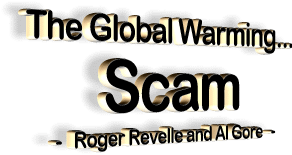 June 3, 2009
from Kusi Website
The founder of the Weather Channel has a message for you.
Global warming is a scam - and Al Gore knows it.

Fossil fuels are a bad idea, but there is no evidence they're responsible for the warming of the planet.
Revelle was a powerful man, a noteworthy scientist and a significant force in San Diego in the 1950s. There is no doubt he is largely responsible for the respect given Scripps Institute of Oceanography and for locating the University of California at San Diego, UCSD, in La Jolla.

While serving as Director of Scripps, Revelle and one of his researchers wrote the first modern scientific paper that linked carbon dioxide released into the air from the burning of fossil fuels and the greenhouse effect and the warming of temperatures.
This triggered an avalanche of research that eventually became the impetus behind the United Nations Intergovernmental Panel on Climate Change and the entire global warming movement.

In the 1960s Revelle moved to Harvard to establish a Center for Population Studies.
There is where Professor Revelle encounter student Albert Gore. He involved Gore and his class mates in tabulating the data from a carbon dioxide study. Gore was so impressed he wrote about it in his 1992 book, "Earth in the Balance". That became the story for the movie "An Inconvenient Truth".
The Oscar and Nobel Peace Prize and some people say 100 million dollars came from that effort. There is no doubt Roger Revelle had a major impact on Vice President Gore's life.

But there is a twist.
In 1988 Roger Revelle was having major second thoughts about whether carbon dioxide was a significant greenhouse gas. He wrote letters to two Congressmen about it. And in 1991 he co-authored a report for the new science magazine Cosmos in which he expressed his strong doubts about global warming and urged more research before any remedial action was taken.

At that point Mr. Gore pronounced Revelle as senile and refused to debate global warming. He continues to refuse to debate today. Many offers of 10s of thousands of dollars have been made such a debate. Today Gore sequestered the media at this event and set forth rules, no questions, no interviews.

I have learned that in 1991 Roger Revelle made a speech at the high powered, very private Summer enclave of powerful men and politicians at the Bohemian Grove in Northern California, where he apologized that his research sent so many people in the wrong direction on global warming.

He worried about the political fallout from the UN IPCC and Al Gore.
A man named Donn Michael Schmidtman who lives in the San Francisco area was there that day and remembers the Revelle speech very well. He has told about it in some detail.

So think of the irony. Today Al Gore received the first Roger Revelle award, an honor named after the man who sent Gore on his global warming campaign.

But the truth is; Revelle realized that it was a false alarm and the science was flawed before he died.

Revelle died of a heart attack in 1991.

It would be interesting to know if Revelle had lived whether he would have approved of this award tonight or perhaps be joining me at the International conference of global warming skeptics in New York next week.