Denver UFO Examiner
January 30, 2009
from TheExaminer Website
Previous UFO stories flooded the news during President Obama's first ten days of office. A 'UFO' whizzed by the Washington Monument on his inauguration day.
The UFO was captured on video by a CNN camera and became an instant news sensation. The 'UFO' remains 'unidentified' but clearly was not a conventional human craft.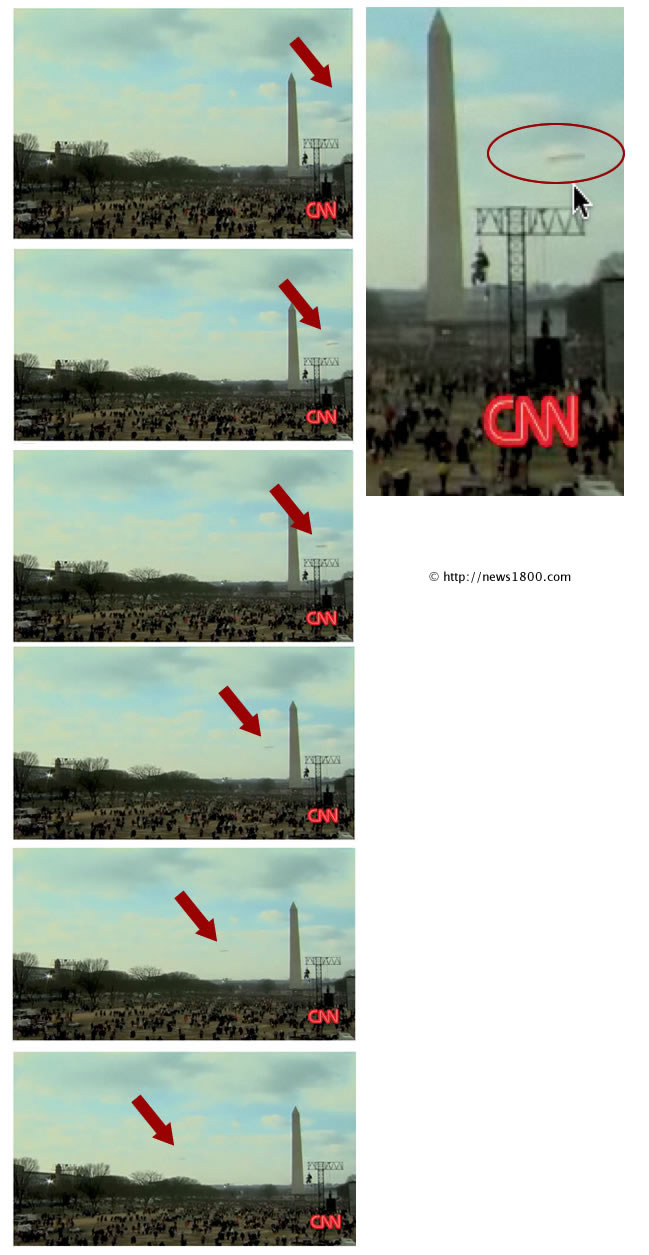 Less than two weeks before the inauguration, news of a suspected UFO damaging a wind turbine on January 8 in England caught the world's attention. The wind farm was sealed off January 12 for forensic analysis and no explanation has yet been found.

On January 21, President Obama signed his Presidential Memorandum on Transparency and Open Government and the Presidential Memorandum on the Freedom of Information Act. Both are critical elements in providing access to the UFO 'X-Files'. That was just his first day in office.

Only two days later on January 23, the UK's 'UFO' hacker Gary McKinnon, was granted an extradition review by British judges.
On January 26, former UK Ministry of Defense official Nick Pope,
"admitted that during his time with the Ministry of Defense, 'shoot-down' orders were issued to several pilots who actively engaged UFO's over British skies!", according to radio interviewer Ross Hemsworth.
The story was published by UK newspaper The Sun, after Hemsworth issued a press release of Pope's comments that were made on the worldwide syndicated hit program Now THAT's Weird, where Hemsworth interviewed Pope.

The next day on January 27, the Mayor of London, Boris Johnson, made a public appeal to President Obama to end the 'lunacy' in attempts to extradite and prosecute UK hacker McKinnon. In a surprising but popular move, also on January 27, David Cameron, the conservative candidate for Prime Minister stunned Great Britain.
He "vowed to release UFO files if elected Prime Minister of Great Britain" as reported in BBC News.

The Air Force of Denmark decided to get in on the UFO disclosure action on January 29 by releasing over 15,000 secret UFO files to the public.

This increase of UFO-related news comes on the heels of U.S. lawmakers' call to remove the head of NASA's Office of the Inspector General. A report cited his failure to reduce fraud and abuse enough to protect taxpayer assets at the U.S. space agency.

In only the first ten of the critical first 100 days of President Obama's term, the frequency and diversity of UFO-related news has been almost unprecedented. Indications are that such news, and pressure from UFO 'X-Files' disclosure advocates, will only increase.
Whether it increases enough to compel Obama to indicate support for disclosure during his first 100 days remains to be seen.