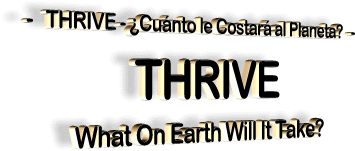 by ThriveMovement
March 23, 2012
from YouTube Website

THRIVE is an unconventional documentary that lifts the veil on what's REALLY going on in our world by following the money upstream - uncovering the global consolidation of power in nearly every aspect of our lives.
Weaving together breakthroughs in science, consciousness and activism, THRIVE offers real solutions, empowering us with unprecedented and bold strategies for reclaiming our lives and our future.

The documentary released last fall, Thrive: What on Earth Will it Take?, takes an in depth look at the problems of the current system where a few elite bankers have managed to gain control of the planet while nearly bringing about its destruction at the same time.
Thrive courageously exposes the conspiracy of this cabal to consolidate and control the world, while also delving into interesting subjects like free energy and the possible existence of extraterrestrials.
Most importantly, Thrive challenges the viewer to think outside the box to find solutions to humanity's current predicament of economic inequality, environmental destruction, and the general loss of individual freedom.

More info at: http://www.thrivemovement.com/

Related Reports