from BreitBart Website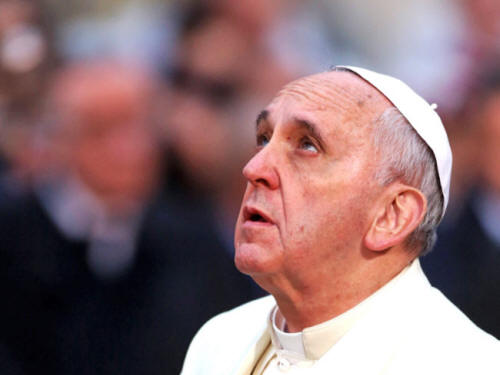 Pope Francis has described the European migration crisis as an "Arab invasion".
He said that "Europe weakens" by "forgetting its own history", but, because of its low birth rate and colonial history, the mass migration could be beneficial.
"Today we can talk about an Arab invasion", the Roman Catholic leader told the Vatican newspaper L'Osservatore Romano this Thursday.

"It is a social fact".

"How many invasions has Europe experienced in the course of its history?" he asked. "But [Europe] has always been able to overcome herself… increased by the exchange between cultures", he answered.
Millions of migrants from the Muslim world walked into Europe last year, and more than 131,000 have arrived via the Mediterranean in the first two moths of this year alone - more than the total number who made it in the first half of 2015.
"There's something that bothers me," added Pope Francis, who has been considered a relatively liberal Pontiff. "Of course, globalization unites us and thus has positive aspects. But, I think there are good and less good [aspects of] globalization", he said.
In his view, a 'good' version of globalization would allow humanity to remain,
"united, but, every people, every nation, retains its identity, its culture, its wealth".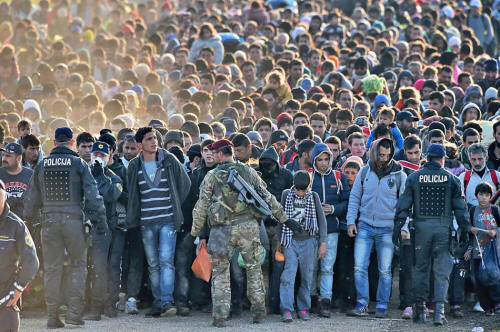 Thousands of migrants march from Croatia into Slovenia
as authorities struggle to cope with Europe's largest migration of people
since World War II
October 26, 2015. (Getty)

"The only continent that can bring some unity to the world is Europe," he went on.

"China has perhaps a more ancient culture, more profound. But only Europe has a vocation of universality and of service", the Pope said.

"If Europe wants to rejuvenate, it must rediscover it's cultural roots. Of all the Western countries, Europe has the stronger and deeper roots.

"Through colonization, these roots have even reached the new world. But forgetting its own history, Europe weakens. It is then that it risks becoming an empty place", he stated.
Next he addressed the European Union (EU).
"Sometimes I wonder where you'll find a Schumann or Adenauer, these great founders of the European Union", he said, appearing to imply that the EU was in need of reform.
His criticism was cryptic:
"It [the EU] confuses politics with circumstantial solutions. Of course, you must come to the negotiating table, but only if you are aware that you have to lose something because we all earn."

"Your secularism is incomplete… We need a healthy secularism", he added, taking aim at France's fiercely secular constitution.

"In the Hispanic world it is said that France is the eldest daughter of the Church, but not necessarily the most faithful daughter".
Finally, he seemed to recognize that radical Islam was the root cause of much violence in the world.
"We work hard to build dialogue between Christians and Muslims… Every religion has its extremists. The ideological degeneration of religion is at the origin of the war", he concluded.