November 11, 2022
from RT Website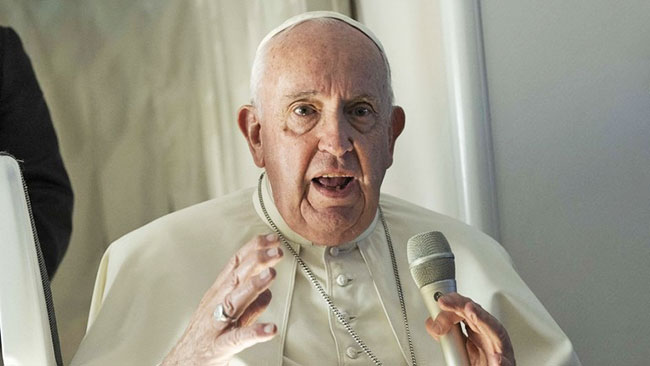 FILE PHOTO © AFP
Maurizio Brambatti

The Catholic Church's
former chief auditor
says he was removed
for trying to expose
institutional corruption...

Libero Milone, the former chief auditor of the Vatican, has sued the Church's Secretariat of State and current auditor general, claiming the Church has reopened a baseless criminal investigation against him in order to silence him after ignoring his reports of official malfeasance.

Milone and fellow auditor Ferruccio Panicco claim the Vatican unjustly ended their contracts, ruined their professional reputations, and rendered them persona non grata in Italy.
They are demanding €9 million ($9.2 million) in damages...
The ex-auditor told the New York Times he was pressured into resigning in 2017 after he was accused of abusing Church resources to spy on top cardinals and threatened with jail.
While he said he filed numerous reports of financial impropriety among cardinals and other Vatican officials, prosecutors "never, ever acted."
Pope Francis allegedly went from asking for personal presentations of the damning findings to shutting Milone out, even attacking him publicly.
"I was discovering things that somebody wanted to keep undercover," Milone told reporters last week after filing his lawsuit, explaining that while he had not sought to "find cardinals putting money in their pockets," he had found exactly that, all in the course of his official duties.
While Milone declined to name names outside of court, he described,
the upper echelons of the Church as a "viper's nest," with cardinals pocketing hundreds of thousands of dollars in Church finances, "accidentally" depositing massive sums into personal rather than Church accounts, and keeping shopping bags full of cash in their offices.
One official he did name, Cardinal Giovanni Angelo Becciu, is currently on trial for embezzlement, abuse of office, and defrauding the Church.
Milone told The Times he believes Becciu was behind his firing, accusing the official of planting evidence that was later used against him.

In 2018, the Vatican formally declared there was no criminal investigation or judgment pending against Milone, though he claimed he was told in 2019 that Pope Francis had sealed his case.
When he officially requested to see the evidence from the probe, he was reportedly told he had no right to it.
Earlier this year, the seal was finally lifted and the Vatican reopened the probe. A spokesman confirmed to the New York Times (below report) on Thursday that there was an open file on Milone for embezzlement, unsealed since the spring.

Milone has insisted he is innocent of all charges, claiming,
"we never spied, we have been honest, we did what we had to do, but unfortunately what we had to do was very embarrassing."
by Jason Horowitz
Elisabetta Povoledo contributed reporting
November 10, 2022
from NYTimes Website
and
from DNYUZ Website
also HERE...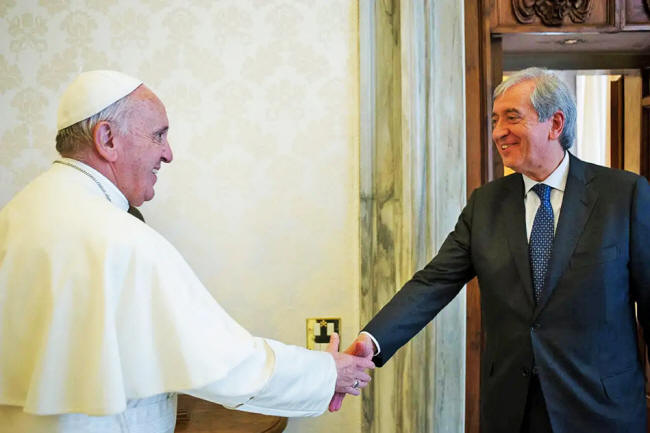 Pope Francis meeting with Libero Milone,
now a former Vatican auditor general, in a 2016
photo released by a Vatican newspaper.
Credit - L'Osservatore Romano
via Associated Press

Libero Milone is suing the Vatican
for wrongful dismissal after he said
he found cardinals siphoning off funds.
The Vatican has hit him with
a criminal investigation of its own...
ROME
On June 19, 2017, the Vatican gendarmes entered the offices of the church's chief auditor.
They confiscated his phone and iPad, threw his papers on the floor and ordered the fire brigade to smash open a locked metal filing cabinet, from which they extracted a document that they said proved he was abusing resources to spy on top Vatican cardinals.
"Now you have to confess," they demanded, according to the auditor, Libero Milone.
Faced, he said, with being thrown in a Vatican jail, Mr. Libero Milone signed resignation papers.
In the ensuing five years, the Vatican has done much to clean up its financial act.
Cardinal Giovanni Angelo Becciu, one of the prelates whom Mr. Milone was accused of spying on, and who Mr. Milone believes masterminded his ouster, has himself been removed from his powerful position by Pope Francis and is on trial in the Vatican for embezzlement and abuse of office and defrauding the church in connection with a disastrous London real estate deal.

But Mr. Milone argues that the Vatican, which in 2018 formally stated that there was no criminal investigation or judgment against him, has refused to clear his name. Instead, the Vatican has reopened a criminal investigation against him, in what he sees as a strong-arm tactic to make him go away and protect its secrets.
"I was discovering things that somebody wanted to keep undercover," Mr. Milone told a handful of journalists as he filed a lawsuit last week in the Vatican court against the Vatican's Secretariat of State, its most powerful department, and the current auditor general.

"All these matters were reported to the pope. I wasn't spying. I was doing my job."

"I didn't know that I would find cardinals putting money in their pocket, but I found it. And I told him," he said of Pope Francis.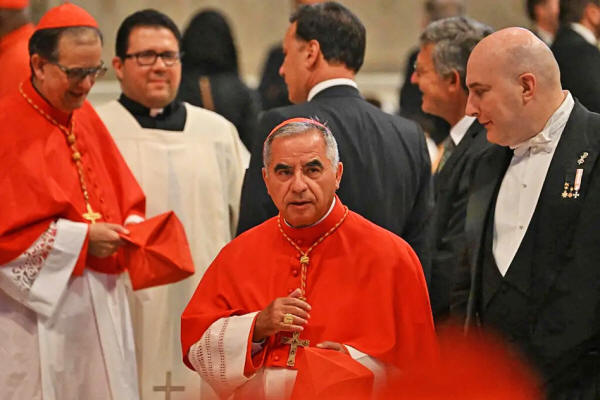 Cardinal Giovanni Angelo Becciu, center,
at the Vatican in August.
He has been accused of embezzlement
and abuse of office.
Credit - Alberto Pizzoli/Agence France-Presse
Getty Images


Matteo Bruni, the Vatican spokesman, declined to comment on the case or on any of Mr. Milone's accusations, though he confirmed that the Vatican's prosecutor had an open file on Mr. Milone for embezzlement since this spring,
"after a confidentiality seal was removed from the case."
In their suit, Mr. Milone, the former chief executive of Deloitte & Touche Italy, and a fellow auditor, Ferruccio Panicco, who blames the Vatican for having contributed to the advancement of his prostate cancer and cut short his life span by confiscating and withholding his medical records, are seeking about nine million euros in damages.
They say the Vatican unjustly terminated their contracts, sullied their professional reputations and essentially blacklisted them in Italy, where, Mr. Milone said,
"You can't cross the Vatican."
Mr. Milone's complaint depicts what it calls a dysfunctional "vipers' nest" of Vatican intrigue, financial malfeasance, papal hypocrisy about transparency and a reign of terror by bug- and-blackmail-prone gendarmes.

Above all, the complaint outlines the misuse of funds by Vatican officials to enrich themselves and in some cases upgrade their apartments.
Mr. Milone argued that for all of the reports he filed about financial impropriety, the secretary of state, Cardinal Pietro Parolin, and the Vatican prosecutors "never, ever acted."

Francis, in Mr. Milone's account, went from demanding personal PowerPoint presentations about his findings ("My God, this is terrible," Francis said, according to Mr. Milone), to turning a cold shoulder to Mr. Milone when the Vatican bureaucracy poisoned his ear, and finally to attacking Mr. Milone after he publicly complained about his firing.

In a 2017 Christmas address, Francis excoriated corrupted reformers who,
"when they are quietly sidelined," he said, "wrongly declare themselves martyrs."
Earlier this year, during testimony in his own trial, Cardinal Becciu emphasized that Francis had personally demanded that Mr. Milone be fired.

As Mr. Milone sees it, he was simply doing the job the pope hired him to do and it was not his fault if he easily discovered a raft of embarrassing material.

The auditors discovered that some of the Vatican departments keptgold bricks and coins, but when they asked to inventory them, said the keys could not be found, he said.
The Vatican department overseeing church real estate investments repeatedly sought to obstruct him and hid its financial records, he said.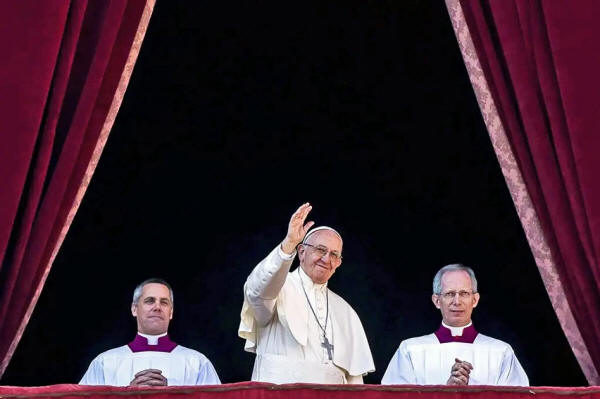 Pope Francis waves to the faithful on Christmas
at the Vatican in 2017.
A few days earlier, Francis excoriated
supposed reformers who were instead
"corrupted by ambition or vainglory."
Credit...Angelo Carconi/European Pressphoto Agency


He also accused cardinals, whom he declined to name now but said he would if his case went to trial, of pocketing tens of thousands and sometimes hundreds of thousands of the church's dollars.
He said he found that one cardinal received 250,000 Euros in donations that he kept in a plastic shopping bag in his office.
The prelate deposited an additional 250,000 Euros, he claimed by accident, into his own personal account rather than into the account of the Vatican department that he ran.
Mr. Milone informed Francis, who was furious, and instructed him to tell the cardinal that he had been caught, he said.
"This person became red. 'But in my country I can do what I like'," Mr. Milone recounted him saying.
Mr. Milone said the cardinal returned the money.
In Mr. Milone's telling, the main villain of the Vatican was Cardinal Becciu, who acted as the pope's chief of staff and who fought a war over transparency in the Vatican with the Vatican's former financial czar, Cardinal George Pell of Australia, an ally of Mr. Milone.
Cardinal Pell, whose supporters say he was tarred with a sex abuse accusation as part of the internal political war, pushed for the hiring of PricewaterhouseCoopers as Vatican auditors.
"They are asking lots of questions and asking information," Mr. Milone said Cardinal Becciu complained to him in one meeting.

"You know, there should be a state secret on the things we do."
Fabio Viglione, Cardinal Becciu's lawyer, categorically denied Mr. Milone's accusations, saying the auditor's reconstruction of events was "completely unfounded" and likely to prompt a suit by the cardinal.
Mr. Viglione pointed out that Cardinal Becciu had already testified in court that he was simply following the pope's orders.

Another antagonist for Mr. Milone was the commander of the Gendarmerie, Domenico Giani, who also was the pope's bodyguard and subsequently resigned over leaks related to an investigation into apparent financial wrongdoing in the Vatican.
Mr. Milone said his office discovered that a refurbishing of Mr. Giani's apartment ran to about 400,000 Euros.
The complaint claims that Mr. Giani's portion of the expenses, about 170,000 Euros, was provided by a money transfer from the Gendarmerie, not by him.
"Internal funds to pay personal expenses," Mr. Milone said.
Mr. Giani did not return a request for comment...

speaking to a group of cardinals
in St. Peter's Square in 2019,
when he was the commander of
the Vatican gendarmerie.
Credit - Alessandra Tarantino
Associated Press

Mr. Milone suspects Cardinal Becciu of planting the evidence that was discovered in the 2017 raid by the current head of the gendarme, who knew precisely where to look, he said, going to the locked cabinet "like a bloodhound."
"It is all done deliberately to get me out when they decided in March 2016 that I was a danger because I was asking too many questions," Mr. Milone said.
In 2017, the Vatican claimed that it had conducted a more than seven-month investigation into Mr. Milone for spying and improperly using its money for his own interests.

But in May 2018, the Vatican's chief prosecutor issued a contrary statement, saying that there were no investigations or sentences against Mr. Milone in their records.

Mr. Milone said that in 2019, Cardinal Parolin informed him that Francis had sealed his case.
"It's a brilliant idea to put a pontifical secret on a resignation," Mr. Milone said bitterly.
On Nov. 26, 2019, Mr. Milone officially requested to see the evidence compiled against him in the previous investigation into his apparent spying.
The Vatican's chief prosecutor responded in a letter in January 2020 that Mr. Milone had no right to the information, and declined his request.

Early this year, the Vatican lifted the seal, but instead of sharing the information with Mr. Milone, he said, they have reopened the criminal investigation against him.
"They want to threaten me," he said, arguing the Vatican had presented him with new evidence that was "clearly fake," including what he called a forged document that was dated months before he even got the Vatican job.
Mr. Milone and his lawyers, who have been summoned to meet with the Vatican prosecutor on Monday, insist they are willing to go to court, even if, they acknowledge, the odds are stacked against them, especially in a monarchy ruled by the pope.
"Who is he to block me from working?" Mr. Milone said angrily.