by Frank Pellegrini
July 22, 1997
from Time Website
recovered through WayBackMachine Website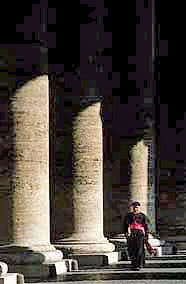 File photo of the Vatican.
KELLY-MOONEY-CORBIS
Is there Nazi gold in the Vatican basement?
A recently declassified 50-year-old Treasury Department memo says the Vatican held onto 200 million Swiss francs passed it by a Nazi puppet government.
Quoting a "reliable source in Italy," Treasury agent Emerson Bigelow wrote his superior in 1946 that after the fall of Nazi Germany, members of the Nazi puppet Ustasha government of Croatia sent 350 million confiscated Swiss francs to the Vatican "for safekeeping."
En route, some 150 million were apparently seized by British authorities at the Austrian-Swiss border. The balance was held in the Vatican. The Vatican is denying the charge.
"There is no basis in reality to the report," said Vatican spokesman Joaquin Navarro-Valls.
He said it is based on an anonymous source, apparently a U.S. intelligence agent, "whose reliability is more than dubious."
Historians have roundly criticized the Vatican for maintaining ties to the Utasha regime, which exterminated hundreds of thousands of Serbs, Jews and Gypsies during the war.
Without further evidence, the charge stands largely as rumor. The money itself, if the Vatican ever held it, may long since have been returned to Utashas who fled to Spain and Argentina after the regime's collapse.
But while those rumors persisted, the intelligence source speculated they were a,
"smokescreen to cover the fact that the treasure remains in its original repository."
Search warrant, anyone?