Appendix

The strange death of Roberto Calvi
Hard upon the upheaval caused by the collapse of Michele Sindona's financial empire, and the revelations concerning membership of the masonic lodge Propaganda 2, Oriental Rite, the Vatican faced a third embarrassment when on June 18, 1982, the body of banker Roberto Calvi was discovered hanging from scaffolding under Blackfriars Bridge.

Calvi had been the president of Italy's biggest private bank, the Ambrosiano, which took over many of Sindona's assets. Sometimes known as 'God's banker' because of his close connection with Vatican finance (the Vatican bank was a large shareholder in the Ambrosiano), in May of the above year he faced a number of charges related to, among others, illegal currency transactions.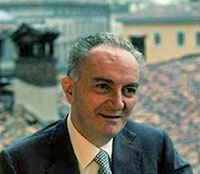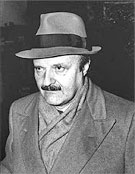 Michele Sindona Roberto Calvi
He vanished from Rome and arrived in London, where he took accommodation in Chelsea Cloisters, on June 15. He was a frightened man, burdened with secrets connected with his own and the Vatican bank, into which it was not wise to probe too deeply. Some who had tried were suddenly dismissed from their posts, others went to jail on faked charges, and there had been at least one known shooting affair during investigations.

While Calvi was absent his secretary, who had been with the bank for thirty years, wrote a note cursing Calvi and then threw herself, so the authorities said, from the fourth floor of the bank's headquarters in Milan.

In London Calvi treated his chauffeur as a bodyguard. He arranged with a friend to call at his flat at regular intervals, and then to knock three times for entrance. He also shaved off his moustache, which he had worn for years.

But although disinclined to leave his apartment, Calvi, it was said, had nonetheless walked four miles in the night or early morning, to commit suicide in the unlikely area of Blackfriars.

The mention of that area calls for comment, together with a reminder that secret societies lay great stress on association and symbols. Blackfriars was the site of the friary and church of the Dominican Order, members of which acquired the name of Black Friars because of their habit. They were, and still are, known as the Order of Preachers. As such they brought the pulpit into general use, and pulpits figure in the stonework of Blackfriars Bridge. And members of the P2 lodge, in which Calvi figured as number 0519, dressed as Black Friars in white tunic, with black cloak and hood, for their ritualistic meetings.

An inquest jury, supported by Scotland Yard, found that Calvi had committed suicide, a verdict that caused raised eyebrows and disbelieving smiles among his relatives and the Italian Press and police. For it implied that Calvi, who was sixty-two, had displayed the dexterity of an athletic young man in seeking, as the Rome Public Prosecutor said, a complicated way to end himself.

In the dark, and on completely strange ground, he had filled his pockets with rubble, negotiated a long ladder and wet planks which had a gap of some feet between them, seized a piece of sodden rope, tied one end to his neck and the other to a piece of scaffolding, and flung himself off. Why take so much trouble, when among his belongings were found medical syringes, seven boxes of tablets, and 170 pills of various kinds, many of which could have done the trick more easily?

But here again the obscure, somewhat bizarre, yet sinister influence of P2 and other secret societies comes into the picture. The initiation of a candidate into the craft often includes the taking of an oath not to reveal any of its secrets. Should he offend, he would undergo a violent death and then be buried near water at low level within reach of the tide; the belief being that his ghost would thereby be prevented from walking, which might embarrass his murderers.

This would apply to Calvi, who in all probability had been strangled before being taken to Blackfriars, to ensure that the dangerous secrets in his possession would not be divulged. For after his mysterious and clumsy 'suicide', before his body was cut down, the Thames tide was covering his feet.

There is nothing to suggest that Calvi had offended his brother masons. But he was under legal pressure, and there were many who feared the possible bringing to light of his extensive financial network. The Vatican, ever since the Sindona scandal, had been on its guard against further revelations, and when the activities of P2 were brought into the open, it took a surprising and an apparently unnecessary step.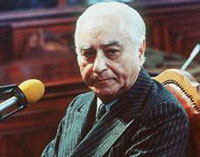 The Congregation for the Doctrine of Faith reminded Catholics that according to article 2335 of Canon Law they were forbidden, under pain of excommunication, to become freemasons. This was merely a tongue-in-cheek exercise to out-step questioners since, as readers of these pages will know, some of the leading prelates at the Vatican were established masons. But the move reflected the alarm that was felt there. Two cardinals, Guerri and Caprio, had worked hand-in-glove with Sindona whose fall had brought P2 and its shady dealings into the open. A prominent member of the lodge, Umberto Ortolani (image left), was known to have close links with the Vatican.

But the most significant name that surfaced with the scandal was that of Archbishop Marcinkus, among whose several unacknowledged connections were those with Mafia circles and with Licio Gelli, a former Grand Master of P2. But even more to the point, he was also president of the Vatican bank, the most secretive and exclusive bank in the world.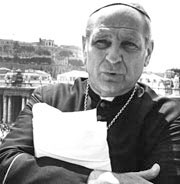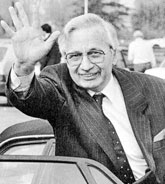 Archbishop Marcinkus Licio Gelli
Marcinkus had also been a friend and business associate of Calvi, and, having remarked that 'Calvi has our trust', he bore that out by issuing a guarantee, in the name of the Vatican bank, to cover some of Calvi's extensive loan operations, involving many millions, as part of a vast monetary programme that included international arms selling deals.
But as the storm gathered Marcinkus withdrew his guarantee, though by then sufficient evidence had come to light to justify the belief that more than normal business exchanges had passed between the Vatican bank and the Banco Ambrosiano.

The Minister for the Treasury, Andreatta, called for the Vatican to come into the open and admit its part in the crisis
that was rocking the financial world. There were also demands for Marcinkus to be questioned, while pressure was put upon the Pope to dismiss him. But Marcinkus was too well versed in Vatican banking secrets for the Pope to risk his displeasure. Moreover, he had been nominated chairman of the influential Commission of Cardinals, and so was well on the way to becoming a prince of the Church, a prospect which made him unavailable for awkward contacts.

For when commissioners went to the Vatican to seek information on its bank and Calvi's relationship with it, Marcinkus was 'not at home'. And when subpoenas (implying that the recipients were subject to examination) addressed to Marcinkus and two of his clerical banking associates, were sent by registered post to the Vatican, the envelope was returned unopened.
A somewhat grudging admission that the Vatican may have been partly responsible for the Calvi bank failure was made this month (August 1982) by Cardinal Casaroli.

Meanwhile the highly controversial Archbishop Marcinkus, in his office that is just a few steps down from the Pope's apartment, may sometimes handle a balance sheet from his late colleague's bank and reflect upon the words with which such statements ended:
'Thanks be to God! '