Brooklyn, New York
August 27, 2009
from TreeHugger Website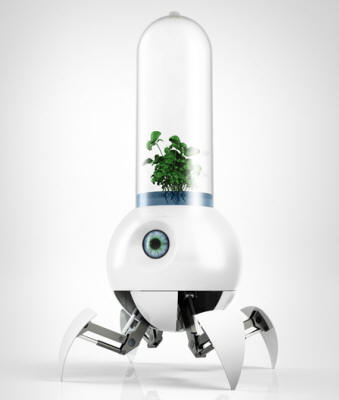 Robot Will Help Colonize Mars After We've Ruined Earth

Well, it's good to know that in the event that our planet collapses under the weight of climate change, overpopulation, a water crisis, nuclear holocaust or whatever, there are designers out there already preparing for life on Mars.
If we do indeed set out to colonize Mars, the first thing we're going to need is ample breathable oxygen. Enter Le Petit Prince, a greenhouse robot designed to keep plants safe while scavenging for more nutrients.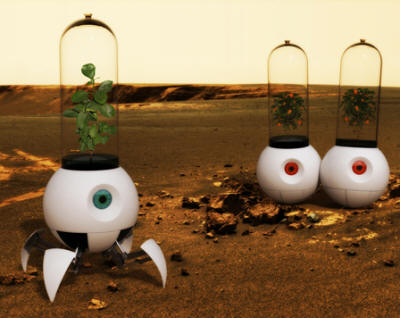 According to Tuvie:
Le Petit Prince or Little Prince is a robotic greenhouse concept that is specially designed to help the future exploration and expanding population in the Mars.

This intelligent robot can carry and take well care of a plant inside its glass container, which is functionally mounted on its four-legged pod.

The robot is designed to learn the optimal process of searching for nutrients in order to keep the plant in a good condition.

Moreover, it can send reports of its movements and developments to its fellow greenhouse robots through wireless communication, making it possible to learn from each other.
And here's the drone in (simulated) action:


Le Petit Prince was designed by Martin Miklica, and is a finalist in the Electrolux Design Lab 2009.