The Babylonian 'Epic of Creation - Enuma Elish' is written on seven tablets, each are between 115 and 170 lines long.

It supposedly was written no later than the reign of Nebuchadrezzar in the 12th century B.C. But there is also little doubt that this story was written much earlier, during the time of the Sumerians.
Drawing some new light on the ancients, Henry Layard found within the ruins of the Library of Ashurbanipal in Nineveh, texts that were not unlike the Genesis creation in the Bible.
George Smith first published these text in 1876 under the title, The Chaldean Genesis, Akkadian text written in the old Babylonian dialect.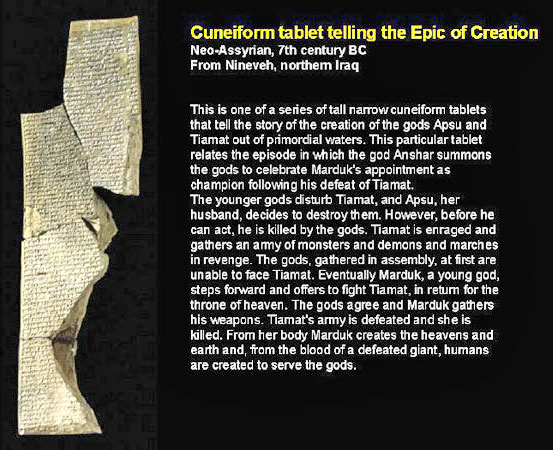 The Babylonian god finished his work within the span of 6 tablets of stone. The last and 7th stone exalted the handiwork and greatness of the deity's work.
Thus the comparison must be made that the 7 days of creation found in the Bible, borrowed its theme from the Babylonians and them form the Sumerians.
A more complete text of the 'Seven Tablets of Creation' is also available here.