by Jeff Hecht
New Scientist magazine
(12/06/2003)
Looters digging for treasure have riddled ancient sites in southern Iraq with holes, according to the first major survey since the end of war. Tens of thousands of artifacts are feared lost and the destruction has obliterated much of the archaeological value of the sites.

Over 200 men were seen digging at each of three separate sites, says McGuire Gibson of the University of Chicago, who was part of the US survey team sent by the National Geographic Society in May.

Museum looting made headlines around the world after Baghdad fell, but the devastation at unprotected sites was revealed in the team's report on Wednesday.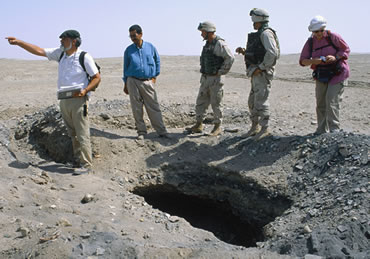 Archaeologists and soldiers examine a fresh looter's pit at the ancient Mesopotamian city of Larsa
(Image: Steve McCurry/National Geographic Society)
The damage is uneven. Northern sites such as the former Assyrian capitals of Nineveh and Nimrud were guarded suffered only minor vandalism and a handful of holes dug in search of gold and other valuable artifacts. But Gibson found serious damage at 10 of the 13 southern sites he visited by helicopter.


Like a waffle

The worst damage was at sites known to locals but not yet well excavated. Gibson said Umm-al-Hafriyat, where he had excavated in 1977, "looks like a waffle, full of holes and pretty much destroyed".

He saw more than 200 people digging at Adab, where looters appeared to have been working for years. The worst looted site may be Isin, where more than 200 men from local villages greeted him when he landed. They were surprised that US troops objected to their digging, but they left quickly after the soldiers with Gibson fired over their heads.

The looters left uncounted artifacts from some of the world's earliest civilizations strewn on the ground. These included cuneiform tablets, stone tools and copper and bronze implements. Although some were intact, they had lost their context and much of their scientific value.
Eight of 10 southern sites visited by Elizabeth Stone of the State University of New York at Stony Brook had suffered some looting. The well-studied sites of Babylon, Ur, and Nippur fared better than little-known spots. Both Babylon and Ur are now guarded by US troops occupying nearby bases.
Money laundering and corruption

The most extensive signs of looting Stone saw in the south were at Larsa, a large city known for archives of clay tablets. She blames the looting on the illegal antiquities market:
"It works like the illegal drug trade, with the same money laundering and corruption."
The survey team made three recommendations to stop the destruction:
increased US patrols,

strengthening Iraq's own system of local site guards

and more support for Iraqi archaeologists.
In Baghdad, curators at the Iraqi National Museum have now confirmed that well over a thousand missing pieces are missing, but the final tally will be much higher. Early reports that thieves had taken only 33 artifacts counted only large objects left in display cases.

Most of the 170,000 objects on the museum's inventory had been hidden in five storerooms, with the most valuable gold items in a vault at the National Bank. Three storerooms were breached by looters and the bank vault door was attacked with a rocket-launched grenade. But while the blast killed the looter, the door held firm.
(Multimedia: Map with Iraq's threatened Heritage - "click" HERE)