by Issie Lapowsky
October 26, 2017
from Wired Website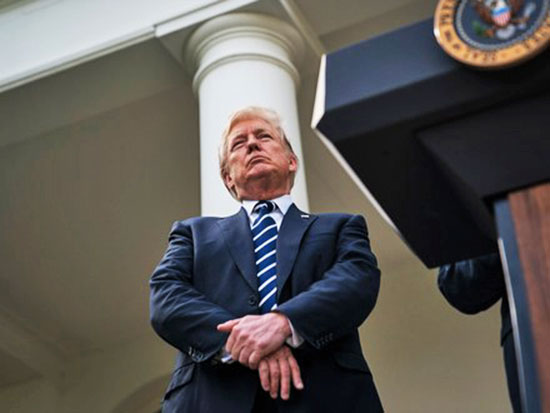 Jabin Botsford
The Washington Post
Getty Images


News that Cambridge Analytica CEO Alexander Nix approached Wikileaks founder Julian Assange last year to exploit Hillary Clinton's private emails has amplified questions about Cambridge's role in President Trump's 2016 campaign.
Shortly after The Daily Beast reported Nix's contact with Assange Wednesday, the Trump campaign's executive director sought to downplay Cambridge's role.
Michael Glassner said in a statement that the Republican National Committee was the campaign's primary source of voter data.
"Any claims that voter data from any other source played a key role in the victory are false," Glassner wrote.
The statement did not respond to reporting in WIRED and elsewhere revealing a close relationship between the Trump campaign and Cambridge staffers.
Cambridge did not respond to WIRED's request for comment.
So, what gives? Such he-said-she-said battles are usually better left to Beltway happy hours.
But as Congress and special investigator Robert Mueller turn their spotlights on Cambridge Analytica in their probes into Russian meddling in the 2016 election, it's essential to get the facts straight about what the firm did - and didn't - do for the Trump campaign.
Here's what we know.
Cambridge worked both for the Trump campaign and a Trump-aligned Super-PAC. In June 2016, Cambridge sent three staffers, led by chief product officer Matt Oczkowski, to the campaign's San Antonio office.
Oczkowski's team eventually grew to 13 people, working under Trump digital director Brad Parscale and alongside his staff and outside consultants.
According to Parscale, the Cambridge staff provided useful analysis of data about the American electorate.
They did not, however, provide the raw data - things like demographic information, contact information, and data about how voters feel about different issues - on which that analysis was done.
That may sound like a small distinction, but it's a crucial one. Ever since it burst onto the scene of American politics in 2015, Cambridge has trumpeted its massive data trove, boasting 5,000 data points on every American.
Cambridge claims to have built extensive personality profiles on every American, which it uses for so-called "psychographic targeting," based on people's personality types. It is feared by some, including Hillary Clinton, for conducting a kind of psychological warfare against the American people and dismissed by others as snake oil.
Both Parscale and Oczkowski have said repeatedly that the Trump campaign did not use psychographic targeting.
Questions also have swirled about how Cambridge accumulated the data. Liberal voters in particular worried that their data had been harvested without their knowledge and used to elect Trump.
But according to both Parscale and Oczkowski, the campaign didn't use Cambridge's trove of data, opting instead for the RNC's data file.
"The RNC was the voter file of record for the campaign, but we were the intelligence on top of the voter file," Oczkowski says.

"Sometimes the sales pitch can be a bit inflated, and I think people can misconstrue that."
Parscale describes the firm's work this way:
"As I've said multiple times over prior statements, Matt Oczkowski and his team created a daily tracker of polling, so that I could see how Trump was doing in key swing states. They provided that to me daily.

Parscale says Cambridge also helped the campaign with what he calls 'persuasion online media buying.' They also helped us identify potential donors.

And they created a visualization tool that showed in each state which areas were most persuadable and what those voters care about."
Cambridge Analytica was paid $5.9 million by the Trump campaign, according to Federal Election Commission filings, $5 million of which went toward buying television ads, with the remainder going to pay Oczkowski and his team.
But that wasn't the only work Cambridge did for the campaign.
Parscale says Cambridge's head of digital, Molly Schweikert, managed an advertising budget of roughly $12 million on behalf of Parscale's firm, Giles-Parscale.
It's a sizable, but still small slice of the $94 million Giles-Parscale was paid in total to purchase the campaign's ads.
The Cambridge staff helped the campaign identify which voters in the RNC's data file were most likely to be persuadable, meaning they were undecided but looked likely to swing toward Trump. They also created lists of voters who were most likely to become donors.
In August 2016, a Trump aide told me Cambridge was critical to helping the campaign raise $80 million in the prior month, after a primary race that had been largely self-funded by Trump.
This was the only period during which Oczkowski's staff relied on Cambridge's data, because the RNC was just beginning to share its data with the Trump team.
Cambridge went on to conduct hundreds of thousands of voter surveys for the Trump campaign to better understand the likely Trump voter and sent a full-time staffer to the New York headquarters, who could relay these findings to senior staff, including Parscale.
Based on these surveys, RNC data, data the Trump team collected itself, and commercially available information from data brokers, Oczkowski's team developed a heat map of the country to pinpoint where Trump should visit to maximize his impact on potentially persuadable voters.
Oczkowski views this as a collaborative effort between his team, the RNC, the campaign, and other vendors, including Deep Root Analytics, which helped the campaign target television ads.
"At the end of the day, when candidates win elections, it's a big team effort," he says.
The RNC played a very important role in that team.
Gary Coby, director of advertising at the RNC, managed the bulk of the campaign's advertising purchases on Facebook. The campaign famously ran 175,000 variations of the same ad on Facebook the day of the third presidential debate in October 2016, a tactic Coby refers to as "A/B testing on steroids."
The RNC also ran the campaign's field operations and worked with Parscale to plan get-out-the-vote advertising campaigns on television and online.
What's also clear, however, is that the Trump campaign seems to have ample motivation to distance itself from Cambridge, a firm whose tactics have sometimes raised questions.
Adding to the intrigue is the fact that shadowy billionaire and Trump supporter Robert Mercer is Cambridge's main financial backer. Former Trump campaign manager and chief strategist to President Trump, Steve Bannon, also held a position on Cambridge's board.
The company itself is an offshoot of the British firm, SCL, which has roots in government and military operations.
Now, Assange's confirmation that Cambridge's CEO wanted to join forces against Clinton has renewed suspicions about the company's business tactics, suspicions that the Trump team would very much like to avoid in the face of ongoing investigations into Russian meddling in the election.
"I had absolutely no understanding any of this was going on, and I was surprised as everybody else when I saw the story" about Nix's approach to Assange, Oczkowski says.
During the campaign, he says his team was walled off from the rest of Cambridge, because the company was also working with a Trump Super-PAC.
Federal regulations prevent campaigns from coordinating with Super-PACs. Of the 13 Cambridge staffers who worked in Trump's San Antonio office, only four remain at the company.
Still, for some in Congress, the web of connections among Nix, the campaign, and now, Assange, seems too close for comfort.
The House Intelligence Committee has acquired Cambridge staffers' email records, which it is currently analyzing for clues of inappropriate contact with foreign actors trying to meddle in the election.
Next week, representatives from Facebook, Twitter, and Google will testify before both the House and Senate intelligence committees and will likely face questions about their interactions with Trump's digital team and members of Cambridge's staff.
And investigators will, no doubt, continue to question members of team Trump about Nix's communication with Assange. The panels will be seeking answers.
But, as is often the case when it comes to Cambridge, each answer will likely only lead to more questions...
...used Data from Facebook and Politico to help Trump
by Stephanie Kirchgaessner
October 26, 2017
from TheGuardian Website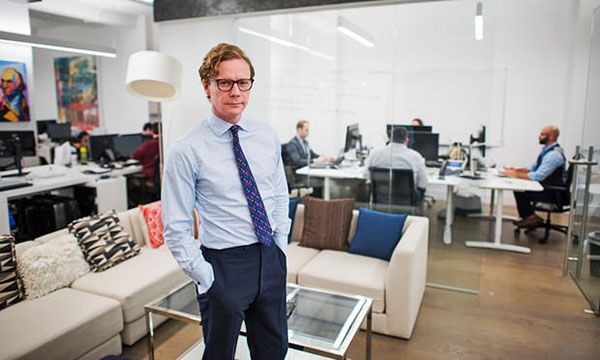 Cambridge Analytica's CEO, Alexander Nix,
at the company's office in New York City on 24 October 2016.
Photograph: The Washington Post
Getty Images



Speech by company executive
contradicts denial by Trump campaign
that claimed the company used
its own data and Facebook data
to help the campaign.



Cambridge Analytica used its own database and voter information collected from Facebook and news publishers in its effort to help elect Donald Trump, despite a claim by a top campaign official who has downplayed the company's role in the election.

The data analysis company, which uses a massive database of consumer and demographic information to profile and target voters, has come under the scrutiny of congressional investigators who are examining the Trump campaign.

This week, the group became the focus of a new controversy after the Daily Beast reported that the company's chief executive, Alexander Nix, had contacted Julian Assange last year.
Nix allegedly asked the WikiLeaks founder whether he could assist in releasing thousands of emails that had gone missing on a private server that had been used by Hillary Clinton.
Assange confirmed the contact but said the offer was rejected.
The news prompted a top former campaign official, Michael Glassner, who was executive director of the Trump election campaign, to minimize the role Cambridge Analytica played in electing Trump, despite the fact that it paid Cambridge Analytica millions of dollars in fees.
In a statement on Wednesday, Glassner said that the Trump campaign relied on voter data owned by the Republican National Committee to help elect the president.
"Any claims that voter data from any other source played a key role in the victory are false," he said.
But that claim is contradicted by a detailed description of the company's role in the 2016 election given in May by a senior Cambridge Analytica executive.
Speaking at a conference in Germany, Molly Schweickert, the head of digital at Cambridge Analytica, said that Cambridge Analytica models, which melded the company's own massive database and new voter surveys, were instrumental in day-to-day campaign decisions, including in helping determine Trump's travel schedule.
The company's models also helped drive decisions on advertising and how to reach out to financial donors.

Schweickert said Cambridge Analytica started working with the Trump campaign in June 2016.
"It became obvious that a sophisticated data apparatus would be needed to combat the years of infrastructure and experience the Clinton campaign had been building up," she said.
One of the company's strategies was to work in "collaboration" with news publishers like Politico, the political news website, which Schweickert said helped the company target a political ad about the Clinton Foundation to readers in key battleground states.
"We knew we would be showing this to the right individuals," Schweickert said.
In another case, in the late stages of the November election, Schweickert said the company acquired data on voters who voted early - data it collected from local counties and states - and linked the information to individual Facebook profiles.

This helped Cambridge Analytica determine whether people had been exposed to certain political advertisements, and whether those people had turned in their early voting ballots, helping them to predict the outcome of the election.
When asked by a German audience member whether this was legal, given privacy rules in Europe that would "probably" make the activity illegal in Germany, Schweickert responded:
"It's a very different sort of data privacy culture."

"All the data we work with is already publicly available," she said.