December 2021 - January 2022
from YouTube Website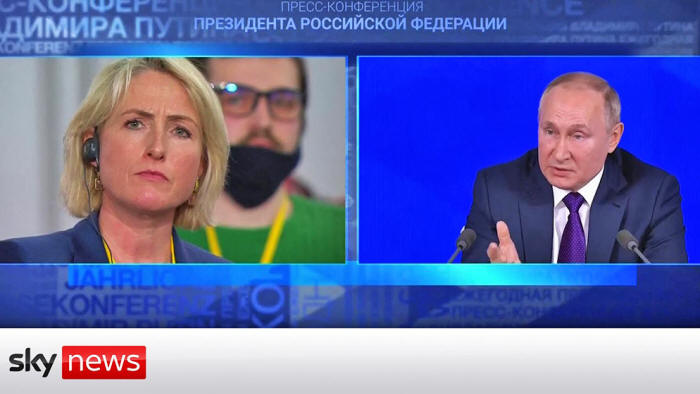 The U.S. is Parking Missiles...
- Says Vladimir Putin -
by Sky News
December 23, 2021



"They should have treated Russia
as an ally.
It has been
the other way around"


Russian President Vladimir Putin has told Sky News that the US and NATO are expanding onto Russia's borders - and not the other way around.

At his traditional end of year news conference, Mr. Putin answered questions from the world's media.

And he told Sky News' Russia Correspondent Diana Magnay that his country wasn't threatening anybody and that he didn't want conflict in Ukraine.

But he said the ball "is in the West's court".

Estados Unidos está Estacionando Misiles...
"En el Porche de nuestra Casa"
- Dice Vladimir Putin -
por Negocios TV
08 Enero 2022

"Deberían haber tratado a Rusia
como un aliado.
Ha sido al revés"...
Vladimir Putin explica en rueda de prensa la razones que le llevan a mantener una posición dura en Ucrania.

El presidente ruso analiza los últimos 30 años desde la caída del Muro de Berlín.

Se muestra muy duro con occidente y con la OTAN y pide que haya un cambio inmediato.

Ante la pregunta de una periodista de Sky News, el presidente ruso, Vladimir Putin, afirmaba que Rusia ha venido aguantando hasta cinco expansiones de la OTAN en el este y que no se va a volver a producir.

No quiso asegurar que no habría una invasión de Ucrania.