by Tiffany Meier, Kevin Hogan and Hannah Ng
December 06, 2022
from TheEpochTimes Website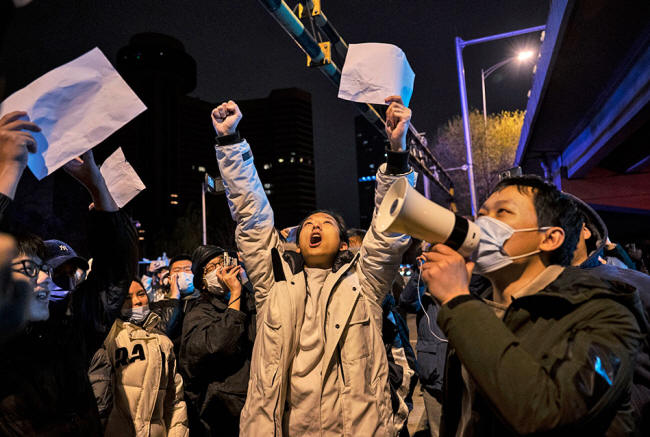 Protesters shout slogans during a protest
against the Chinese Communist Party's
strict zero COVID measures in Beijing, China,
on Nov. 28, 2022.
(Kevin Frayer/Getty Images)

COVID-19 Protests

The mass protests against Beijing's "zero-COVID" policy in China reveal a weakening of the communist regime, according to Anders Corr, publisher of the Journal of Political Risk.
"It makes them look weaker than it was in the past," Corr, who is also an Epoch Times contributor, said in an interview with NTD, sister media outlet of The Epoch Times, on Nov. 29.
Since the Tiananmen Square protests in 1989, which were much bigger and more centralized in Beijing, people have gotten used to very little dissent in China, he said.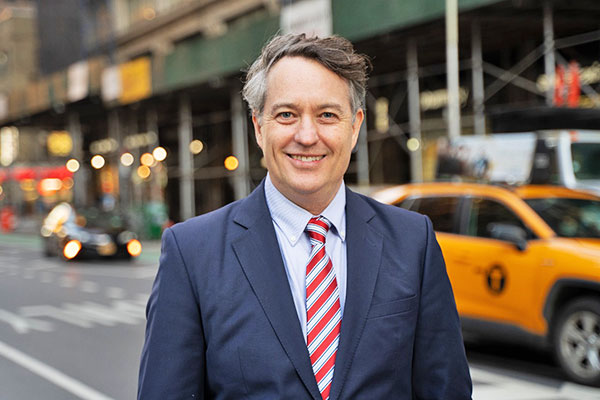 Anders Corr,
publisher of the 'Journal of Political Risk'
and author of
in New York on Dec. 13, 2021.
(Bao Qiu/The Epoch Times)
"There have been frequently scattered protests in China on more local issues, like land issues, or banks that don't pay their depositors," Corr said.

"But these kinds of bigger, broader, more decentralized protests, that are focused on a national level policy, are really new."
His view was echoed by Jon Pelson, author of the book "Wireless Wars - China's Dangerous Domination of 5G and How We're Fighting Back."
Trailblazing Students
Pelson called the massive demonstrations "extraordinary" because,
many of the students who participated might have had no knowledge of the Tiananmen Square protests that happened before they were born...
The Chinese regime's vast internet censorship apparatus has scrubbed online any mention of the event that occurred more than 30 years ago.
The students' parents might not speak about the event out of fear that their child's teacher would bring trouble to them, according to Pelson.
"So these students [involved in the protests] think that they're trailblazing.

And... that's a wonderful thing, because it maybe gives them a little more courage to do what they're doing," Pelson said in an interview with "China in Focus" program on NTD.

"But if they saw how it turned out 30-something years ago, I hope they're not headed for that same outcome.

Because Chairman Xi doesn't seem to be a very sympathetic character who's willing to allow people to express their views," he added, referring to Chinese Communist Party (CCP) leader Xi Jinping.
Corr further noted that the regime is trying to pin blame on local officials.
"They're claiming that the protests are a result of individual level, local level party members who've made mistakes... and that way removes blame from the national level, so that the focus doesn't go against the CCP and Xi Jinping," he said.
International Support
In Corr's view, trade interests have hindered the Biden administration from issuing a stronger response to the COVID protests in China.
The White House earlier this week voiced its support for the right of peaceful protest, but stopped short of directly expressing support for protesters' demand for greater freedoms in China.
"The Biden administration does want to support, of course, democracy and freedom in China as everyone does. But at the same time, they don't want relations to deteriorate too much," Corr said.

"They're not tough enough, because they want to get the trade of $650 billion a year going again, $2.3 trillion [worth] of U.S. institutional investment by last count in China, all of that needs to be protected from their perspective," he added.
But the China expert hoped that the support and solidarity shown to protesters in China by the international communities would increase pressure on the CCP to,
"democratize the processes to give people a bigger voice."

"These COVID protests are very clearly one of those cases where they just can't hold the people back," Corr said.
Additional information - Video