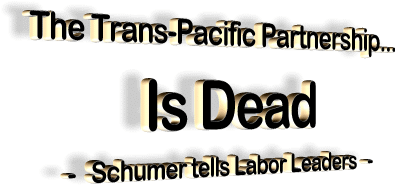 by Mike DeBonis, Ed O'Keefe and Ana Swanson
Sarah Halzack contributed to this report
November 10, 2016
from WashingtonPost Website
Mike DeBonis covers Congress and national politics for The Washington Post. He previously covered D.C. politics and government from 2007 to 2015.
Follow @mikedebonis
Ed O'Keefe is covering the 2016 presidential campaign. He's covered presidential and congressional politics, Congress and federal agencies and spent a brief time covering the Iraq war. Follow @edatpost
Ana Swanson is a reporter for Wonkblog specializing in business, economics, data visualization and China.
Follow @anaswanson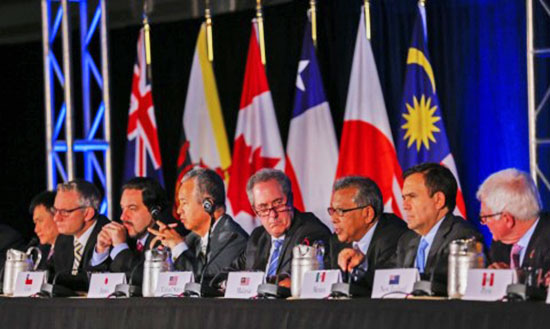 U.S. Trade Representative Michael Froman, center,
is joined by international counterparts in Atlanta
after an agreement was reached by
12 Trans-Pacific Partnership member countries
Oct. 5, 2015.
(Erik S. Lesser/European Pressphoto Agency)



The Senate's soon-to-be top Democrat told labor leaders Thursday that the Trans-Pacific Partnership (TPP), the trade deal at the center of President Obama's "pivot" to strengthen ties with key Asian allies, will not be ratified by Congress.

That remark from Sen. Charles E. Schumer (D-N.Y.), who is expected to be the incoming Senate minority leader, came as good news to the AFL-CIO Executive Council, which met Thursday in Washington.
Schumer relayed statements that Republican congressional leaders had made to him, according to an aide who confirmed the remarks.

Obama's signature global trade deal had been on life support for months as both Democrats and Republicans campaigned against unfair trade policies ahead of the Nov. 8 election.
And Donald Trump's triumph in the presidential race cemented its fate.
"There is no way to fix the TPP," Trump said in a June economic address. "We need bilateral trade deals. We do not need to enter into another massive international agreement that ties us up and binds us down."

The U.S. and 11 other nations
have come up with a trade deal
after years of negotiations.
But what's in it, who hates it,
and what happens next?
(Gillian Brockell/The Washington Post)


The deal never had much of a following among congressional Democrats to begin with.
Only 28 of 188 House Democrats and 13 of 44 Senate Democrats supported granting Obama the authority to negotiate and finalize a deal last year. And Trump's rise has decimated support for free trade among Republicans.
A former U.S. trade representative, Sen. Rob Portman of Ohio, said he would oppose the TPP as he campaigned for reelection this year.

Senate Majority Leader Mitch McConnell (R-Ky.) said Wednesday there was no chance that the deal would pass during Obama's final months in office.
And he said it's up to Trump whether any trade deal would move forward after that.
"I think the president-elect made it pretty clear he was not in favor of the current agreement," McConnell said.

"But he has the latitude because [congressional negotiating authority] is in place through the next administration to negotiate better deals, as I think he would put it, if he chooses to."
House Speaker Paul D. Ryan (R-Wis.), who has supported past trade deals, has said that "the votes aren't there" in the House to pass the TPP in its current version and that he has no plans to bring it to a vote in the House.

The news of the trade pact's likely demise prompted disappointed reactions from some industry coalitions, which had hoped to access freer markets and a more level playing field with competitors overseas.

Among them were groups representing America's farmers and ranchers.
The TPP had promised to slash tariffs on U.S. agricultural goods in large markets such as Japan and Vietnam, as well as eliminate agricultural subsidies that gave competitors in the trade bloc an edge.
"We would have liked to get it done before the end of the year.

The longer we delay, the more likely we lose market share in the Asia-Pacific since other countries are negotiating their own trade deals with nations in the region," David Warner, the director of communications at the National Pork Producers Council, said in emailed comments.
Warner said the TPP would exponentially increase pork exports, translating into more American jobs.
"We certainly hope the TPP is not dead."
Retailers had also largely thrown their support behind TPP, as it would have reduced tariffs on many goods that brands source from overseas.
President Obama had even used Nike's Oregon headquarters as backdrop for a speech defending his trade policy.
"On balance, [TPP] was viewed by our industry as a win for retailers and our consumers," said David French, the National Retail Federation's senior vice president of government relations, in an interview conducted Thursday prior to the news of Schumer's statements.
David French said he believes that the reduction in tariffs would have been passed on to consumers in the form of lower prices. Tariffs on footwear can be as high as 67.5 percent, according to the NRF, while apparel tariffs can be up to 32 percent.

In September, a coalition of retailers, including,
Walmart

JCPenney

Gap

Michael Kors

Dick's Sporting Goods,
...sent letters to each member of Congress to urge them to support the TPP.
The letter said the agreement would remove $2.8 billion in duties on U.S. imports of clothes, shoes and travel items such as backpacks.
They called it,
"once-in-a-generation opportunity to reduce costs and open new markets for U.S. brands and retailers."
Correction:
A previous version of this story misstated the estimated dollar value of the duties on clothes and related items for retailers. It is $2.8 billion, not $2.8 million.




Secret Corporate Government Merger
...Known as the TPP - is Finally Dead
by Claire Bernish
November 13, 2016
from ActivistPost Website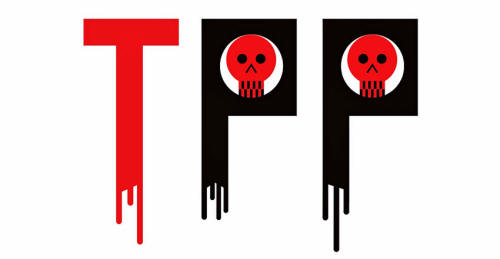 In perhaps the least ceremonious victory for U.S. and international activists, the decidedly abhorrent Trans-Pacific Partnership (TPP) - a corporate giveaway of phenomenal proportions - effectively died yesterday.

Lawmakers from both sides of the aisle announced the much-maligned, so-called 'free trade' deal - which would have inextricably tied the U.S. to Asia and given corporations unprecedented powers over governments - would not be pursued in the lame duck session before President-elect Donald Trump takes office.
President Obama had hoped the massive, 12-nation agreement would come to fruition under a Hillary Clinton presidency, but with her defeat and Trump's promise to roll back the previous, similarly-modeled North American Free Trade Agreement (NAFTA), all prospects of passage melted away.
Further, the deal's secreted negotiations and WikiLeaks' publishing of enormously controversial sections - such as the Intellectual Property chapter - left the American public leery and increasingly contemptuous of what, in essence, constituted a gigantic corporate power-grab.
Aware of growing skepticism among voters, Republicans previously supporting the TPP dialed back their enthusiasm in recent months.
As the Wall Street Journal reports,
Winning a majority of votes for the TPP in the House and Senate would have required both a last-minute deal to address Republican priorities and an election result that didn't show such broad discontent.

Neither occurred.

Since the election, Senate Majority Leader Mitch McConnell (R., Ky.) and Sen. Chuck Schumer (D., N.Y.) have said no to bringing the TPP to a vote in the lame duck session, despite the strong support of many senators in both parties for freer trade.
Despite going out with just a fizzle, the death of the TPP is no less a victory for the people.
Although it will await Trump once he takes the White House in January, it's doubtful the new president - who may, indeed, tone down previous radical ideas to better attune to the establishment - would revive the abominated deal.
In the statement cited by the WSJ, Rep. Kevin Brady said Wednesday,
"this important agreement is not ready to be considered during the lame duck and will remain on hold until President Trump decides the path forward."
Clamoring but failing to be included in the deal in the months leading up to the U.S. election, China could now continue its current path spurning American involvement in its trade and economy.
In fact, as nations in the Asia-Pacific region continue to foment an alliance both amongst themselves and with Russia, further tariff-eliminating trade deals aren't likely to include the U.S. at all.
In the upcoming Asia-Pacific Economic Cooperation (APEC) summit, Chinese President Xi Jinping will reportedly seek trade arrangements with less strictures than had been included in the TPP, such as,
environmental restrictions

labor protections

tightly-constrained rules about intellectual property
Additionally, the Regional Comprehensive Economic Partnership (RCEP), which includes,
"ten members of the Association of South East Asian Nations plus China, Japan, South Korea, India, Australia and New Zealand",
...also presents direct competition for the Trans-Pacific Partnership, Business Insider reports.
"China is always positively advancing work on its own regional free-trade strategy," said deputy international trade representative, Zhang Xiangchen, quoted by Business Insider.

"We, indeed, are continuously and positively advancing RCEP negotiations."
Beijing feared U.S. protectionism under the TPP would cause economic isolation in the region, but the death of the agreement - and warming alliances with its neighbors - offers a chance for China to fully assert dominance it has been building financially and militarily.
Repercussions from the presidential election echo on the opposite side of the globe as well, as negotiations for the European-focused parallel trade deal, the Transatlantic Trade and Investment Partnership (TTIP), also came to a screeching halt.
Whether or not U.S. officials will begin to switch focus from the international to the domestic in the coming administration has yet to be seen, but the predicted death of the TPP certainly portends that possibility.
Trump's sometimes vitriolic rhetoric apparently did not spark sufficient malaise for voters soured on the TPP and other proposed trade deals once he denounced the plans as special interests attempting to "rape" the country, as the WSJ noted.
As with quickly heightening tensions and utter unpredictability trailing the election of a non-politician to arguably the seat of highest power on the planet, the killing of the TPP only occurred for the odd turn of events.
Its abrupt and inelegant demise - however it came about - will undoubtedly be welcome news for many.