Trade officials from Canada and other Asia-Pacific nations are meeting behind closed doors in Ottawa to discuss the Trans-Pacific Partnership, a massive free-trade proposal that could create one of the world's largest trading blocks.
The TPP currently comprises 12 countries, including,
Canada

Australia

Brunei

Chile

Japan

Malaysia

Mexico

New Zealand

Peru

Singapore

the United States

Vietnam
The discussions between trade officials are taking place in Ottawa from July 3 to 12.
Federal ministers are not participating in the talks.
"No ministerial meeting will occur on the margin of the officials' meeting in Ottawa," said Claude Rochon, a spokesman for the department of Foreign Affairs.

"This is a working-level technical meeting, held by the TPP negotiating leads and a small number of focused working groups, that meet as required to continue to advance negotiations."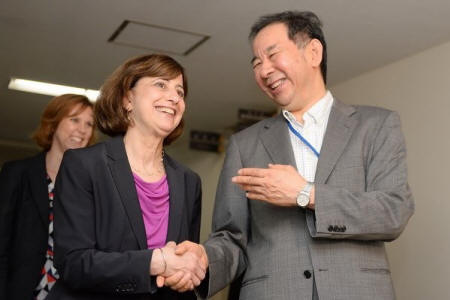 Canada first joined discussions surrounding the mammoth trade proposal in October 2012.
Secrecy 'unacceptable'
The federal government says TPP countries represent 792 million people and a combined GDP of $28.1 trillion dollars. One of the major complaints from opposition parties is the secrecy surrounding the talks.
NDP trade critic Don Davies said the process has been "unacceptable" and Canada should "aspire to higher standards" when dealing with "profoundly important" discussions. In an interview with CBC News, Davies said the government could provide periodic updates to lift the veil on the closed-door discussions.
Liberal John McCallum agrees.
He said his party is keen on expanding Canada's trade relationships, but more information should be provided.
"For starters, they could tell us who is negotiating for us," McCallum said.
The Council of Canadians, which calls itself a social-action organization, has suggested the process,