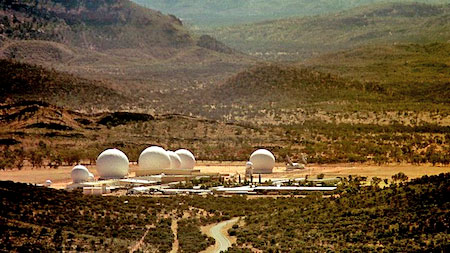 by David Icke
30 September 2011
from DavidIcke Website
'Mind the gap' is a phrase delivered loudly and with a strange slow and deliberate delivery at many London underground stations, as in 'mind the gap between the platform and the train, please'.
But this week I have been close to another 'gap' that is rather more sinister. I mean sinister, as in global importance sinister. We should 'mind' this 'gap' even more.

I spent a night in Alice Springs in Australia's Northern Territories and a short drive from there is Pine Gap, one of the most significant underground facilities on the planet. It is located some twelve miles from the very centre of Australia and began operations in 1966.
I was driven out to the base to get a 'feel' for the place. That is all you can really do, because you are told to turn back before you even see the entrance to the base. We drove on past the turn-back sign until we could see the main gate, but even that is well forward of the facility itself.

I say facility - there is very little on the surface. I had a great view from my aircraft when I flew back to Alice Springs and all you can see are a series of 'domes' or 'balls' known as 'radomes', and a few buildings here and there.
Everything else is underground and this 'everything else' is massive. It is reckoned to go down at least 12 levels with long tunnels going out in all directions to who knows where. Work is obviously ongoing, too.
A resident told me that enormous amounts of concrete are being delivered to the base at this time.

All of us in the car that got close enough to see the entrance had the same feeling of being drained of energy and experiencing headaches and I am sure we were either hit by some electromagnetic device or simply that an electromagnetic field is being beamed from the base into the near vicinity.
Certainly for all of us to feel the same confirmed that one or the other is true.