March 3, 2011
from DCBureau Website
California is trying to solve its water crisis with a huge push for ocean desalination,
but opponents claim its too expensive and dangerous for the environment.
---
David Rosenfeld is a freelance journalist based in Portland, Oregon with 10 years of experience writing for newspapers.
He writes primarily about health care, conservation
and the changing world around us.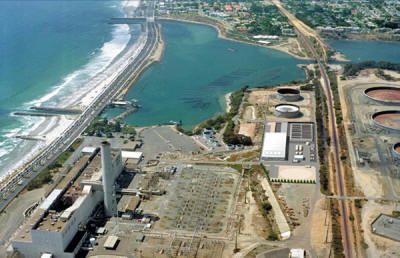 California is in the process of building a series of massive ocean desalination plants on a scale not seen before in the United States.
While most are at various stages, slowly slogging through bureaucratic red tape, conservationists are pushing back against powerful interests betting California's looming water crisis occurs sooner rather than later.

Opponents argue the technology is too expensive and damaging to the environment while the state could do a lot more to conserve water at the tap and in the fields where most of California's expensive imported water ends up.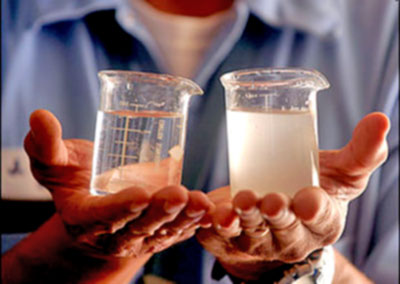 Skeptics also see in desalination a potential boondoggle where the public bears the risk and Wall Street investors reap the benefits.
"We should be doing a lot more in terms of water saving before we go into desalination," said California Coastal Commission chairwoman Sara Wan.

"Most likely, given the population we have, we're going to eventually need to do desalination for water," Wan said. "There are ways to do it that are less damaging and ways that cause significant impact."
There are now about 20 full-scale proposals for desalination plants - with several smaller facilities already up and running - from San Francisco to San Diego that would turn the salty waters of the Pacific into drinkable tap water.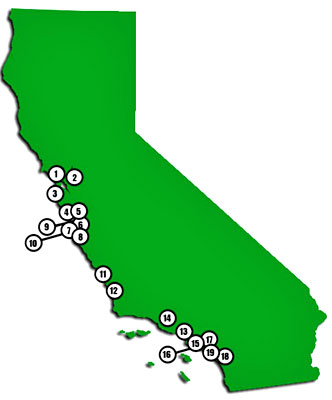 Detailed map of desalination projects across California.
Some plan to draw brackish water through ground wells, while most want to draw millions of gallons of seawater each day through the same in-take pipes that power plants must phase out in 15 years.

Like the power plants, desalination plants have the potential to entrap sea lions, millions of fish and other marine life.
The industry says it is reducing harm with newer technologies such as wedge-wire screens, but much depends on location. Wan voted against a large-scale plant in Carlsbad because it would destroy sea life in a nearby estuary, but she supported a plant in Monterey that plans to draw water through near-shore wells. Neither facility is built yet, though both could break ground this year, marking the first large-scale desalination plants in the state.

There are problems too with desalination's byproduct, the heavy concentrates of salt and the remains of other chemicals that could be dumped into the ocean.

Desalination also has a massive carbon footprint. For the most common type of ocean desalination method called reverse osmosis, which pushes water through membranes, some 40 percent of the operating cost is electricity to power the plant.

The $700 million proposed plant in Carlsbad by investor-owned Poseidon Resources expects to satisfy around 8 percent of San Diego County's water supply while at the same time consuming as much electricity as 45,000 homes. Greenhouse gas emissions would total about 200 million pounds a year, according to the project's environmental impact assessment.

Advocates say the technology is becoming more efficient by re-capturing energy and using renewable resources as much as possible. But it is a lot to overcome.


Drawing water

Most of what the state knows about ocean water in-take pipes comes from the impact of 19 coastal power plants.
In 2009, the State Water Resources Control Board ordered those plants to phase-out the use of surface water in-take pipes for cooling their red-hot equipment, the sole reason they are located on the coast in the first place. The state's governing body on water determined those in-take pipes kill 9 million fish, 57 sea lions and other marine life each year.

But those orders do not apply to desalination plants, which expect to use many of those same pipes, often at equal capacity, long after power plants are barred from doing so.
"The effects are the same if you're drawing in seawater for desalination or power plants," said Tom Luster, an analyst with the California Coastal Commission. "You're killing essentially 100 percent of marine life, larva and fish eggs."
Poseidon's Carlsbad plant and another the company plans to build in Huntington Beach call for using the same surface water in-take pipes used by the local power plants there now.
"That just exacerbates the problem in our mind," said Joe Geever, a spokesman for Surfrider Foundation, which along with other conservation groups has filed appeals and lawsuits against both facilities.

"If you're going to protect marine life, you have to protect it from all of these industrial in-takes."
The Carlsbad plant would draw about 300 million gallons of seawater per day from a nearby lagoon and produce roughly 50 million gallons of drinkable tap water.

An environmental impact assessment performed by biologists determined the screens would destroy enough marine life equal to 66 acres of ocean productivity. To compensate for the impacts, Poseidon agreed to restore 66 acres of wetlands in the San Diego bay area and spend more than $60 million on carbon offsets.

Ironically, the state order against ocean-cooled power plants will diminish their capacity, industry experts predict, just as desalination is coming on the scene, which requires huge amounts of electricity.

The water sector already accounts for 20 percent of the state's energy use, and desalination will only make it greater.


Challenging assumptions

Despite the drawbacks, desalination has gained widespread support among California lawmakers and elected water officials who have pledged hundreds of millions of dollars in taxpayer subsidies.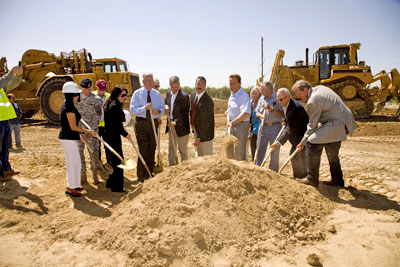 Gov. Arnold Schwarzenegger joins Sacramento District Commander Col. Tom Chapman
and other state and local officials to break ground for the Star Bend levee.
Photo: Water.CA.GOV
Most of the projects would not be possible without tax-exempt bonds and direct subsidies beginning with California's $3.4 billion Proposition 50 passed in 2002. It provided $50 million to support 48 desalination projects including research and development, pilot projects and feasibility studies from 2004 to 2006.
The years following brought increased support as private companies stepped in to build some of the largest public infrastructure projects in the state's history.
"Desalination is not the solution. But for some agencies it's part of the solution," said Paul Shoenberger, general manager of Mesa Consolidated Water in Costa Mesa.
Shoenberger also heads CalDesal, a newly formed pro-desal lobbying group made up of public water agencies and private water companies.
"With water being so critical these days, we shouldn't be taking any options off the table, and I don't think we should be pursing only one option," he said.
According to backers, California faces a looming water crisis that could make the sky-high price of desalinated water today seem like a bargain in as little as 10 years.
In fact, dozens of companies, many in the San Diego area, have millions of dollars riding on it.
"They are not just hoping," said Glenn Pruim, utilities director for Carlsbad Regional Water District, about Poseidon. "They have it locked up in agreements."
Two-thirds of Southern California tap water and most of the water irrigating California's rich farmland arrives courtesy of an aqueduct system hundreds of miles long from the Colorado River to the east and the San Joaquin basin in the north.
But those reserves are running low, and they threaten endangered species, which could potentially dramatically increase consumer water prices.

California's population, meanwhile, could reach 60 million by 2050 from around 37 million in 2009, according to the state's Department of Finance.
"You can ask anyone in the water industry," said Noelle Collins, spokeswoman for the West Basin Municipal Water District, which supplies water to parts of Los Angeles County. "Everyone has said you can't conserve your way out of this crisis."
But analysts at the Pacific Institute, based in Oakland, say California farms and households could do a lot more to conserve water.

In parts of Southern California, up to 70 percent of all household water is used outdoors, mostly to water lawns, and an estimated 1.3 billion gallons of wastewater drains into the ocean each year.

In California, per capita water use still hovered around 176 gallons per day in 2005, according to the latest estimates by the State Water Resources Control Board.

By contrast, in Australia where ocean desalination plants are up and running in nearly every major city along the coast, consumers reduced their water use to about 40 gallons per day before turning to the costly alternative.

A 2003 report by the Pacific Institute found California could save up to 30 percent of its residential water measured in 2000 mostly by imposing national plumbing code standards established in 1992. Those standards call for low-flow toilets and showerheads and more efficient clothes washers - far less expensive steps than multi-million dollar desalination plants.
Other options such as rain barrels, cisterns and native landscapes also help reduce demand.
"These are by no means cutting edge technologies," said Heather Cooley, a Pacific Institute policy analyst.
Another study in 2009 found that California farmers, who receive 70 percent of the state's overall water supply, could save up to 16 percent - around 5 million acre-feet per year - by adjusting irrigation techniques.
"That's water you wouldn't have to withdraw in the first place," said Cooley, adding that the changes would be greatest in dry months and would also result in healthier plants and less fertilizers and pesticides.

"It does suggest that it's a very effective mechanism for dealing with drought and, in the long run, helping us address climate change."
In 2009, California passed a state water plan to conserve 20 percent by 2020.
The law provides greater incentives for farmers to conserve water, but experts say it won't be enough.
"There are certainly a lot of barriers to conservation and efficiency. One of them is the low price of water," Cooley said.
Unlike consumer prices, agricultural water prices are less affected by shortages.
Contracts are often set for years at a time and the costs are even more subsidized than residential systems. The new law will require water agencies to measure how much water farmers are using, but it will not enforce any conservation standards.

Sporadic reports in recent years of California farmers letting their fields lay fallow often has more to do with water being cut off due to drought rather than the price of water becoming too high.


A drop in the bucket

Ocean desalination is one way to relieve water pressure on California agriculture, said Shoenberger, who heads CalDesal.
"With an increase in population and increase in water needs in California, desalination is a great potential alternative along with the others for getting local water that's clean, safe and reliable," Shoenberger said.

"A lot of the inland and agriculture areas would love to see urban California reducing their reliance on the Delta and the inland streams."
In many cases, conservation has relieved the pressure to build expensive desalination plants where experts realize they are not needed, but supporters say those efforts are running out of steam.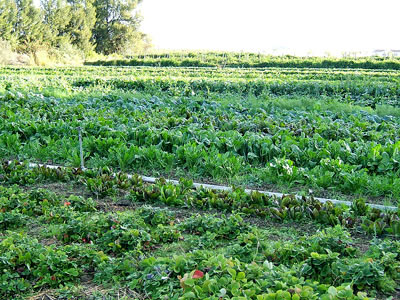 Organic cultivation of mixed vegetables
on an organic farm in Capay, California.
Photo: Wikicommons / Hajhouse
In greater Los Angeles County, water consumption has dropped 15 percent in the past year, according to the West Basin Municipal Water District.
The district imports two-thirds of its water today, which it wants to cut in half by 2020. It also manages a water recycling facility in El Segundo that turns wastewater into 30 million gallons of fresh water daily.

Much of that conservation and reuse came through programs sponsored by the Metropolitan Water District of Southern California, which manages the flow of imported water.

On January 26, Metropolitan reduced its conservation budget to just $10 million - about 1 percent of its total budget - for the coming fiscal year beginning in July. Last year, the southern California water agency spent about $20 million and the year before roughly $54 million in conservation rebates.

The agency, meanwhile, has pledged nearly bottomless funding to water districts with working desalination plants. A report by the Public Education Center's DCBureau.org published last year analyzed how these incentive funds amounted to taxpayer subsidies.

Metropolitan has already committed up to $350 million over 25 years to Carlsbad - given the plant produces as planned - and a virtual blank check for additional plants to come.
The incentive amounts to $250 per acre-foot of fresh water produced.
"We spent hundreds of millions of dollars on conservation and recycling projects," said Bob Muir, Metropolitan spokesman.

"We conserve and recycle and cleanup groundwater that produces more than a million acre-feet of water per year. That's more than the water used by cities of Los Angeles, San Diego and the San Francisco Bay area."
West Basin water officials, like many others along the coast, are looking to spend hundreds of millions of dollars on a desalination plant to supplement around 10 percent of the region's water needs.
The district has already spent more than $21 million on two pilot projects over the past 10 years.

At a demonstration plant in Redondo Beach opened in October, visitors can see an underwater video of fish swimming past the in-take pipes and educational displays about making desalination more feasible. Yet, according to West Basin, plans for a full-scale plant are still undecided.
Collins said the district wants a plant capable of producing 20 million gallons per day, but a location has not been chosen.
"We want to double our recycling and conservation and add a little bit of ocean desal," said Collins, adding the district would own the plant while contracting major functions.
Desalination is not new in California.
Any water reuse facility or groundwater remediation likely uses the same technology. And even large-scale plants were considered periodically in decades past.

Several efforts failed to materialize. Others were built but rarely needed. In 1998, Santa Barbara built a desalination plant, which now sits idle because it is too expensive. Recent desalination proposals, too, have been temporary shelved as conservation measures are paying off.

Proposed plants in Santa Cruz and San Luis Obispo are being questioned.
In Long Beach, where local officials have been considering a desalination plant, conservation steps have brought per capita water consumption down to about 100 gallons per day.
"It's not making as much sense to them now," said Conner Everts, director of the Desal Response Group opposed to desalination.

"There's no sense of priorities. They just don't make sense to run. I've been working on water issues for 30 years. I've watched our per capita use slowly drop. And we know we aren't capturing and re-using as much as we should."


Public risks, investors benefit

The price of desalinated water varies depending largely on the cost of energy.
It can average double or even quadruple the current price counties and cities pay for imported water in California. As desalination gets more efficient and the price of water keeps rising, supporters say those price lines will eventually cross.
Wherever they cross, the price will be high.

On the Monterey peninsula where a $400 million desalination plant recently won final approval, residents there could be the first to feel the effects financially. The Public Utilities Commission has approved a plan to allow publicly traded California American Water to potentially quadruple water bills on 40,000 ratepayers in order to pay for the proposed plant.
There is disagreement, however, over the exact effect on rates with the PUC arguing much less.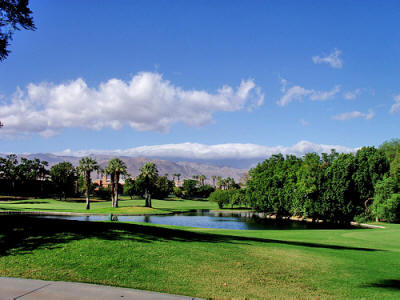 A beautiful view of well hydrated greenery in Palm Springs, California.
Photo:Flickr /liberalmind1012
California American supplies around 40,000 ratepayers with tap water.
Most of that water comes from the Carmel River.
"We're pretty close to the bone on water conservation," said Andy Bell of the Monterey Peninsula Water Management District, which issues water permits on the Carmel River.
Indeed, the region has some of the lowest water use per capita in the state at around 70 gallons per day.

Beginning in 1995, the State Water Resources Control Board ordered the reduction in the amount of water it withdrew from the Carmel River by 70 percent by 2016 because of endangered steelhead. A ballot measure to build a damn was defeated later that year. Since then, efforts have turned to conservation and desalination.

When the desalination plant is completed, likely in several years, the Marina Coast Water District will own the plant while Cal-Am will purchase the water and pass the costs onto ratepayers.
The Public Utilities Commission says consumers could pay up to 63 percent more for water, but a division within the PUC charged with representing ratepayers estimates the agreement could lock consumers into paying four times their current amount. The plant should produce around 10 million gallons of drinkable water per day when it is up and running.

Diana Brooks, with the Division of Ratepayer Advocates, said the division opposed the water purchase agreement approved by the PUC last year because it lacked meaningful cost controls.
"In this case you have a private water company contracting with two public agencies to deliver water and they have no ability to absorb any risk," Brooks said. "If there are any risks or the project doesn't work right, all the risk passes right back through to the customers."
The PUC also granted Cal-Am the ability to pass through in its rates the costs of attorney fees up to $4.3 million, including the costs of fighting appeals by the Division of Ratepayer Advocates.
"So we're representing the customers but the customers had to pay for the company's attorney costs," Brooks said.
Catherine Bowie with Cal-Am disagreed with Brooks' assessment.
"There is multiple cost controls in the water purchase agreement," she said.

"The facility is being developed by public agencies, so there will be every effort to go after the lowest costs. We have a number of provisions that deal with the management of the project. There is an independent analysis of financing and value engineering through design and construction. I absolutely think there are guarantees of cost control."
Bowie said that after six years (an application with the PUC was originally filed in 2004) the area was ready to finalize its plans.
"We have been in need of a new water supply here since the 1970s, and we are finally developing a solution to this problem," Bowie said.