by Éanna Kelly
30 September 2015
from ScienceBusiness Website



Lopsided trade talks
serve US interests, says trade minister,
as hopes fade of reaching
an outline agreement
by the end of 2015.


France's junior trade minister Matthias Fekl has threatened "outright termination" of his country's involvement in the EU-US Transatlantic Trade and Investment Partnership (TTIP) negotiations, saying a,
"total lack of transparency" in TTIP talks poses a "democratic problem".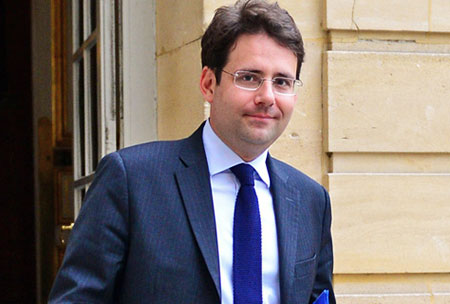 Matthias Fekl
In an interview with the French newspaper Sud-Ouest published on Monday, Fekl said he believes the negotiations favor American interests.
"Europe has offered many compromises, in all areas, and has received no serious offers from the Americans in return. Neither for access to their public markets, nor for access to their agricultural and food markets, which remain closed," Fekl said.
Access to negotiation texts is not guaranteed even for politicians, Fekl added.
"American members of parliament have access to a much higher number of documents than we do in Europe."
If approved, TTIP would create the largest free-trade area in the world.

Facing pressure from the country's powerful agricultural lobby, French politicians are especially keen to get a deal that avoids upsetting farmers.

In Fekl's view, if the US is not willing to modify its position, the negotiations will be on shaky ground.
"If nothing changes, that will show that there is no willingness to ensure a mutually beneficial negotiation process," he said. "France is examining all its options, including abandoning the negotiations all together."
Meanwhile, a group of more than 55 UK members of parliament this week expressed major concerns in a motion on TTIP signed by the new leader of Britain's opposition Labour party, Jeremy Corbyn and every member of the Scottish National Party.

Talks over the trade deal began in 2013. Hopes that there would be an outline agreement by the end of this year are fading, and on Monday Germany's Economy Minister Sigmar Gabriel expressed doubts the EU could hit this target date.

This would place a question mark over whether a deal could be wrapped up before the US elections in November 2016.

TTIP is largely welcomed by business but despised by environmental groups.

The grand aim of TTIP is to create greater regulatory harmonization between the two blocs in areas such as car and drug safety testing, which would result in reduced costs for manufacturers.

However green advocates are worried any deal would remove prized EU environmental regulations, and lead to greater exploitation of US crude oil and gas.

Another area of contention is the 'investor-state dispute settlement' (ISDS) clause, which would allow companies to seek compensation from foreign governments if there are policy changes that could threaten investments.
Two weeks ago, the EU Commission announced a new arbitration system to replace ISDS, but this has yet to be accepted by US negotiators.