by Matt Bewig
August 12, 2012
from AllGov Website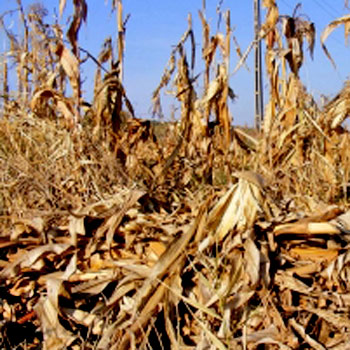 With the drought of 2012 - already the worst in the U.S. since the 1950s - expected to cause dramatically smaller corn and soybean crops, the United Nations Food and Agricultural Organization (FAO) has called on the U.S. to suspend the use of corn in producing biofuels like ethanol in order to avert a food crisis.
So far, however, Agriculture Secretary Tom Vilsack has rejected this suggestion, arguing that ethanol production supports many jobs and reduces the price of gasoline for Americans.

Under the Renewable Fuel Standard, 13 billion gallons of biofuel must be produced in the U.S. this year as a way to reduce greenhouse gas emissions and dependence on imported oil.
As a result, about,
40% of the corn crop will be used to make ethanol

40% as animal feed

20% is eaten by consumers, mostly in processed foods like high-fructose corn syrup and corn flakes
Critics of the fuel standard argue that the use of corn to make ethanol is a major factor in the tripling in the price of corn since 2005 and likely contributed to a food crisis in 2007-08.

The latest forecasts from the U.S. Department of Agriculture (USDA) indicate that the 2012 corn yield per acre will be the lowest since 1995-96, and that total production will be the lowest since 2006.
As a result, the USDA is predicting that farm prices for corn will average $7.50-$8.90 per bushel, up from the $5.40-$6.40 per bushel it projected just a month ago and up to 85% higher than the $4.80 per bushel projected at planting time in April. Some private forecasters have projected even lower yields per acre, which would lead to even higher prices.

For American consumers, the USDA estimated in July that food prices would climb 3%-4% in 2013, but that prediction will probably be revised upward because of the new, lower corn numbers. Even so, the overall economic effect in the U.S. will be muted because American households generally spend only about 13% of their budgets on food and because so little of what we pay at the supermarket is actually for food.
For example, the corn in a $4.00 box of corn flakes is worth about 7 to 8 cents. Most of the price is for processing, transportation, advertising, and an oligopoly premium.
The poor and near-poor, however, will feel the price rise at the grocery store far more acutely.

It is in the developing world, where many people spend 30%-40% of their income on food, that the impact will be greatest. Writing in the Financial Times, Jose Graziano da Silva, director general of the FAO, argued the ethanol quota should be suspended to allow more of the corn crop to be used for food production, especially in light of an FAO report that world food prices soared 6% in July, with the price of corn up 23%.
In addition to the U.S. drought, severe weather has damaged agricultural production in other major grain exporting countries as well, including,
Brazil

Russia

Australia

India,
...raising concerns of global food shortages that will increase food prices and lead to widespread hunger.
"The United States is the world's largest exporter of corn, soybeans and wheat, and likely price spikes will ripple through markets globally, with devastating consequences for those already struggling to get enough food to eat," said Eric Muñoz, a senior policy analyst with the international aid group Oxfam.
U.S. livestock producers, who feed corn to their animals, also want the ethanol quota waived, and 156 House members and 25 senators have signed letters to Lisa Jackson, administrator of the Environmental Protection Agency, asking her to issue a waiver on the ethanol standard.