from WorldPoliticsReview Website
Recovered through Googles'sCache Services
Ciara Long is a freelance journalist based in Rio de Janeiro, Brazil. She focuses on social mobility, public policy
and human rights issues.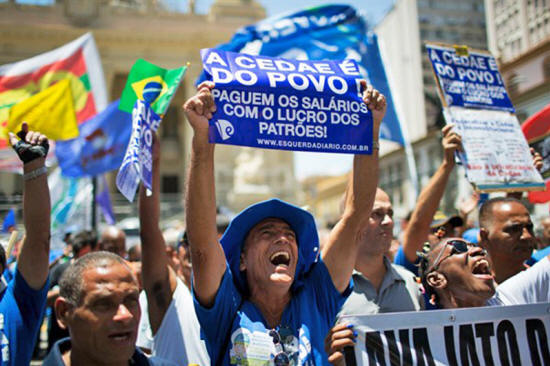 A demonstrator holds up a sign that reads in Portuguese
"CEDAE belongs to the people," during a protest against
a move to privatize the state water and sewage company,
CEDAE, Rio de Janeiro, Brazil, Feb. 20, 2017
(AP photo by Leo Correa).



RIO DE JANEIRO, Brazil
A resident in Rio de Janeiro's largest favela, Rocinha, Jose Martins is worried.
Earlier this year, Rio's city council voted to sell the state-owned water and sanitation company, CEDAE, a move that Martins believes puts access to water and sanitation at risk for almost 50,000 residents in Rocinha alone.
"The state has a social obligation, so many of us here pay a symbolic price," he says.

"I don't imagine that a business will allow people to pay as little. If this happens, people won't be able to pay. If they can't pay, the company will cut off their water."
Martins is not the only one worried about the wider implications of the sale in Rio.
In the weeks leading up to the vote, protests broke out on a weekly basis in the city center, stopping only when military police resorted to tear gas and rubber bullets.

CEDAE's sale is part of a deal between the state of Rio de Janeiro and Brazil's federal government, in return for financial help.
The state, which has a $2.9 billion deficit to plug by the end of the year, declared a financial emergency last year before the Olympics. But Rio is not the only state in Brazil experiencing severe economic stress.

By late December, Minas Gerais had become the third state to declare a financial emergency, joining Rio de Janeiro and Rio Grande do Sul. For these three states, deals to privatize water, sanitation and other utilities may be in the works over the course of 2017.
Brazil's other states aren't in the clear:
In September, 14 states threatened to declare bankruptcy after Rio de Janeiro was granted further funding to help overcome its deficits.
Partially privatizing state assets is emerging as the Brazilian government's strategy to manage these crippling state debts.
The federal government has specified that any state declaring a financial emergency must privatize a state-run company within the energy, sanitation or financial sectors in order to receive further financial assistance.

CEDAE's privatization would be managed as a concessional contract, with a private company running the water and sanitation business under government supervision.
Although not full privatization, the move - the first by a Brazilian state toward privatization - has done little to appease public angst.

Martins, for one, believes that the potential for Rio's low-income favela residents to be left without water is a real danger, despite government promises to maintain a social tariff to keep prices low.
"There's no real strategy, there's just a push for resolving state financing issues without really thinking through what the effect on the delivery of public services would be."
There is precedent for this.
Alexandre Mendes, a law professor at Rio's Pontifical Catholic University, found that the private electricity company Light, which had been state-owned until 1996, began issuing higher bills to residents in certain favelas in recent years.
The cost proved to be incompatible with their incomes, leaving several unable to pay for electricity in 2014.

Outside of low-income areas, the move is still widely unpopular. Employees and members of CEDAE's labor unions and workers' syndicates object to the length of the contract, which would last until 2057 under current arrangements.
They also point to figures from the United Nations that estimate that by 2050, more than two-thirds of the world's population will not have access to clean drinking water.

Given that, water's value as a commodity is likely to rise steeply.
International investors believe water will follow a similar pattern to oil during the 20th century. Under existing agreements, Rio's environmental agency controls and gives most of the state's river water to CEDAE, so any buyer would have significant control over a valuable natural resource.

Like other state-run services, CEDAE's inefficiency has been a frequent criticism.
Rocinha's raw sewage waterfalls are a symbol of state neglect for residents, but also a symbol of the state's financial impotence for observers.
"We have a really big need to invest more in infrastructure right now in Brazil, yet this cannot be only done by the government anymore," says Marcos Thadeu Abicalil, a senior water and sanitation specialist at the World Bank.

"To reach the U.N.'s Sustainable Development Goals, Brazil really needs to increase investments to reach targets. Public funds are not sufficient."
But private management will not guarantee results without proper public governance.
Another controversy around the water sale is CEDAE's potential buyer, Aguas do Brasil, which is the largest private sanitation company in the country.
It is a union of four companies, three of which are under investigation in Brazil's long-running scandal of high-level political corruption.
"The usual argument is that you privatize and you get more efficiency, but that's only true in a situation where you have some proper oversight," Monica de Bolle, a senior fellow at the Peterson Institute for Economics, explains.

"If you don't have the oversight and regulatory agencies, then you could have a worse outcome at the end of the day for the population at large."
According to Monica de Bolle, Rio's deal may not solve the state's sanitation issues or help plug its financial holes.
"There's no real strategy, there's just a push for resolving state financing issues without really thinking through what the effect on the delivery of public services would be," she says.

"You have to separate delivery of public services issues from the fiscal problems at the state level."
The initiative to privatize state-owned companies is not just Rio de Janeiro's problem.
Similar talks are underway to privatize Rio Grande do Sul's water and sanitation company, Banrisul. Minas Gerais has refused to follow suit, but is looking to privatize the parking in a busy city district, where some 7,500 cars circulate daily.

While the danger for other states doesn't look immediate, privatization of state-owned assets is not exclusively for bankrupt states.
Brazil's government continued its privatization quest in March, selling off four airports across the country and reportedly hoping to sell a further six this year.

With low estimated GDP growth for the coming year, plus an increase in public debt-to-GDP, Brazil's economic prospects look grim.
As numerous states teeter on the brink of bankruptcy, there could be more deals like Rio's water sale, creating other problems and raising costs for Brazilians.