by Pam Martens and Russ Martens
September 19, 2016
from WallStreetOnParade Website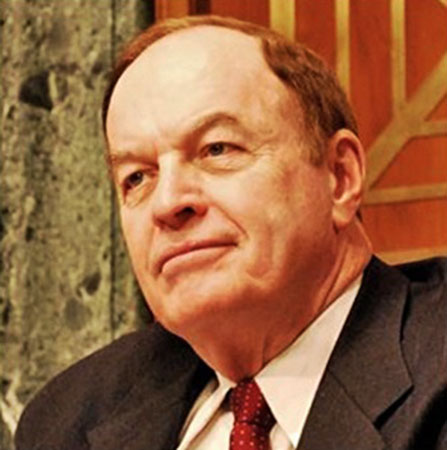 Senator Richard Shelby,
Chair of the Senate Banking Committee


Tomorrow the U.S. Senate Banking Committee will hold a hearing to take testimony from Wells Fargo CEO John Stumpf and Federal regulators to understand how this mega bank was able to get away with opening more than two million fake customer accounts over a span of years.
The accounts and/or credit cards were never authorized by the customer and were opened solely by employees to meet sales quotas, get bonuses or to avoid getting fired for failing to meet sales targets.
The only reason the Republican-controlled Senate is holding this hearing is because the Wells Fargo fake-account story got a lot of coverage in the media when the Consumer Financial Protection Bureau (CFPB) announced a $185 million settlement over the charges on September 8.
The reason the story got a lot of media coverage is because it's a simple story to tell: widely respected bank opens two million accounts for its customers without their knowledge or permission, sometimes illegally funneling money to the new account from the old account to generate fees.
In July of last year, when Citibank, the deposit-taking retail bank settled charges with the CFPB for $700 million for deceptively selling add-on products to credit card customers, the Senate Banking Committee yawned and did nothing.
The story didn't get major press attention because it was a complicated story to tell.
Among a long list of fraudulent practices, the CFPB found that Citibank led 2.2 million customers to believe they were paying to have their credit card monitored for fraud and identity theft,
"when, in fact, these services were either not being performed at all, or were only partially performed," according to the CFPB.
The CFPB charges against Citibank came exactly two months after Citbank's parent, Citicorp, pleaded guilty to a felony with the Justice Department in connection with the rigging of foreign currency.
On the same day, another U.S. mega bank, JPMorgan Chase, also pleaded guilty to a felony related to the same crime. Both banks are more than a century old and both banks, on May 20 of last year, pleaded guilty to a felony for the first time in their history.
The public first got its peek into the corrupt culture at Citigroup, the bank holding company of Citibank, on December 4, 2011 when Richard Bowen, a former Citigroup Vice President and whistleblower, appeared on 60 Minutes.
Bowen explained how he had found that Citigroup was buying fraudulent mortgages and selling them to investors as sound investments.
When his superiors ignored his warnings, in November 2007 he wrote to top management, including the CFO, chief risk officer and Robert Rubin, the Chairman of Citigroup's executive committee who, as a former Treasury Secretary under Bill Clinton, had pushed to deregulate Wall Street banks - allowing them to hold FDIC insured products and cross-sell their carnival barker wares to the public.
Bowen explained on 60 Minutes what happens when an honest employee speaks out in one of the Wall Street banking behemoths:
"I was relieved of most of my responsibility and I no longer was physically with the organization."
He was told not to show up at the bank.
Bowen's treatment at Citigroup was replicated against a different whistleblower at JPMorgan Chase, now the largest U.S. bank by assets, according to a report by Matt Taibbi in Rolling Stone.
Alayne Fleischmann, an attorney, described to Taibbi what she saw within JPMorgan Chase as,
"massive criminal securities fraud."
Taibbi describes what happened to Fleishmann as follows:
"Six years after the crisis that cratered the global economy, it's not exactly news that the country's biggest banks stole on a grand scale. That's why the more important part of Fleischmann's story is in the pains Chase and the Justice Department took to silence her."
Fleishmann had found problems very similar to what Bowen had found at Citigroup.
JPMorgan Chase was buying fraudulent mortgages and packaging them and selling them to investors. In one package of mortgage loans, Fleishmann found that approximately 40 percent were based on overstated incomes in violation of Chase's tolerance for error of five percent in securitizations.
Fleischmann told a managing director at JPMorgan Chase that,
"the bank could not sell the high-risk loans as low-risk securities without committing fraud," according to Taibbi.
JPMorgan Chase went on to sell boatloads of these fraudulent mortgage products while Fleishmann was,
"quietly dismissed in a round of layoffs."
Obama's Justice Department took all of this testimony from Fleishmann and had evidence of her written warnings that went unheeded.
But even then, it let JPMorgan Chase and its executives off without prosecution.
When the big Wall Street banks collapsed under the weight of their own corruption in 2008, rather than being prosecuted by the Justice Department, the banks were bailed out through a secret, unprecedented $13 trillion revolving loan program operated by the Federal Reserve.
Citigroup received the largest amount of these loans: over $2.5 trillion between 2007 and 2010.
These loans were made frequently at less than one percent interest while the insolvent Citigroup charged some of its customers double-digit interest rates on credit cards.
Which brings us to today's crisis of confidence in the U.S. banking system.
The underfunded Consumer Financial Protection Bureau, which Republicans in Congress are attempting to neuter further, has received thousands of new complaints against the banking giants of Wall Street, which are publicly available for viewing here. (Just put the name of the bank you want to inspect in the search box.)
Searching under the name Citibank brings up 29,000 rows of complaints. A search under Chase, the retail banking unit of JPMorgan Chase, brings up 37,000 rows of complaints.
The seriousness of the complaints against these two banks strongly suggests that the failure to prosecute these banks for frauds against their customers has led to far more than moral hazard. The complaints paint a crystal clear image of a U.S. banking sector that is evolving at lightning speed into an entrenched criminal enterprise.
The Senate Banking Committee is adding to this crisis by holding isolated hearings of isolated banks that look only at the current scandal.
The serial scandals are simply symptoms. The disease is a U.S. banking sector that relies on fraud and abuse of its customers to meet its profit targets just as the low level employees of these banks are pressured into fraudulent acts to meet their sales quotas.
If you need more evidence, check out this timeline of regulators' serial charges of abuses of its customers by JPMorgan Chase, compiled by two trial attorneys. Below is just a partial timeline of the serial abuses at Citigroup.
Chronology of Financial Abuses at Citigroup - (Only a Partial Listing)
September 19, 2002:

FTC Announcement,

"In the largest consumer protection settlement in FTC history, Citigroup Inc. will pay $215 million to resolve Federal Trade Commission charges that Associates First Capital Corporation and Associates Corporation of North America (The Associates) engaged in systematic and widespread deceptive and abusive lending practices."

October 31, 2003:

U.S. District Court Judge William Pauley signs a settlement order agreed to by multiple regulators for Citigroup to pay $400 million over issuance of fraudulent stock research.

May 28, 2004:

The Federal Reserve announces a $70-million penalty against Citigroup Inc. and CitiFinancial Credit Co. over their handling of high-interest-rate "subprime" mortgages and personal loans.

May 31, 2005:

SEC announces a $208 million settlement with Citigroup over improper transactions by its proprietary mutual funds.

June 28, 2005:

Citigroup agrees to pay the UK regulator, the FSA, $25 million over its "Dr. Evil" trade that manipulated the European bond market.

March 26, 2008:

Citigroup settles a suit with Enron creditors for $1.66 billion over claims it aided and abetted Enron in hiding its debt.

August 26, 2008:

California Attorney General Edmund Brown Jr. announces a settlement with Citigroup to return all monies improperly taken from customers through an illegal account sweeping program.

According to the Attorney General:

"Nationally, the company took more than $14 million from its customers, including $1.6 million from California residents, through the use of a computer program that wrongfully swept positive account balances from credit-card customer accounts into Citibank's general fund…

The company knowingly stole from its customers, mostly poor people and the recently deceased, when it designed and implemented the sweeps," Attorney General Brown said.

"When a whistleblower uncovered the scam and brought it to his superiors, they buried the information and continued the illegal practice."

December 11, 2008:

SEC forces Citigroup and UBS to buy back $30 billion in auction rate securities that were improperly sold to investors through misleading information.

February 11, 2009:

Citigroup agrees to settle lawsuit brought by WorldCom investors for $2.65 billion.

July 29, 2010:

SEC settles with Citigroup for $75 million over its misleading statements to investors that it had reduced its exposure to subprime mortgages to $13 billion when in fact the exposure was over $50 billion.

October 19, 2011:

SEC agrees to settle with Citigroup for $285 million over claims it misled investors in a $1 billion financial product. Citigroup had selected approximately half the assets and was betting they would decline in value.

February 9, 2012:

Citigroup agrees to pay $2.2 billion as its portion of the nationwide settlement of bank foreclosure fraud.

August 29, 2012:

Citigroup agrees to settle a class action lawsuit for $590 million over claims it withheld from shareholders knowledge that it had far greater exposure to subprime debt than it was reporting.

July 1, 2013:

Citigroup agrees to pay Fannie Mae $968 million for selling it toxic mortgage loans.

September 25, 2013:

Citigroup agrees to pay Freddie Mac $395 million to settle claims it sold it toxic mortgages.

December 4, 2013:

Citigroup admits to participating in the Yen Libor financial derivatives cartel to the European Commission and accepts a fine of $95 million.

July 14, 2014:

The U.S. Department of Justice announces a $7 billion settlement with Citigroup for selling toxic mortgages to investors.

Attorney General Eric Holder called the bank's conduct "egregious," adding,

"As a result of their assurances that toxic financial products were sound, Citigroup was able to expand its market share and increase profits."

November 2014:

Citigroup pays more than $1 billion to settle civil allegations with regulators that it manipulated foreign currency markets. Other global banks settled at the same time.

May 20, 2015:

Citicorp, a unit of Citigroup becomes an admitted felon by pleading guilty to a felony charge in the matter of rigging foreign currency trading, paying a fine of $925 million to the Justice Department and $342 million to the Federal Reserve for a total of $1.267 billion.

February 23, 2016:

The CFPB ordered Citibank to provide nearly $5 million in consumer relief and pay a $3 million penalty for selling credit card debt with inflated interest rates and for failing to forward consumer payments promptly to debt buyers.

It took a second action against both Citibank and two debt collection law firms it used that falsified court documents filed in debt collection cases in New Jersey state courts.

The CFPB ordered Citibank and the law firms to comply with a court order that Citibank refund $11 million to consumers and forgo collecting about $34 million from nearly 7,000 consumers.