by Jay Syrmopoulos
September 12, 2016
from TheFreeThoughtProject Website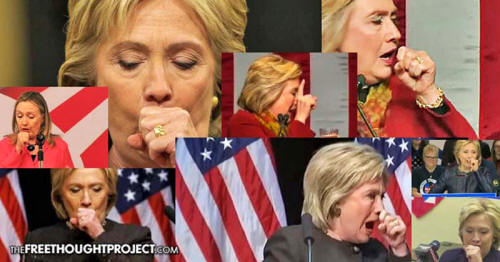 Washington, D.C.
In a stunning turn of events, the Democratic National Committee (DNC) is set to hold an emergency meeting to discuss replacing Hillary Clinton as the Democratic presidential nominee after she was caught on camera collapsing during a 9/11 memorial in New York yesterday:
Emmy award-winning journalist David Shuster noted in a social media post that Democratic Party operatives are in the process of planning a crisis summit to discuss alternatives to Clinton.
The ongoing media speculation, about potentially serious health issues, was confirmed with this latest incident.
In an effort to cover up her heath problems, the Clinton campaign initially denied any health related issues and blamed the collapse on heat exhaustion only to later come forward and admit that Hillary has been suffering from a case of pneumonia for the past three days.
This admission raises the distinct possibility of a larger cover-up related to her health problems.
A Democratic operative reportedly told Shuster that the combination of the shocking footage of Clinton collapsing at the 9/11 memorial, along with her campaign hiding the fact that she had been suffering from pneumonia for the past three days - represented "uncharted political territory."
However, aside from strategizing, the DNC does not technically have the ability to replace Clinton according to party bylaws.
"We can make contingencies, argue, plead with Hillary Clinton, but DNC bylaws are clear her nominee status now totally up to her," a top Democrat told Shuster.
Additionally, top Democratic strategists and Hillary advisors have expressed serious concerns that the dramatic collapse footage, in concert with her campaign's continued attempts to hide her health woes, was a potentially massive game changer.
"The Clintons have this notion that they only go as far as they need to" in terms of disclosure, an ally close to the former president told Politico.

"They can't afford to approach this that way."

"It's going to be something that people aren't going to be able to stop talking about, so we'll see," added James Carville, a long time close confidante of Hillary Clinton.
Just weeks ago, television personality and licensed physician Dr. Drew Pinsky publicly stated he was "gravely concerned" with Clinton's health after analyzing all of her available public medical records.
Almost immediately after making the public comments about Clinton's health Pinsky's show was canceled by CNN.
Even before Clinton's recent fall, her behavior at various events, characterized by people assisting her walk up steps and fits of coughing, had led observers to increasingly speculate about potentially serious health problems. All the while, the campaign attempting to portray these concerns as a "conspiracy theory."
Clinton last released her health records in 2013, during her tenure as Secretary of State.
After it was revealed she slipped and fell in her bathtub as a result of the stomach flu; she was given an MRI and other brain scans, which revealed a pre-existing blood clot in her brain.
She was then prescribed blood thinners, which she takes along with thyroid supplements.
Interestingly, someone choosing to remain anonymous, but purporting to be a professor at a U.S. medical school, recently released a 10 minute YouTube video claiming to have analyzed Clinton's brain scans, disputed medical records and slow motion clips - and determined that she suffers from vascular dementia - a fatal condition.
While Clinton surrogates pushed back against these assertions, by attempting to claim that any concerns about her health were simply a "right-wing conspiracy," internally top Democratic operatives have been extremely concerned that her health issues were becoming a serious concern that could affect the outcome of the presidential election.
Once again "conspiracy theory" is shown to be conspiracy truth.
The only question that remains is,
How severe are Hillary's health issues?
What we can be certain of is that her campaign will, and has, hidden the truth from the public whenever they believe it would endanger her chances in the presidential election.