by Rusticus
September 17, 2015
from StatelessHomeSteading Website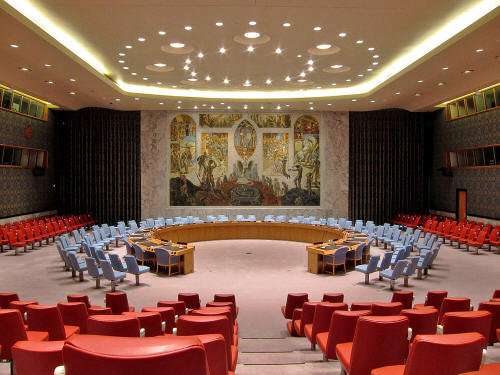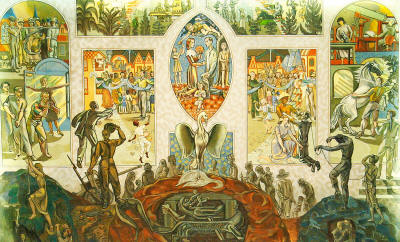 With Q3 of the 2015 fiscal year just around the corner, one cannot help but notice unprecedented unease in both financial and social spheres, and perhaps with good reason.
With alternative media forecasters, national banks, and supranational institutions alike heralding the coming of "global depression" by the end of 2016, this consensus of seemingly strange bedfellows almost universally agree that something wicked this way comes.
These dire economic prognostications exist simultaneously in a world in which energy and development prospects, both nationally and transnationally, are being reworked - with equally profound implications as the aforementioned financial trend analysis.
Be it the Obama Administration's "Clean Power Plan" or the EU and China's planned Neomalthusian 2030 carbon emission cutbacks, national entities the world over are positioning themselves for profound shifts in energy, development, trade, and even currency ahead of COP21 in Paris this December, or as some have deemed it, "Agenda 2030."
The convergence of both engineered economic crisis and an engineered "sustainable development" crisis in late-2015 are hardly coincidental, nor are they insignificant.
While the alternative finance community seems destined to eternally squabble about the mechanics of a coming global depression, few have set themselves to the task of projecting what the character of such a post-depression society will look like - and the "New World Economic Order" it has the potential to initiate:
It is this author's contention that the character of this coming era can only be understood when financial calamity is viewed in tandem with Agenda 21's faux-ecological insidiousness; and you, Reader, deserve the knowledge and documentation of this sagacious plot.
It's pervasive, it's global, and has existed (in its modern form) since at least the 1970s.
Seeking to contextualize this historical continuity, we must first examine the writings of erudite anti-Technocracy researcher, Patrick Wood, and his pioneering work on the Trilateral Commission's "New International Economic Order" of the 1970s.
Technocracy and the "New International Economic Order"
As an integral decade in this ongoing "Age of Transitions," the 1970s brought with it previously unimagined sociopolitical and economic shifts.
Inflation was prevalent. The decade also saw the rise of the Petrodollar and the end of the gold-backed Bretton Woods era, as well as the seeding of eugenic "environmental catastrophe" memes propagated by works like the,
It also saw the birth of the Trilateral Commission, co-founded by David Rockefeller and Zbignew Brzezinski in 1973, who, among other things, pushed forth the concept of a "New International Economic Order" to quell the world's ailing economic and environmental "doom and gloom" forecasts.
While the nature of this "New International Economic Order" at the time evaded Mr. Wood and his research partner, Dr. Antony Sutton, the perspective granted by the passage of time has lead Patrick Wood to declare Technocracy to be the true aim of this New Order.
He writes:
It is plainly evident today, with 40 years of historical examination behind it, that the "New International Economic Order" was really "new" and envisioned historic Technocracy as replacing Capitalism altogether.

Technocracy was based on energy rather than money and its system of supply and demand that regulates pricing.

Some distinctives of Technocracy include:

Elimination of private property and wealth accumulation

Replacing traditional education with workforce training

Micromanaging all energy distribution and consumption

Driving people to live in a limited number of cities and off of rural land

Enforcing a balance between nature's resources and man's consumption of them.

Are you thinking that this list is vaguely familiar?

You should, because it represents the modern manifestation of programs like,

...and a whole lot more.

All of this has been brought to us by the machinations of the Trilateral Commission and its members since 1973, and it is all part of its master plan to completely replace capitalism with Technocracy.

This is their "New International Economic Order"!

Patrick Wood
The Trilateral Commission, however, was not alone in the propagation of the "New International Economic Order" ideal.
As with all things global and "sustainable," the United Nations is sure to be lurking nearby.
The UN's "Council on Trade and Development" (or UNCTAD) was the chief multinational institution (in cooperation with the Trilateral Commission) in proudly promoting such a New Order throughout the decade:

UNCTAD's history promoting the "New International Economic Order"
As noted in a previous article about COP21 and the coming Agenda 21 "update," documentation on what this "binding and legal agreement" entails directly from UN sources related to the Conference is sparse.
That is, until one abandons searching for literature on the "green" facade and goes straight to the source of the "New International Economic Order" itself - that is, global trade governance, as documented by UNCTAD: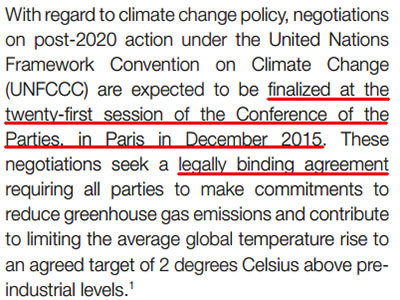 From UNCTAD's
It is within UNCTAD's 2015 policy briefs that we begin to find some semblance of clarity as to what a post-global depression geopolitical and economic environment has in store for us.
And as all burgeoning Hegelians know, global problems invite (engineered) global solutions.
UNCTAD and the "Sustainable Multilateral" Vision of Humanity

Over the past 40 years, the "New International Economic Order" has changed its name and structure, but never its primary objectives.
Its old name cast away in favor of representing our increasingly captive and globalized world, "Multilateral Global Trade Governance" is its new moniker.
The threats of population bombs, peak oil, and Global Cooling prevalent in the 70s, too, have given way to the phantom foes of carbon emissions and "unsustainability" so overtly propagandized to us in the 21st Century.
In true Technocratic fashion, UNCTAD declares the new face of "transformative" and "multilateral" global governance to be underpinned by none other than sustainable development in their 2015 Policy Brief No. 31: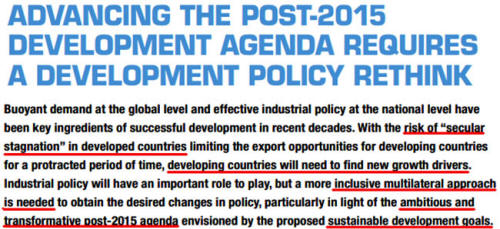 This shift towards "multilateralism" is more than rhetorical, representing a structural change in the nature of globalism.
It's also not limited to UNCTAD, as the IMF, BIS, World Bank, and yes, even the BRICS have been calling for a "New Multipolar World Order" for quite some time.
This new form of globalism is slated to be seemingly inclusive, allowing nations like China, Russia, India, and Brazil some measure of regional control, while ultimately being subservient to the "binding and legal agreement" of COP21.
Continuing with Policy Brief No. 31: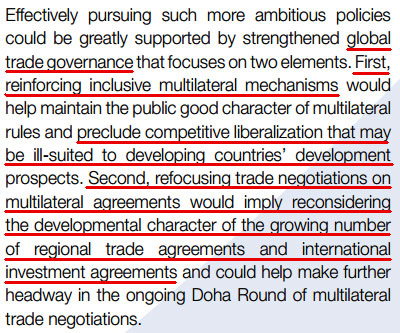 We see that these new "inclusive multilateral mechanisms" are anything but voluntary, as UNCTAD goes on to conclude that such mechanisms would "preclude competitive liberalization".
In other words, multilateralism is designed to prevent Second and Third World nations (read "UNCED 1992 - Document Scan from George W. Hunt") from seeking a development structure outside the UN's "sustainable" vision.
If any are still in doubt as to whether the BRICS alliance and its New Development Bank represent this globalist multilateral trap, UNCTAD steadfastly declare the BRICS to be an integral regional component in this plot: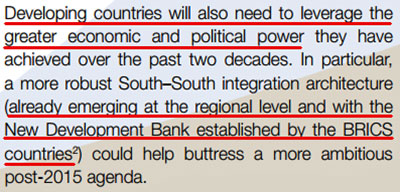 This latest forecast echoes UNCTAD's 2014 publication, A BRICS Development Bank - A Dream Coming True? which also holds the BRICS NDB as a key partner in Agenda 21 and its global Technocratic serfdom, written about at length by this author previously.
This bank-against-bank dialectic is the Globalist version of,
Coke vs. Pepsi

Republicans vs. Democrats

East vs. West

BRICS Bank vs. World Bank

Multilateral vs. Monopolar
All result in the synthesis of "global trade governance" aspired to by the Anglo-American Establishment and Agenda 21.
In UNCTAD's Policy Brief on Climate Change No. 4, the structure of this new system of governance was enumerated upon by none other than Chinese (Editorial Correction: S. Korean) UN Secretary-General, Ban Ki-Moon.
If his description does not represent "multilateral globalism," I don't know what does: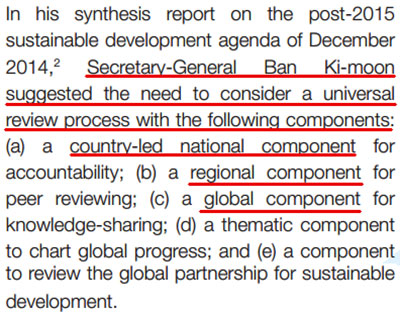 Supposedly sovereign nations will be subservient to regional entities (BRICS, NAFTA, EU, etc).
Regional entities will abide by a commonly agreed upon set of global development and economic standards (COP21).
The city, town, and community, long subsumed by ICLEI's "sustainable development" principles as set forth by Rio '92, are already in lock-step with this "multilateral globalism."
"And what of the individual," one may ponder?
Such an "outmoded" concept has no place in the eternal Cybernetic feedback loop of "green" global trade governance as outlined by UNCTAD: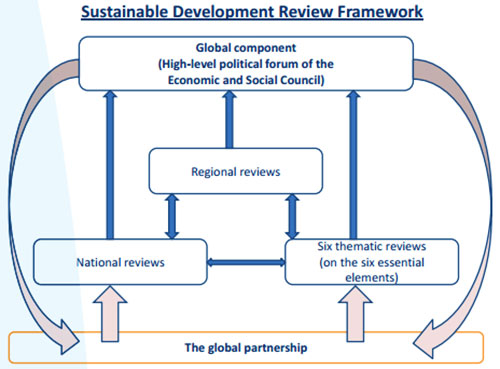 The aforementioned "knowledge sharing," "peer reviewing," and "accountability" standards will be handled not wholly by governing bodies, but governing algorithms, as such banal tasks are likely to be managed by our increasingly "smart" cities, metering devices, homes, and cars; a shift destined to portend the increased control such devices will bring to everyday life within this "New Multilateral Economic Order."
It is unlikely that such sweeping alterations to global as well as social interaction will take place unless "motivated" by periods of crisis.
In UNCTAD's Policy Brief No. 36, the importance of our last global crisis of 2008 in creating the prerequisites for "Green" Globalism is noted: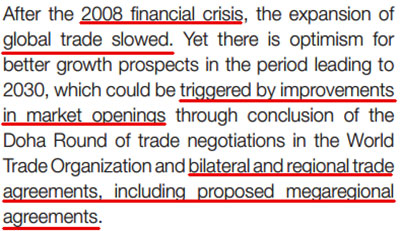 It therefore stands to reason that the activation of these bilateral, regional, and mega-regional trade agreements created in the wake of the 2008 Depression will likewise require economic calamity to activate; calamity that alternative media and the Bank for International Settlements alike are predicting as inevitable.
If such a "transformative" global structure is to be initiated in advance of or around COP21 this December, the remainder of 2015 is likely to be wrought with continued economic uncertainty.
The brief goes on to note a number of transnational corporations complying with this new Green Globalism, some of whom should be familiar to the astute Deep Political reader and researcher: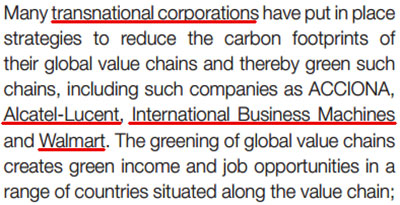 All have been intimately involved in the Neomercantile "opening of China" and the rampant technological buildup of the East by Western capital since the 90s, with IBM's insidious participation in programs as varied as,
being well documented.
Of Lucent Technologies and IBM specifically, James Corbett of The Corbett Report writes:
In the same time period, China rose from the 30th-largest target of US R&D investment to the 11th on the back of a doubling of US affiliates in the country.

The list of companies that started major R&D activities or facilities in China in the 1990s reads like a who's who of the CFR-nested Fortune 500 set:

...all had a significant stake in China by the beginning of the 21st century.

James Corbett

The Great Decoupling: How the West is Engineering its Own Downfall
So it would seem this same set of "CFR-nested Fortune 500" companies responsible for building up China's industrial and technological capacity are now pushing forth sustainable development with the United Nations as well as within the BRICS nations themselves.
Have these Western entities bolstered China's modern economic stature out of sheer goodwill?

Merely self-interested profiteering?

Or is the fulfillment of this greater collectivist agenda the "quid pro quo" demanded by the West in exchange for such niceties as increased regional power in the Asia-Pacific?
This year's demise of the BRICS economies (most notably China) as well as key Western markets, if not overtly coordinated, certainly provide a unique opportunity to bring about these proposed "global (green) solutions" to "global crises."
In Closing
As this blog has set out to demonstrate since its inception, globalism is indeed what its title claims - global.
It knows no borders, nations, or ideologies, save complete and utter transnational subjugation of autonomous human beings - globally...
Technocracy - rule by a class of entrenched elites and "snitch society" technologies - will be the character of this coming global era.
Sustainable development (Agenda 21) is its vehicle.
It doesn't reach the "End of the Road" without a transition from the "Old Economic World Order" to the New, a divergence impossible without a global economic crisis the likes of which has not been seen in nearly a Century.
Agenda 21 and the prospect of economic calamity have been inseparable concepts since the ravings of former UN Under-Secretary General and co-Agenda 21 architect, Maurice Strong, became a matter of public record back in 1992.
In talking with late activist George Washington Hunt at a UN Environment Conference in Colorado, Strong, under the auspices of a fictional book he hoped to pen, mused casually about how such a "New World Order" could take shape:
What if a small group of these world leaders were to conclude the principal risk to the earth comes from the actions of the rich countries?

In order to save the planet, the group decides:

Isn't the only hope for the planet that the industrialized civilizations collapse? Isn't it our responsibility to bring this about?

This group of world leaders forms a secret society to bring about an economic collapse.

It's February. They're all at Davos. These aren't terrorists. They're world leaders. They have positioned themselves in the world's commodities and stock markets. They've engineered, using their access to stock markets and computers and gold supplies, a panic.

Then, they prevent the world's stock markets from closing. They jam the gears. They hire mercenaries who hold the leaders at Davos as hostage.

The markets can't close.

Maurice Strong
Strong abruptly ended his tale by concluding that he,
"probably shouldn't be saying things like this."
Not that he had to continue, as from where we stand in 2015, we can see how this tale ends:
With Strong's world on the horizon.
The next engineered economic crisis, ready to be sprung with a proverbial "flip of the switch," will certainly be a global one.
Yet Strong's fantasies of Davos hostage takings of over twenty years ago may prove entirely unnecessary at COP21 in our modern era, as nearly all opposition to Agenda 21 on the global stage has been subsumed by its promise of complete technological control and a seat at the "multilateral table."
You, though, reader, have no seat at this table.
An ostensibly insignificant cog in an international machine; but armed with the knowledge of what is to come, perhaps a cog that may someday soon decide to grind to a halt.
This machine, after all, is each and every one of us...