RELEASE 27 - Ronald Reagan Presidential ET Release.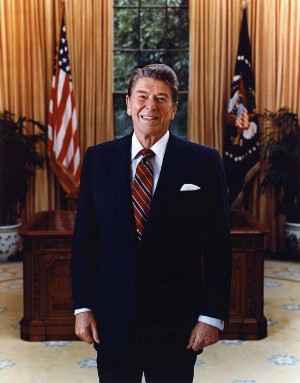 In a December 4, 1985 speech at Fallston High School, MD, President REAGAN spoke about his 5-hour private discussions with General Secretary GORBACHEV the previous month in November, 1985.
He relayed to the class:
"How much easier his task and mine might be in these meetings that we held if suddenly there was a threat to this world from another species from another planet outside in the universe. We'd forget all the little local differences that we have between our countries, and would find out once and for all that we really are all human beings here on this Earth together."
Source: BEYOND TOP SECRET: THE WORLDWIDE UFO SECURITY THREAT - By Timothy Good, ISBN# 0283062452, 606 pp., p. 259
http://www.ufoevidence.org/documents/doc1523.htm
Official 1985 portrait of Ronald Wilson Reagan, 40th President of the United States of America. Photo courtesy of the Ronald Reagan Library.
http://www.reagan.utexas.edu/archives/photographs/photo.html and http://history1900s.about.com/library/photos/blyindexreagan.htm

---

"Government is NOT the solution to our problem, government IS the problem."

– Ronald Reagan


"My life really began when I married my husband."

– Nancy Reagan


"What I'd really like to do is go down in history as the president who made Americans believe in themselves again."

– Ronald Reagan

THIS RELEASE HAS BEEN APPROVED BY and AT THE HIGHEST LEVELS
OF THE U.S. GOVERNMENT as part of a continuing public acclimation program.

WHAT: Transcripts of highly classified audio cassette recordings made of 40th U.S. president RONALD REAGAN's briefings with his top level and key advisers on the EXTRATERRESTRIAL subject matter. There are six (6) briefings in the first set; "Project SERPO" POSTING #27a is only the first one (1) of the six (6) transcribed sets.

The REAGAN ET TRANSCRIPTS are located in POSTING #27a, "3 of 7" and "4 of 7." This does NOT include the "BONUS! SERPO POSTING #27" stream.

WHEN: President REAGAN was briefed on many aspects of the EXTRATERRESTRIAL subject matter from March 6-8, 1981 and then again on October 9-12 of the same year.

WHERE: President REAGAN was briefed on both occasions at the presidential retreat at Camp David, MD.

HOW: At President REAGAN's request, these briefings were both tape recorded AND transcribed via the coordination and administration by a "Top Secret Codeword-cleared" CIA administrative assistant named XXXXX XXXXX. The recordings comprise many meetings/briefings in a combination of 60 min and 90 min cassettes for a total of 54 tapes.

Of the 54 tapes, 40 have been completed by DOD-DIA personnel; you are reading the transcripts of one of six (1 of 6) briefings President REAGAN made between Friday-Sunday, March 6-8, 1981.

DOD/DIA personnel were able to gain access to and possession and ownership of these tapes because SOME of the recordings deal with an ALIEN THREAT from a specific HAV [Hostile Alien Race] and therefore fall under the purview, control and jurisdictional authority of the Dept of Defense.

WHY: The reasons to disclose this information now is two-fold:
1) As in the case of the "Project SERPO" disclosures, the 25-year time limit on classified USG projects had expired and could—after much legal vetting and wrangling between DOD lawyers and those USG employees who WANT it released—be CONSIDERED for public release and into the public domain.

The "Project SERPO" final report was issued in 1980 + 25 years = 2005 ... Wednesday, Nov 2, 2005 was the first "Project SERPO" release.


The RONALD REAGAN Presidential ET Briefings: 1981 + 25 years = 2006 ... legal issues to be worked out and resolved brings us to late 2007.


2) MANY other countries are disclosing their encounters with extraterrestrials—especially Canada, the UK (MoD files) and Latin America—so some amount of pressure has been placed and brought to bear on the normally tight-lipped USG "black world" to be more open about what they/we have in our "TS/Codeword" files.
SUGGESTION:
I'm acutely aware that MANY of you will gloss over POSTING #27 which is a lengthy biographical piece I personally researched, compiled and wrote on Ronald Reagan woven together from 10 (ten) different sources in my immense personal library (see bottom of POSTING #27 for bibliography) and which took me 80 hours to edit into the final product you'll read.

I know that you'll all want to "get to the good stuff" first, BUT I would implore you to GO BACK and read the Reagan linear narrative I edited as it provides some GREAT insight into the man, will lead one to believe that given his engaging, natural wit and charm that he used to joke with a great deal of the time that in fact he WOULD HAVE said—and joked—the way he did during the highly classified briefings he received on the EXTRATERRESTRIAL SUBJECT MATTER in 1981.

You'll also learn about some little, virtually UNknown facts surrounding the attempted 1981 assassination on his life—as well as others—under the section heading, "CONSPIRACY THEORY 2 of 2: POTSHOTS FROM THE BUSHY KNOLL?!"

MODERATOR's IMPORTANT CLOSING NOTE
From the very first SERPO posting, I've been given a very wide, great and sole discretionary latitude in HOW I release the material to the public in terms of presentation, formatting, style and CONTENT.

For THIS release, I was surprisingly provided the names of ALL eight (8) individuals who participated in the classified briefing plus even the name of the CIA briefing transcriber. Five (5) of the presidential briefing participants are still alive—plus the CIA transcriber—so I made the "executive"/editorial decision to MASK THOSE NAMES from public view and replace them with "ADVISER #1" - "ADVISER #4."

For the fifth individual, he is referred to only as "The CARETAKER." The CIA transcriber is referred to as just that. GREAT pains, lengths and efforts were undertaken by me to delete their names when they were mentioned by other speakers. If I glossed over and missed one, then so be it though I hope not.

Including President REAGAN, only three (3) individuals are named as they have all passed on to the afterlife.

ISSUE:
Though I was NOT asked to do this, in my mind, an obvious problem would definitely arise: These still-living advisers would be hounded, pestered and questioned mercilessly and without end by both real UFO investigators and "armchair" researchers thereby bringing continued DISCLOSURE of these audio recordings to a complete HALT.

The pressure for me to CEASE and DESIST, as well as the special unit within the DOD/DIA who made this information available would be enormous. I am ONLY interested in getting I-N-F-O-R-M-A-T-I-O-N out to the UFO community and public at large, NOT in "outing" the individuals who participated in these PRIVATE briefings ... at least NOT while five of the eight (5 of 8) participants are still very much alive. If I receive directions to proceed otherwise, I certainly will, but until that time, it's MY CALL.

As ANONYMOUS remarked to me: "Victor, the really 'good stuff' is yet to come after the first release!"

Speaking for myself only, I too WANT to see that "really good stuff" and I'll do NOTHING to jeopardize at all.

This will be my FINAL word on THIS matter and I'll entertain NO suggestions, advice or ideas at all about it ... I'll NOT dignify ANY inquiries regarding this particular issue with even so much as a simple reply. I MEAN WHAT I SAY.

In addition to the many LEGAL issues which surrounded, hobbled and held up this release for months on end, two (2) military historians reviewed and signed off on this material as well as an astronomer from Cornell Univ.

It is my high HONOR, distinct PRIVILEGE and great PLEASURE to send this 8-part stream to (in order):
a) UFO Thread List, M-Z (hundreds);
b) UFO Thread List, A-L (hundreds);
c) 24 senior USG officials + 1 MI5 member (active), MI6 (retired), Soviet KGB (retired);
d) small list of personal friends, former students of mine, ex-girlfriends and cyberstalking victims ( 12);
e) Bush Admin White House (2)
f) U.S. Secret Service Presidential Protective Service Detail (1);
g) CORNELL UNIV, Space Sciences Division, Astronomy Dept, NASA's Mars Rover Project, USG "black world" contract astronomer (1);
h) retired employee of the NSA who greatly assisted me in not only the proofreading and photo configuration and selection, but advised me and provided valuable input and insight on key aspects of this VERY SPECIAL release.
i) ANONYMOUS/DIA-6 (6) who will forward all eight (8) parts to key members of the USG intel commuinity, both here and abroad.
I hope you are all ENRICHED and EDUCATED beyond belief and your wildest dreams by what you are about to read!

FEEDBACK: E-mail me at my regular e-mail address, NOT this one .... I will NOT respond to ANY e-mails sent here and plan on closing DOWN this address soon. It was solely opened for this particular stream ... no more Wizard ... he's departed for Planet SERPO....


RONALD WILSON REAGAN:
40th PRESIDENT OF THE UNITED STATES
Full name: Ronald Wilson Reagan
Born: Monday, February 6, 1911 in Tampico, IL
Died: Saturday, June 5, 2004, Los Angeles, CA
Burial site: Reagan Presidential Library Grounds, Simi Valley, CA
Parents: John Edward and Nelle Wilson Reagan
Spouses: Jane Wyman (1-5-1917 - 9-10-2007; born in St Joseph, MO, died in Rancho Mirage, CA; married: 1940, divorced: 1948)
Anne Frances Robbins [Nancy Davis-Reagan: July 6, 1921 - ; married: 1952] born in New York City to theatrical actress Edith Luckett and New Jersey auto dealer Kenneth Robbins and then her mother married neurosurgeon Loyal Davis.

Children: Maureen Elizabeth (1941-2001); Christina (1947-1947); Michael Edward (adopted; 1945-); Patricia Ann (1952-); Ronald Prescott (1958-)


Religion: Disciples of Christ
Education: Eureka College (B.A., 1932)
Occupations: Rancher; U.S. Army captain; radio sports commentator; actor
Government positions: California governor Political party: Republican
Dates as president: Tuesday, January 20, 1981 - Sunday, January 20, 1985 (first term); Sunday, January 20, 1985 - Friday, January 20, 1989 (second term)
Age upon taking office: 69


ELECTION RESULTS


1980 - Presidential / Vice-Presidential Candidates:
Ronald Reagan / George H W Bush (Republican)
Popular Votes: 43,904,153
Electoral Votes: 483
Jimmy Carter / Walter Mondale (Democratic)
Popular Votes: 35,483,883
Electoral Votes: 49
John Anderson / VP nominee was not chosen (National Unity)
Popular Votes: 5,720,060
Electoral Votes: 0



1980 ELECTION NOTES

Incumbent president Carter shook off a challenge by Massachusetts senator Edward Kennedy to win the Democratic nomination;
Republican Reagan's main competition was from former CIA director and ambassador to China, George Bush (whom Reagan chose as his running mate) and Illinois congressman John Anderson (who ran in the general election as an independent).
1984 - Presidential / Vice-Presidential Candidates:
Ronald Reagan / George Bush (Republican)
Popular Votes: 54,455,075
Electoral Votes: 525
Walter Mondale / Geraldine Ferraro (Democratic)
Popular Votes: 37,577,185
Electoral Votes: 13



1984 ELECTION NOTES

This election was most notable for former vice president Mondale's selection of New York representative Ferraro as his running mate, the FIRST FEMALE from a major party to run on a national ticket.
The REAGAN ADMINISTRATION:
Administration Dates: January 20, 1981 - January 20, 1985
January 20, 1985 - January 20, 1989
Vice President: George Bush (1981-1989)



CABINET


Secretary of State: Alexander M Haig, Jr (1981-1982); George P Shultz (1982-1989)
Secretary of the Treasury: Donald T Regan (1981-1985); James A Baker III (1985-1988); Nicholas F Brady (1988-1989)
Attorney General: William F Smith (1981-1985); Edwin Meese III (1985-1988); Richard L Thornburgh (1988-1989)
Secretary of the Interior: James G Watt (1981-1983); William P Clark (1983-1985); Donald P Hodel (1985-1989)
Secretary of Agriculture: John R Block (1981-1986); Richard E Lyng (1986-1989)
Secretary of Labor: Raymond J Donovan (1981-1985); Willam E Brock III (1985-1987); Ann Dore McLaughlin (1987-1989)
Secretary of Commerce: Malcolm Baldrige (1981-1987); C Willam Verity (1987-1989)
Secretary of Defense: Caspar W Weinberger (1981-1987); Frank G Carlucci (1987-1989)
Secretary of Housing and Urban Development: Samuel R Pierce, Jr (1981-1989)
Secretary of Transportation: Andrew L Lewis, Jr: (1981-1983); Elizabeth H Dole (1983-1987); James H Burnley IV (1987-1989)
Secretary of Energy: James B Edwards (1981-1982); Donald P Hodel (1982-1985); John S Herrington (1985-1989)
Secretary of Health and Human Services: Richard S Schweiker (1981-1983); Margaret M Heckler (1983-1985); Otis R Bowen (1985-1989)
Secretary of Education: Terrel H Bell (1981-1985); William J Bennett (1985-1988); Lauro F Cavazo (1988-1989)



LIST OF SCIENCE ADVISERS/OMISSION OF VANNEVAR BUSH


Wikipedia lists Vannevar Bush (of MJ-12 fame) as a Science Adviser to Franklin D. Roosevelt between 1939-1951.
http://en.wikipedia.org/wiki/Office_of_Science_and_Technology_Policy#Past_Science_Advisors


Also, a Web page at: http://www.majesticdocuments.com/ states that Vannevar Bush was President Truman's highly respected scientific adviser through World War II and the 1940s.

See: http://www.majesticdocuments.com/personnel/bush.php


BUT, for some reason, the list of Science Advisers at: http://www.ostp.gov/html/_pastadvisors.html starts with Oliver E. Buckley (1951-1952) under the Truman Administration and DOESN'T MENTION Vannevar Bush at all. Science Advisors to President RONALD REAGAN and to the President of the United States: Office of Science and Technology Policy / Executive Office of the President
REAGAN ADMINISTRATION SCIENCE ADVISERS:
Benjamin Huberman (Acting Director, OSTP) Feb. 1981 - Aug. 1981
Dr. George A. Keyworth, II (Director, OSTP) Aug. 1981 - Dec. 1985
Dr. John P. McTague (Acting Director, OSTP) Jan. 1986 - May 23, 1986
Dr. Richard G. Johnson (Acting Director, OSTP) May 24, 1986 - Oct. 1, 1986
Dr. William R. Graham, Jr. (Director, OSTP) Oct. 2, 1986 - June 1989
Dr. Thomas P. Rona (Acting Director, OSTP) June 1989 - Aug. 1989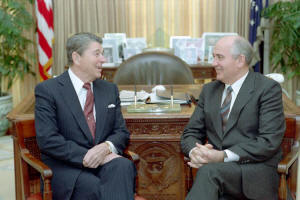 Soviet Union General Secretary MIKHAIL GORBACHEV at a speech on February 16, 1987 in the Grand Kremlin Palace in Moscow:
"At our meeting in Geneva, the U.S president said that if the earth faced an invasion by extraterrestrials, the United States and the Soviet Union would join forces to repel such an invasion. I shall not dispute the hypothesis, though I think it's early yet to worry about such an intrusion."
Source: BEYOND TOP SECRET: THE WORLDWIDE UFO SECURITY THREAT - By Timothy Good, p. 539 http://www.ufoevidence.org/documents/doc1523.htm

The attached photos are courtesy of the Ronald Reagan Library.
---

PRESIDENTIAL FACTOIDS:
• Oldest president: Ronald Reagan, who was 77 when he left office
• Only divorced president: Ronald Reagan: divorced from actress Jane Wyman in 1948, married Nancy Davis in 1952
• Only left-handed presidents in order: James Garfield, Herbert Hoover, Harry Truman, Gerald Ford, Ronald Reagan, George H W Bush and Bill Clinton
• Ronald Reagan was a member of Tau K fraternity
• The SHORTEST inaugural speech was given by George Washington at his second inauguration on March 4, 1793 which contained 136 words and lasted only 90 seconds! The LONGEST inaugural speech was given by William Henry Harrison who spoke for nearly two (2) hours on March 4, 1781.
• The greatest LANDSLIDE majority ever won in the popular vote was by Richard Nixon in 1972. He defeated George McGovern by a record 17,994,460 votes (47,165,911 to 29,170,33) to win re-election.
• In the nine (9) presidential elections since 1972, these states have a 100% record for voting for the WINNING CANDIDATE: Arkansas, Kentucky, Louisiana, Missouri, Ohio and Tennessee.
---


HISTORICAL FACTOID QUESTIONS:
QUESTION: Who is the ONLY full-term president who did NOT get to nominate a Supreme Court justice?
ANSWER: Jimmy Carter never nominated a Supreme Court justice. Three (3) other presidents—William Henry Harrison, Zachary Taylor and Andrew Johnson—also never had the opportunity to select a nominee.


QUESTION: What is the most COMMON home state for first ladies with nine (9) first ladies having been born there?
ANSWER: The State of New York has had more First Ladies born here.


QUESTION: Who was the FIRST U.S. president to make audio recordings in the Oval Office?
ANSWER: It was FDR, with earliest recording made probably about August 1940. It also was not an "audiotape" [for which the technology didn't exist at that time], as recordings were made on office dictation equipment on sound recording disks. For a secondary source on this go to: http://www.bookcost.com/review/1568362854/


For further information and details you should contact an audio archivist at the FDR Presidential Library, go to: http://www.fdrlibrary.marist.edu/staff.html or contact: Mark.Renovitch@NARA.gov 1-845 486-7742
---

THE ALIEN THREAT AS SEEN FROM RONALD REAGAN's EYES!

Ronald Reagan is the only president, besides Jimmy Carter, to admit publicly that he'd seen a flying saucer. Reagan was also the only president to hypothesize—albeit metaphorically or hint—about the possibilities of hostile extraterrestrials posing a threat to Earth.

In a speech before the United Nations General Assembly on Monday, September 21, 1987, Reagan used an example of an alien attack on humanity as a rationale for governments to put aside their differences and come together for the common good. He did so with the full knowledge that many of the assembled press would take his remarks derisively.

Nevertheless, Reagan also knew that most, if not all, of the assembled diplomats represented governments that had their own issues in dealing with the UFO "threat." Reagan had used the same analogy before during a speech at his summit meeting with Soviet president Mikhail Gorbachev in 1985.

Unlike his predecessors, some of whom might have been more inclined to disclose the existence of UFOs to the American people, Ronald Reagan proposed the development of a planetary defense system called the Strategic Defense Initiative (SDI), or as it was dubbed by the media, "Star Wars."

Though the program was touted as a "shield" against incoming Soviet ballistic missiles, many UFO researchers thought that it was public cover FOR ITS REAL MISSION: A DEFENSE SHIELD AGAINST HOSTILE UFOs. In fact, the Soviets were actually inclined to support the project, despite their public protestations, once Reagan offered to make it available to them.

RONALD REAGAN, AN ALIEN INVASION and "THE NEW WORLD ORDER!"

The proponents of the "New World Order" cosmic conspiracy believe that when President Ronald Reagan gave his famous "alien invasion" speech to the entire United Nations General Assembly in September of 1987, he had already secretly advised representatives of the 176 member nations that the leaders of their respective governments must meet the demands of the technologically superior extraterrestrials or be destroyed. In his speech to the General Assembly, Reagan said that an alien threat was already among us.

A number of conspiracy theorists stated that Reagan's speech hinted at a plan agreed to by world leaders that extraterrestrial invaders around the year 2000 would carry out a carefully staged "alien invasion" that would convince the masses of the world that a real-life alien attack from outer space was about to begin. People of all nations would believe their leaders, who would tell them that the aliens were a benevolent species and that unconditional surrender to them would be for everyone's own good.

Immediately following the surrender to the aliens, the united leaders will form a One World Government—a New World Order—thus fulfilling biblical prophecies about a return to the days of Babylon. The aliens will revel themselves as demonic entities that delight in doing Satan's work.

Under the One World Government, the following laws and rules will apply:
• There will be NO private or church schools;
• Christianity will NOT be permitted in ANY form;
• There will be only a one-unit monetary system;
• Population will be limited by restrictions on the number of children per family;
• There will NO middle class, only rulers and servants;
• NONE of the former national boundaries of countries shall exist;
• Privately owned firearms or weapons of any kind will be prohibited;
• A legal system of world courts will oversee a single unified code of laws, enforced by a One World Government police force and a One World unified military;
• Only ONE RELIGION will be allowed and that will be in the form of a One World Government Church, which will adhere to Satanism or Luciferianism;
• Permanent, NONelected hereditary oligarchists will select serfs from the population and form a feudal system, similar to the one that existed in the Middle Ages;
• Diseases, wars and famines will be engineered until there are only one (1) billion people—those who are deemed useful to the ruling classes—living on the planet;
• The social system will be on the basis of a welfare state—those who are obedient and subservient to the One World Government will be rewarded with the means to live. Those who are rebellious will be starved to death or declared outlaws, thereby becoming targets for anyone who wishes to kill them.

CONSPIRACY THEORY 2 of 2: POTSHOTS FROM THE "BUSHY KNOLL?!"

Talk about a small world! A little before 2:30 p.m. on the afternoon of Monday, March 30, 1981, John Hinckley, Jr—with a .22 caliber bullet—almost facilitated VP George Bush's ascendancy to the White House thereby sloughing off his second-banana status eight (8) years ahead of schedule! Vice President George Bush briefly flirted with a fast promotion.

Crouching on the sidewalk in front of the Washington Hilton, John Hinckley, Jr began firing six (6) explosive "devastator" bullets from his Rohm R6-14 revolver at Ronald Reagan. He survived after surgery at George Washington University Hospital where he told his wife Nancy: "Honey, I forgot to duck!"

Small world, indeed. For that very same day, John Hinckley's older brother Scott, had a dinner date with an old friend of the family: NEIL BUSH, son of the vice president! Scott Hinckley was vice president of his father's Denver-based firm, Vanderbilt Energy Corp.

What some saw as merely an odd "coincidence" prompted more conspiratorially attuned eyebrows to arch like divining rods. After all, what are the ODDS of the president's constitutional successor and the president's would-be assassin knowing each other?! Probably ZERO!

But the Bushes and Hinckleys went way back, to Texas of the 1960s, where both George Bush and John Hinckley, Sr had amassed personal fortunes in the booming oil industry. Both were blue bloods who circulated in the same privileged circles, which the transplanted aristocrats liked to call their "Texas Raj."
• In the NBC special reports aired immediately after the shooting, correspondent Judy Woodruff said that at least one (1) shot was fired from the hotel ABOVE Reagan's limousine. She later elaborated saying a Secret Service agent had fired that shot from the hotel overhang. Could Reagan's wound have been inflicted by friendly fire? Did we glimpse a bona fide "second gunman" a la JFK in Dealey Plaza?


Either way, Woodruff's account might explain HOW a slug managed to strike Reagan when his limo's bulletproof door stood BETWEEN him and Hinckley. Sizing up the Bush-Hinckley nexus, conspiracy sentry John Judge has theoretically dubbed this "the shot from the Bushy knoll."


• In October 1980, Hinckley, Jr flew to Nashville to stalk Jimmy Carter, but was arrested at the airport when authorities discovered three (3) handguns in his suitcase. Oddly, after ONLY FIVE (5) HOURS IN CUSTODY, this unstable and antisocial pariah—who had attempted to transport weapons across state lines and into a city soon to be visited by the president of the United States—was fined and RELEASED without further ado! Even more oddly, authorities apparently didn't bother to examine his journal, which in "Dear Diary" fashion, detailed Hinckley's plans to kill Carter! Was this a case of bumbling negligence or something more ominous?


• Finally, a pall of suspicion quite naturally fell over VP George "Poppy" Bush the preppy achiever and future president whose spooky pedigree was longer than a Texas stretch limo. Like his father before him, Bush, Sr was a member of Yale's elite "Skull and Bones Society," which had weaned more than a few powerhouse pols, Wall Street lions, CIA "black world" superstars and a 1980s group of disgruntled intel operatives known loosely as "Agents for Bush" who had been fired by CIA Director Admiral Stansfield Turner under the Carter administration.


• There are also a couple of parallels between Hinckley, Sirhan Sirhan [assassinated Robert Kennedy on 6-5-1968], Mark David Chapman [John Lennon's assassin on 12-8-1980], Arthur Herman Bremer [Alabama Gov. George Wallace's would-be assassin on 5-15-72] and Patrick Purdy, the commando-geared gunman who slaughtered five (5) Vietnamese children, and wounded another 30, in a Stockton, CA, school yard on Tuesday, January 17, 1989. ALL were heavily dosed with psychiatric drugs—mind-control drugs by definition.

Purdy strode coolly onto that playground, pumping away with his Chinese-style, semi-automatic AK-47 assault rifle firing 104 full-metal-jacketed MILITARY-TYPE bullets loaded in 7.62 X 39mm cartridges with the same GLAZED-EYED ROBOTIC DEMEANOR CHARACTERISTIC of one-day spree killers. Many of those killers are dosed with mood-altering drugs, a fact little publicized when such tragedies occur.

Before drawing his gun to shoot at Reagan, Hinckley has said that he had hoped someone would STOP him. As he drew his gun, he felt, "Now, I have NO choice." He said he felt "relieved" once the shooting was over. Like Chapman and Sirhan before him, he squeezed out bullet after bullet, then became preternaturally calm, as if his PREDETERMINED MISSION/FUNCTION function was now complete.

Perhaps, Hinckley, Purdy, et al., were the victims of psychiatry gone berserk, monsters manufactured by accident. OR perhaps they were DELIBERATELY PROGRAMMED MIND CONTROLLED ASSASSINS [CIA's MK-ULTRA] courtesy of a little known, hole-in-the-wall USG "black world" agency that "takes care of things" outside of normal channels.


---


RONALD REAGAN LIBRARY and MUSEUM
40 Presidential Dr Simi Valley, CA 93065-0600 1-800 410-8354
E-mail: reagan.library@nara.gov/
Web site: http://www.reagan.utexas.edu/

The NATIONAL ARCHIVES FOIA WEB PAGE ON UFOs, "Project BLUE BOOK," MJ-12 and ROSWELL! http://www.archives.gov/foia/ufos.html
The NATIONAL ARCHIVES RECORDS ADMINISTRATION INFORMATIONAL REQUESTS: http://www.archives.gov/contact/inquire-form.html

Or, you can contact NARA by these other methods:
Call NARA toll free at:
1-866-272-6272 or 1-86-NARA-NARA or
1-301 837-0527 or 0510 or 2903

The NATIONAL ARCHIVES and RECORDS ADMINISTRATION
8601 Adelphi Road
College Park, MD 20740-6001-01