MORALS and DOGMA by ALBERT PIKE
Morals and Dogma of the Ancient and Accepted Scottish Rite of Freemasonry , prepared for the Supreme Council of the Thirty Third Degree for the Southern Jurisdiction of the United States: Charleston, 1871.
SHORT BIOGRAPHY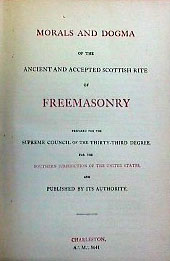 Albert Pike, born December 29, 1809, was the oldest of six children born to Benjamin and Sarah Andrews Pike. Pike was raised in a Christian home and attended an Episcopal church. Pike passed the entrance examination at Harvard College when he was 15 years old, but could not attend because he had no funds. After traveling as far west as Santa Fe, Pike settled in Arkansas, where he worked as editor of a newspaper before being admitted to the bar. In Arkansas, he met Mary Ann Hamilton, and married her on November 28, 1834. To this union were born 11 children.
He was 41 years old when he applied for admission in the Western Star Lodge No. 2 in Little Rock, Ark., in 1850. Active in the Grand Lodge of Arkansas, Pike took the 10 degrees of the York Rite from 1850 to 1853. He received the 29 degrees of the Scottish Rite in March 1853 from Albert Gallatin Mackey in Charleston, S.C. The Scottish Rite had been introduced in the United States in 1783. Charleston was the location of the first Supreme Council, which governed the Scottish Rite in the United States, until a Northern Supreme Council was established in New York City in 1813. The boundary between the Southern and Northern Jurisdictions, still recognized today, was firmly established in 1828. Mackey invited Pike to join the Supreme Council for the Southern Jurisdiction in 1858 in Charleston, and he became the Grand Commander of the Supreme Council the following year. Pike held that office until his death, while supporting himself in various occupations such as editor of the Memphis Daily Appeal from February 1867 to September 1868, as well as his law practice. Pike later opened a law office in Washington, D.C., and argued a number of cases before the U.S. Supreme Court. However, Pike was impoverished by the Civil War and remained so much of his life, often borrowing money for basic living expenses from the Supreme Council before the council voted him an annuity in 1879 of $1,200 a year for the remainder of his life. He died on April 2, 1892, in Washington, D.C.
Realizing that a revision of the ritual was necessary if Scottish Rite Freemasonry were to survive, Mackey encouraged Pike to revise the ritual to produce a standard ritual for use in all states in the Southern Jurisdiction. Revision began in 1855, and after some changes, the Supreme Council endorsed Pike's revision in 1861. Minor changes were made in two degrees in 1873 after the York Rite bodies in Missouri objected that the 29th and 30th degrees revealed secrets of the York Rite.
Pike is best known for his major work, Morals and Dogma of the Ancient and Accepted Scottish Rite of Freemasonry, published in 1871. Morals and Dogma should not be confused with Pike's revision of the Scottish Rite ritual. They are separate works. Walter Lee Brown writes that Pike "intended it [Morals and Dogma] to be a supplement to that great 'connected system of moral, religious and philosophical instruction' that he had developed in his revision of the Scottish ritual."
Morals and Dogma was traditionally given to the candidate upon his receipt of the 14th degree of the Scottish Rite. This practice was stopped in 1974. Morals and Dogma has not been given to candidates since 1974. A Bridge to Light, by Rex R. Hutchens, is provided to candidates today. Hutchens laments that Morals and Dogma is read by so few Masons. A Bridge to Light was written to be "a bridge between the ceremonies of the degrees and their lectures in Morals and Dogma."