by Michael E. Salla, Ph.D.
May 25, 2012
from Exopolitics Website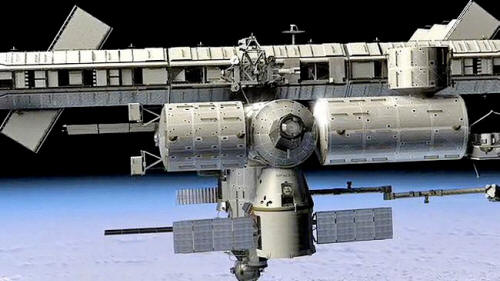 Conceptual artwork of the SpaceX Dragon
attached to the ISS Station.
Picture: NASA.

Today the SpaceX Dragon craft caught up with and began docking with the International Space Station (ISS).
After SpaceX's successful launch on Tuesday morning, NASA's administrator Charles Bolden said:
"There were people who thought that [NASA] had gone away [with the retirement of the space shuttles]. But today says, No, we're not gone away at all. We've got the SpaceX-NASA team, and they came through this morning with flying colors."
The SpaceX mission is part of a long term strategy of turning over supply and transport of the ISS to the private sector.
The buzz word now is private sector cooperation with NASA in near Earth missions, while NASA concentrates on more expensive deep space missions to the Moon, Mars and beyond.
Is private sector involvement in the space industry a good thing? According to the Obama administration, NASA and SpaceX CEO Edwin Musk, that's a big 'affirmative.'
Yet, there is a historical dark side to private sector involvement in space missions.

In the movie Avatar, a private corporation is running a mining operation on the moon, Pandora, of a giant gaseous exoplanet in the Alpha Centauri star system. Driven by profit margins, the corporation displays few scruples in driving off the indigenous population from land where a precious metal, unobtanium, is found.
The movie depicts a future where private sector involvement in space is dictated by greed, secrecy and unaccountable actions by corporate managers.
The underlying premise is that such excesses would not have happened with a government run space mission such as NASA where public transparency and accountability is the norm.
Could something similar happen in the future with SpaceX and other corporations destined to partner with NASA in space missions?

More importantly, has the private sector already been deeply involved in space missions that have been conducted without public knowledge?
A glimpse into the hidden world of classified space missions is found in the memoirs of President Ronald Reagan.
The entry for Tuesday, June 11, 1985 (page 334) reads:
Lunch with 5 top space scientist. It was fascinating. Space truly is the last frontier and some of the developments there in astronomy etc. are like science fiction, except they are real. I learned that our shuttle capacity is such that we could orbit 300 people.
This is curious since the Space Shuttle held a maximum of eight people and only five were built for space flight.
Even if all five took off fully loaded at any one time, it would have been impossible to place and maintain 300 astronauts in orbit.
Was Reagan revealing the existence of a highly classified space program different to NASA's, that could accommodate hundreds of astronauts in orbit? Yes, according to dozens of military and corporate whistleblowers, who claim that a secret space program exists, and was built by private corporations.

According to whistleblower testimony, corporations have become the ultimate repository of the nation's secrets concerning advanced technology programs involved in classified space missions.
Even more significant are claims that some of these programs are related to the UFO phenomenon and extraterrestrial life.
Whistleblowers have come forward to reveal how corporations have achieved control over these classified programs. A deceased corporate whistleblower revealed how during the mid-1980s, he worked for six months as an archivist for a large aerospace defense contractor based in California.
It was a temporary assignment with his employer at an obscure office building. The archivist found many files dealing with flying saucers and extraterrestrial life.
The files contained:
"Reports, photos, media materials (tapes, films, video cassettes) and material from crashed saucers."
When asked where the files came from he revealed the,
"materials came from everywhere. CIA, Air Force, Navy, Army, DARPA, NORAD, DoD, FBI, and government officials to name most."
If the archivist's testimony is accurate, this means that prior to the mid-1980s UFO files were taken out of the possession of U.S. government agencies and military departments due to security concerns.
One reason for this is that the proprietary rights of corporations would enable UFO files to remain hidden from the prying hands of congressmen, and private citizens using the Freedom of Information Act first passed in 1966 and strengthened in 1974.

The above scenario is supported by comments by Ben Rich, former CEO of Lockheed Martin's Skunk Works.
In hand written responses to questions from John Andrews of the Testor Corporation in 1986, Rich confirmed the existence of both man-made and extraterrestrial UFOs:
Most importantly, Rich revealed to Andrews how control of UFO files had slipped from the U.S. military to private corporations.
Andrews relayed Rich's responses to questions from UFO investigator William McDonald which confirmed:
There are two types of UFOs - the ones we build, and ones THEY build. We learned from both crash retrievals and actual "Hand-me-downs." The Government knew, and until 1969 took an active hand in the administration of that information.

After a 1969 Nixon "Purge", administration was handled by an international board of directors in the private sector.
Former astronaut, Dr Edgar Mitchell has confirmed an incident in 1997 where the Head of Intelligence for the Pentagon's Joint Chiefs of Staff was supplied the code names of UFO related projects, but was denied need-to-know access.
The first to report the incident was UFO researcher, Dr Steven Greer, who in 2001 revealed that Admiral Wilson was furious over his failure to gain access.
On a July 4, 2008 CNN interview, Dr Mitchell confirmed Greer's version of events when he said that Admiral Wilson,
"had found the people responsible for the cover-up and for the people who were in the know and were told, I'm sorry, admiral, you do not have need to know here and so, goodbye."
A reliable source furthermore revealed to UFO researcher Richard Dolan that Admiral Wilson was frustrated by attorneys of a corporation that denied him access.

The only means for private citizens to monitor government actions is to use the Freedom of Information Act (FOIA).
Yet FOIA doesn't cover private corporations that regularly fulfill thousands of government contracts in sensitive national security projects. The private sector has become a means of hiding the nation's deepest secrets when it comes to advanced technology and space travel from an unsuspecting public.

The successful SpaceX mission appears to open a bright vista of future cooperation between corporations and government agencies in space.
Yet this belies a darker history of corporate involvement in highly classified space missions involving advanced technologies, some of which are related to the UFO phenomenon. These classified programs have been conducted with no public transparency and accountability. History has shown that without transparency and accountability, governments cannot be relied upon to conduct policy in a way that is consistent with nation's constitutional values.
This is even less the case for private corporations, driven by profit margins and proprietary interests when it comes to advanced technology programs.
Yes, let's celebrate SpaceX's accomplishments, but keep in mind that this doesn't open up a new chapter of corporate government cooperation in space. Such cooperation has been secretly happening in the classified world for decades.
Uncovering the dark history of corporate involvement in classified space missions will be truly something to celebrate.