About the Author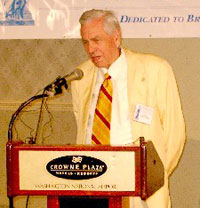 Eustace Mullins is a veteran of the United States Air Force, with thirty-eight months of active service during World War II. A native Virginian, he was educated at Washington and Lee University, New York University, Ohio University, the University of North Dakota, the Escuelas des Bellas Artes, San Miguel de Allende, Mexico, and the Institute of Contemporary Arts, Washington, D.C.

The original book, published under the title Mullins On The Federal Reserve, was commissioned by the poet Ezra Pound in 1948. Ezra Pound was a political prisoner for thirteen and a half years at St. Elizabeth's Hospital, Washington, D.C. (a Federal institution for the insane). His release was accomplished largely through the efforts of Mr. Mullins.

The research at the Library of Congress was directed and reviewed daily by George Stimpson, founder of the National Press Club in Washington, whom The New York Times on September 28, 1952 called,
"A highly regarded reference source in the capitol. Government officials, Congressmen, and reporters went to him for information on any subject."
Published in 1952 by Kasper and Horton, New York, the original book was the first nationally-circulated revelation of the secret meetings of the international bankers at Jekyll Island, Georgia, 1907-1910, at which place the draft of the Federal Reserve Act of 1913 was written.

During the intervening years, the author continued to gather new and more startling information about the backgrounds of the people who direct the Federal Reserve policies. New information gathered over the years from hundreds of newspapers, periodicals, and books give corroborating insight into the connections of the international banking houses.*

While researching this material, Eustace Mullins was on the staff of the Library of Congress. Mullins later was a consultant on highway finance for the American Petroleum Institute, consultant on hotel development for Institutions Magazine, and editorial director for the Chicago Motor Club's four publications.

* The London Acceptance Council is limited to seventeen international banking houses authorized by the Bank of England to handle foreign exchange.